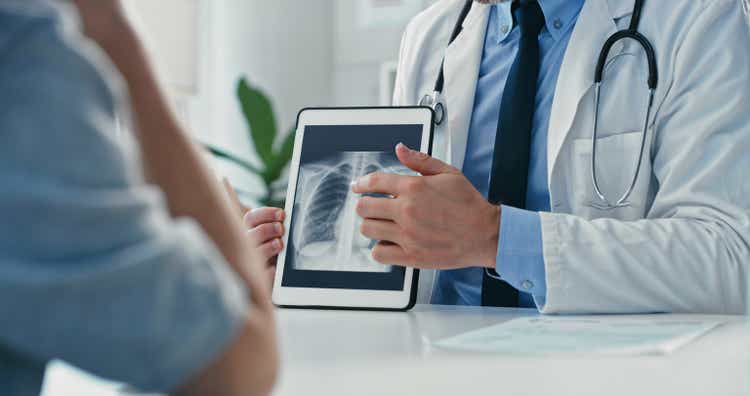 Background
Verona Pharma (NASDAQ:VRNA) is a clinical-stage SMID-cap (~1.6Bn market cap) biotech company based in London, United Kingdom. The company specializes in developing innovative therapies for respiratory diseases such as chronic obstructive pulmonary disease (COPD) and asthma. Its lead product, Ensifentrine, is a combination of a long-acting muscarinic antagonist and a phosphodiesterase-4 inhibitor (inhaled selective dual inhibitor of PDE3 and PDE4) that is designed to improve lung function and reduce exacerbations. Ensifentrine targets airway smooth muscles, inflammatory cells, and epithelial cells to address COPD.
Ensifentrine (Nebulizer) is currently being studied for COPD, cystic fibrosis, and asthma. Furthermore, the company is exploring combination opportunities with LAMA and using other devices such as DPI and MDI that can offer superior convenience over nebulizers. We believe the key value driver for the stock to be in COPD, where we will focus our analysis on in this article.
Chronic obstructive pulmonary disease ('COPD') is a progressive lung disease that makes it difficult to breathe. It is characterized by airflow limitation that is not fully reversible and is usually caused by long-term exposure to harmful substances such as tobacco smoke, air pollution, and dust. COPD includes two main conditions, chronic bronchitis, and emphysema, and is a leading cause of death and disability worldwide. Symptoms of COPD include cough, shortness of breath, wheezing, and chest tightness. There is currently no cure for COPD, but there are treatments available to help manage the symptoms and slow the progression of the disease.
As of today, there is no cure for Chronic Obstructive Pulmonary Disease (COPD), but there are treatments available to help manage the symptoms and slow the progression of the disease. The main treatments for COPD include:
Medications: Bronchodilators, steroids, and combination drugs can help to open up airways and reduce inflammation in the lungs.

Oxygen therapy: This is used to provide supplemental oxygen to help alleviate shortness of breath.

Pulmonary rehabilitation: A comprehensive exercise and education program to improve physical activity, reduce breathlessness and improve overall health.

Lifestyle changes: Quitting smoking, avoiding exposure to air pollutants and maintaining a healthy diet and exercise regimen can help to slow the progression of the disease.

Surgery: In some cases, lung volume reduction surgery or lung transplantation may be recommended.
We emphasize that the COPD treatment market is around ~10Bn with relatively small therapeutic options to choose from.
The key value proposition of Ensifentrine is that it has a novel mechanism that can offer additional therapeutic options for patients who are refractory on bronchodilators and steroids. We believe if approved, Ensifentrine could end up becoming a blockbuster drug and a good addition to the armamentarium of prescribers in treating COPD, as many patients rotate around different combinations as the disease progresses.
Data from pivotal phase 3 programs seems compelling
The two pivotal phase 3 studies (RCTs), ENHANCE-1 and ENHANCE-2, studied Ensifentrine 3mg BID (twice daily) dose that each included 800 patients included patients with the current standard of care therapies such as LAMA, LABA, and steroids. Patients that enrolled had 30-70% predicted FEV1. The study sites were diversified across North America, the EU, and Asia, which is a net positive as having geographical and ethnic diversity is important as genetic factors can be a confounding factor for clinical trials.
Both studies showed statistically significant peak and morning through FEV1 measures and consistently meaningful results that showed the drug's ability to reduce COPD exacerbation (-40% reduction in pooled analysis). COPD exacerbations are problematic as it usually leads to a minimum of 3 days of treatment with oral and systemic steroids and/or antibiotic treatments, and many patients get hospitalized. This data would be net positive for the drug in terms of market access, as "cost-effectiveness" is getting more important for market launches and pricing. Furthermore, Ensifentrine improved symptoms and quality of life across studies as well. In terms of safety, we find the safety profile compelling as during the phase 3 trial, few events were greater than 1% and greater than placebo.
Based on positive data from two pivotal phase 3 trials, we expect the company to submit NDA by 1H 2023, PDUFA by 1H 2024, and approval/US launch by 2H 2024. In terms of commercialization, we believe the company is planning to market the product in-house for the US market (covered under medicare part B), marketed by Nuance Pharma in the Chinese market, and for the EU market, the company is considering a potential license out opportunity. Medicare part B is an attractive coverage for COPD therapeutics as more than 80% of the patients are expected to pay 0$ co-pay, and existing coverage policies are in place for nebulizers, which will make the launch smoother for a first time launcher. For example, according to the company, Lonhala (medicare part D: 70% and 0% part B coverage) has a significantly higher reimbursement rejection rate vs. Yupelri, that is primarily covered by medicare part B. Also, considering the strong cash balance that the company has on hand, we believe building a sales force from the bottom up (the company plans to deploy ~100 sales raps) would not be a big concern. For the Chinese market, Verona Pharma has signed an agreement with Nuance Pharma where the company is expected to receive double-digit royalties, which we believe is an attractive term for the company.
Strong financial standing
Verona Pharma currently holds ~$231M cash (Sept 2022), and we expect the annual cash burn to be around ~$60M. This means that the cash runway is until 2025, which is a very long cash runway for biotech, as we view anything beyond 1 year of cash runway to be investible.
Risks
Clinical risk and regulatory risk remain, as Ensifentrine has not been approved yet, and there are multiple other clinical trials ongoing. Capital raises risk remains as the company is not cash flow positive and may have to raise additional capital to fund the company's operation. Competitive risk remains a risk as Verona Pharma is a first-time launcher, and the sales ramp may be lower than what the market hopes for.
Conclusion
We initiate Verona Pharma with a buy rating because a) compelling data from two phase 3 pivotal trials that showed strong efficacy and clean safety profile addressing the unmet need in the COPD market, b) the COPD market has a >$10Bn market size and good benchmark to predict the potential market opportunity for a new novel players like Ensifentrine, and c) solid balance sheet and cash runway until 2025 gives us peace in mind. Albeit, the stock had a good run during 2022, we believe there is more room for it to rise, and we see Verona as a good long-term investment.