Five-time Chief Minister of Punjab and Shiromani Akali Dal patriarch Parkash Singh Badal passed away at a private hospital in Punjab's Mohali on Tuesday evening. The 95-year-old was admitted to a hospital in the city on April 16 with "acute exacerbation of bronchial asthma". The cremation will take place at Badal village in Muktsar district on Thursday.
In a media bulletin, Fortis Hospital informed, "Parkash Singh Badal, former CM of Punjab, was admitted to the hospital on April 16 with acute exacerbation of bronchial asthma. He was shifted to the medical ICU on April 18 as his respiratory condition worsened. Despite appropriate medical management, he succumbed to his illness."
Notably, in June 2022, Badal had been hospitalised after he complained of gastritis and bronchial asthma. This came shortly after he was taken for a post-Covid health check-up in February 2022.
What is bronchial asthma?
As a respiratory condition in which the airways narrow and swell in response to allergen exposure and may produce extra mucous, bronchial asthma can make "breathing difficult".
"It can trigger coughing, a whistling sound (wheezing) when you breathe out, and shortness of breath," said Dr Shrey Srivastav, MD (Internal Medicine), Sharda Hospital.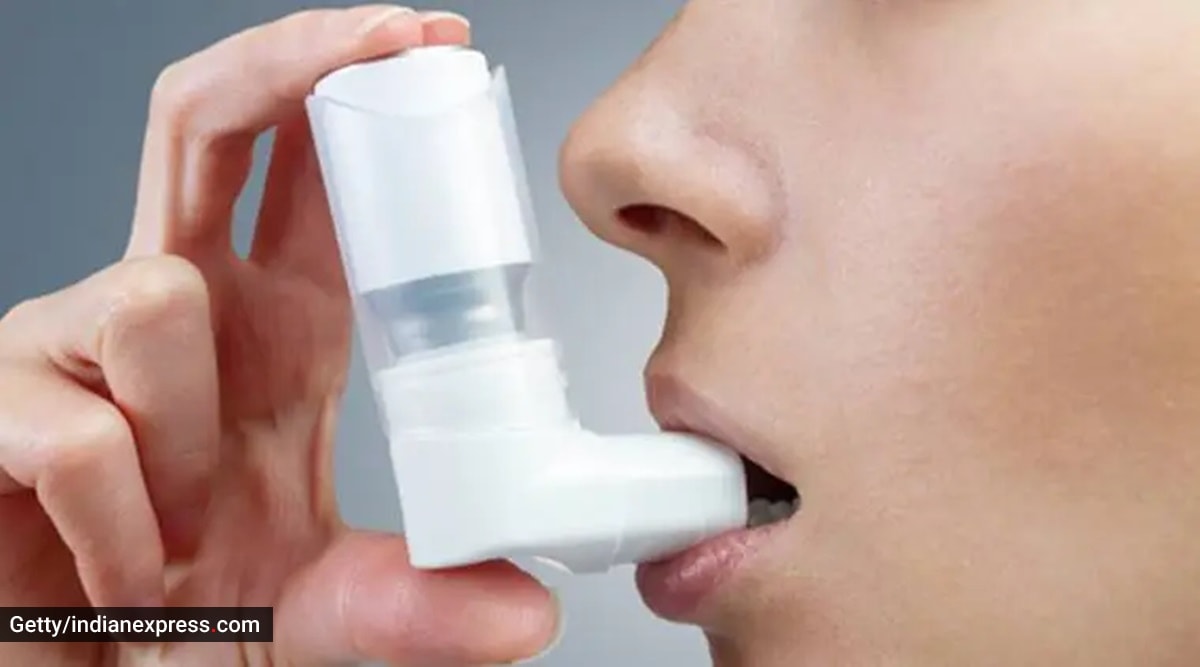 Bronchial asthma is managed with an inhaler (Source: Getty Images/Thinkstock)
However, it must be noted that bronchial asthma is the same as asthma, wherein the size of the airways is narrowed majorly due to allergy, noted Dr Ravi Shekhar Jha, director and head, pulmonology, Fortis Hospitals, Faridabad.
He clarified: "Exacerbation means sudden worsening. Like if someone was doing good on inhalers, but suddenly contracts a new infection or allergy, and their breathlessness or cough increases —  this is called exacerbation."
Symptoms
*Shortness of breath
*Chest tightness or pain
*Wheezing when exhaling
*Trouble sleeping; primarily due to shortness of breath, coughing or wheezing
*Coughing or wheezing attacks that are worsened by a respiratory virus, such as a cold or the flu, said Dr Srivastav.
Bronchial asthma triggers may include
*Smoking and passive smoking
*Infections such as colds, flu, or pneumonia
*Allergens such as food, pollen, mold, dust mites, and pet dander
*Sea foods
*Air pollution and toxins
*Weather, especially extreme changes in temperature
*Drugs (such as aspirin, NSAIDs, and beta-blockers)
*Food additives (such as MSG)
*Emotional stress and anxiety
*Perfumes and fragrances
*Acid reflux
*Exercises
Treatment
Experts recommend medical intervention for treatment. "Generally, asthma is a disease that is usually diagnosed in the early ages, but may exaggerate in old age because the elderly are more prone to recurrent chest infections and have less immunity. In such cases, an attack of bronchial asthma might be fatal. So, it is essential for them to get regular check ups done and never ignore symptoms," Dr Srivastav said, adding that bronchodilators and steroids are used under medical supervision for managing the condition.
Prevention
*Identify and avoid asthma triggers.
*Monitor your breathing for wheezing or shortness of breath
*Get vaccinated for influenza and pneumonia, Dr Srivastav said.
???? For more lifestyle news, follow us on Instagram | Twitter | Facebook and don't miss out on the latest updates!