New York, July 20, 2023 (GLOBE NEWSWIRE) -- The global high flow nasal cannula market size is slated to expand at ~12% CAGR between 2023 and 2033. The market is poised to garner a revenue of USD 17 billion by the end of 2033, up from a revenue of ~USD 9 billion in the year 2022.  Globally, the emergence of chronic and respiratory illnesses, as well as an aging population that is more susceptible to chronic illness as a result of low immunity, are expected to drive market growth, as is the rising demand for respiratory support medical devices such as high-flow nasal cannula machines that aid in breathing. Respiratory diseases such as asthma are more common in people over 65 years of age. For instance, it is observed that nearly 7.8% of older individuals in the US are impacted by asthma.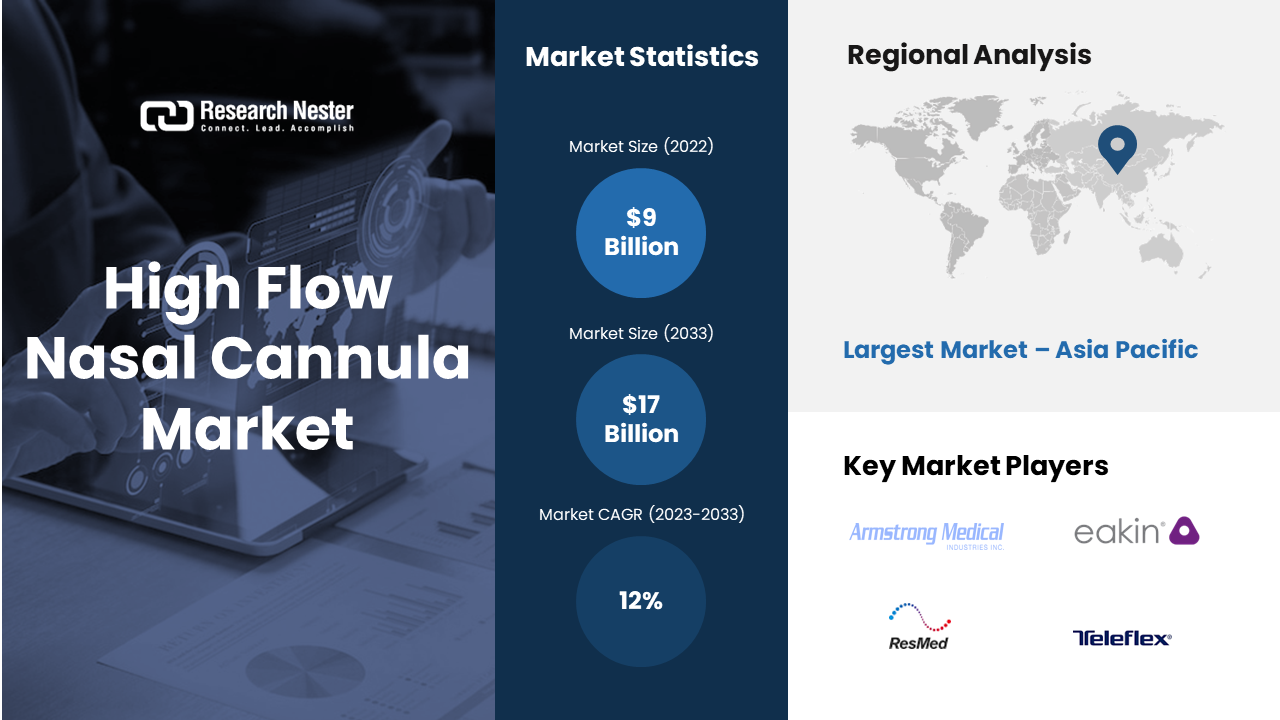 Request Free Sample Copy of this Report @ www.researchnester.com/sample-request-4575
Global High Flow Nasal Cannula Market: Key Takeaways
Market in Asia Pacific to exhibit the highest growth
Hospitals & Clinics segment to garner the highest growth
Market in North America to grow at the highest rate
Growth in Cases of COPD to Boost Market Growth
The growth of the market is primarily attributed to the rising need for noninvasive ventilation (NIV) owing to the surging ubiquity of asthma patients together with the growing concern about rising incidences of chronic obstructive pulmonary diseases worldwide. The World Health Organization revealed that asthma impacted 262 million people in 2019 and took the lives of 455 000 people in the same year, whereas COPD caused 3.23 million deaths in 2019 and was the third leading cause of death worldwide. The sudden onslaught of COVID-19, whose symptoms ranged from the common cold to more severe diseases consisting of pneumonia, bronchitis, severe acute respiratory distress syndrome (ARDS), and multiorgan failure, has led to abrupt market growth. Moreover, what happens after 7 days on high-flow oxygen is now being analyzed by many case studies of the recent pandemic.
Global High Flow Nasal Cannula Market: Regional Overview
The global high flow nasal cannula market is broadly categorized into five major regions including North America, Europe, Asia Pacific, Latin America, and the Middle East and Africa region. 
Asthma Prevalence to Drive Growth in the Asia-Pacific Region
The high flow nasal cannula market in the Asia Pacific region is estimated to garner the largest revenue by the end of 2033. The vast regional pool of geriatric and pediatric populations who are more prone to critical respiratory disease, in addition to the rising pervasiveness of patients with asthma symptoms and respiratory failure through all age groups and the growing need for medical devices that aid in reducing nasopharyngeal airway resistance and lead to improved ventilation and oxygenation without the support of mechanical ventilation, is expected to boost the HFNC market growth in the region over the forecasted time frame. It is projected that 1 in 4 people in the Asia Pacific region will be older than 60 by 2050. Furthermore, more than 3 million people suffer from asthma, making it the leading chronic respiratory disease in Japan's region. Moderate asthma accounts for around 30% of Japanese patients, with severe asthma accounting for about 7%.
Request Free Sample Copy of this Report @ www.researchnester.com/sample-request-4575
The prevalence of obstructive pulmonary disease is expected to drive growth in the North America region.
The high flow nasal cannula market in the North American region is estimated to garner the highest CAGR by the end of 2033. A few factors that may be attributed to the regional market growth over the projected years include the rising concern about obstructive lung disease along with the heightening apprehension of acute hypoxic respiratory failure, besides the preventive measures that are a step forward to reducing the burden of living with lung disease in the region. Currently, around 37 million individuals in America live with chronic lung diseases like asthma and COPD, which include emphysema and chronic bronchitis. Moreover, the country is facing a youth vaping epidemic, a tobacco-caused disease that is causing lung injuries and death. Owing to this addiction, nearly 500,000 people in the U.S. die each year, and over 41,000 of those deaths are from exposure to secondhand smoke.
High Flow Nasal Cannula Segmentation by End-User
Hospitals & Clinics
Ambulatory Care Centers
Long-Term Care Centers
Others
The hospitals & clinics segment is anticipated to hold the largest revenue by the end of 2033. The increasing development of fully aided healthcare infrastructure across the globe, along with the rising number of patients administered in hospitals for respiratory disease and increased nasal resistance cases, caused owing to allergic rhinitis, infective rhinitis, vasomotor rhinitis, supine posture, cold air, alcohol, smoking, and aspirin beside the growing usage of high flow nasal cannula machines in the hospital settings is estimated to drive the segment's growth during the forecast period. As per research hospital admission rate in England and Wales grew by ~104.7% (from nearly 1500 in 1999 to over 3100 in 2019 per 100,000 persons) with the most common causes being chronic lower respiratory diseases, influenza and pneumonia, and other acute lower respiratory infections, which accounted for ~26.4%, ~26.6%, and ~14.9%, respectively.
High Flow Nasal Cannula Segmentation by Application
Acute Respiratory Failure
Chronic Obstructive Pulmonary Disease
Acute Heart failure
Others
The acute respiratory failure segment is anticipated to hold the largest revenue by the end of 2033. The factors applicable to the growth of the segment include rapidly surging spending in healthcare worldwide, as well as the growing threat of acute respiratory distress syndrome (ARDS) which is characterized by the acute onset of bilateral alveolar opacities and hypoxemia along with the growing use of nasal cannula in cases with breathing complications or insufficient oxygen supply as the high-flow nasal cannula flow rate ranges up to 60 liters per minute, delivering up to 100% humidified and heated oxygen to patients fronting insufficient oxygen supply. Moreover, it is found that around 190,000 Americans are diagnosed with ARDS every year in United States and ~ 60% to 75% of these patients survive the disease with treatment.
Purchase Copy of this Report @ www.researchnester.com/purchage/purchase_product.php?token=4575
High Flow Nasal Cannula Segmentation by Type
Active Humidifier
Single Heated Tube
Air Blender
Nasal Cannula
A few of the well-known market leaders in the global high flow nasal cannula market that are profiled by Research Nester are Intersurgical Ltd., Armstrong Medical Ltd, Eakin Healthcare Group, ResMed Corp., Teleflex Incorporated, Vapotherm, Inc., Becton, Dickinson, and Company, Smiths Group plc, CU Medical Systems, Inc, Flexicare Medical Limited, TEIJIN LIMITED, and other key market players.
Recent Development in the Global High Flow Nasal Cannula Market
The Coleraine-based Armstrong Medical, a specialized firm dealing in respiratory care products, has been acquired by Eakin Healthcare Group, which is headquartered in Northern Ireland.
Intersurgical Ltd., a global manufacturer, and supplier of high-quality medical devices for respiratory support launched the Intersurgical i-flo, a high-flow nasal cannula. It is an adult single-use patient interface for the delivery of High Flow Oxygen Therapy (HFOT) in the hospital setting.
About Research Nester
Research Nester is a one-stop service provider with a client base in more than 50 countries, leading in strategic market research and consulting with an unbiased and unparalleled approach towards helping global industrial players, conglomerates and executives for their future investment while avoiding forthcoming uncertainties. With an out-of-the-box mindset to produce statistical and analytical market research reports, we provide strategic consulting so that our clients can make wise business decisions with clarity while strategizing and planning for their forthcoming needs and succeed in achieving their future endeavors. We believe every business can expand to its new horizon, provided a right guidance at a right time is available through strategic minds.