After hearing how scary COVID-19 was for almost three years, 25-year-old Karen Huang felt "a little bit relieved" when she tested positive for the virus in mid-December.
"Just like others, I had been wondering when it would be my turn to get COVID," said Ms Huang from Guangzhou. 
Only a week before her infection, China announced it would ease COVID-19 restrictions in response to nationwide anti-lockdown protests since November.
Watching news about the end of COVID-zero restrictions, Ms Huang predicted there could be an outbreak in the coming weeks.
To protect herself, she decided to get the new inhalable COVID-19 vaccine booster, which was first launched in China in October, was tailored to the Omicron variant and had been recently introduced to her neighbourhood.
As the local community already paused daily mass testing, she decided to go through a PCR test the day before vaccination.
To her surprise, she tested positive despite having no symptoms.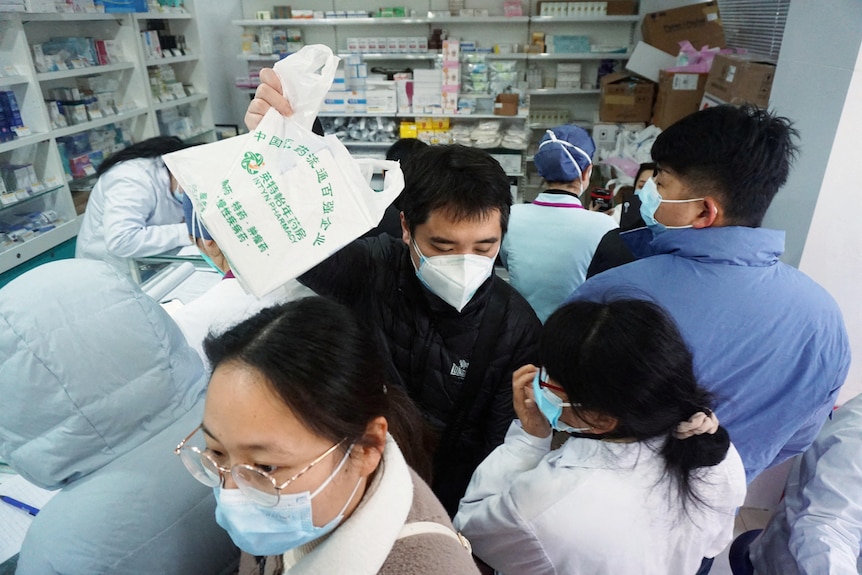 Unlike those who tested positive during China's COVID-zero period, Ms Huang could choose to quarantine at home rather than being taken to a quarantine hospital.
Her neighbours also did not need to go into lockdown because of a positive case in the building.
Just like hundreds of thousands of Australians who went through a mass Omicron outbreak in January 2022, Ms Huang and her friends were also caught up in China's transition from COVID-zero to learning to live with the virus.
However, the two countries have gone through different pathways during their transition to post-pandemic life.
The parallels between Australia and China's COVID opening
Australia announced it would abandon COVID-zero measures at the end of 2021 and turned to living with COVID, after the highly transmissible Omicron variant spread through the country.
Following the switch, Australia recorded tens of thousands of COVID-19 daily cases over December and into January 2022, with the elderly population strongly hit by the variant.
By mid-January, the aged care peak body said more than half of all Australian residential aged care facilities were experiencing COVID-19 outbreaks but only one-third of elderly residents had received a booster around that time.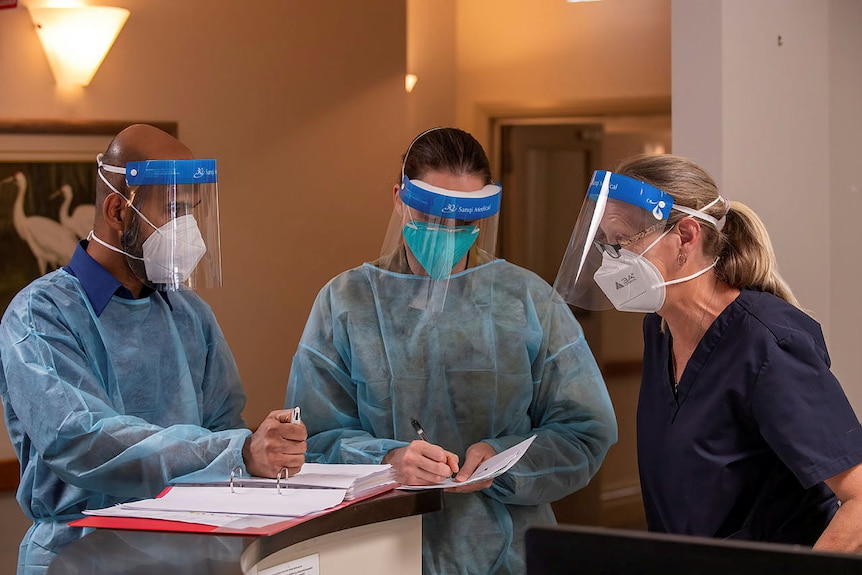 Federal and state governments were under strong criticism for failing to provide adequate support for aged care homes and for slow COVID-19 vaccine booster rollouts.
The Morrison government was also criticised for failing to handle the COVID-19 testing system, as the national shortage of rapid antigen tests continued for weeks, leaving thousands of people unable to claim sick leave despite COVID-19 infections.
In New South Wales — one of the states most hit by the Omicron variant — hospitals were overwhelmed with COVID-19 patients while facing a huge staff shortage.
Fast forward to today, and what happened in Australia in January is eerily similar to China's current experience with its COVID-19 transition, with both countries opening amid widespread Omicron outbreaks.
Videos circulated on Chinese social media showed hospitals packed with COVID-19 patients, while funeral homes in several cities were reported to be full since the outbreak began in early December.
Local pharmacies were reported to run out of flu medication, which sparked some Chinese Australians to post medicines to families back home.
Yanzhong Huang, senior fellow for global health at the Council on Foreign Relations, said it was "very likely 30 to 40 per cent of the population" had been infected with COVID-19 in China so far.
Dr Huang said most of these cases were symptomatic, with a large proportion of the elderly population developing severe symptoms.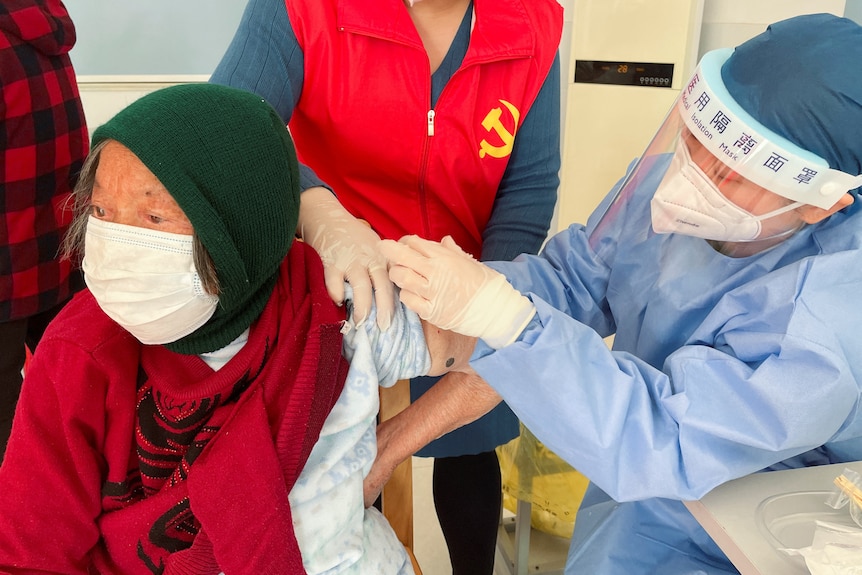 He also said while China's overall vaccination rate was more than 90 per cent, there had been concerns about China's domestic vaccines being ineffective in preventing Omicron infection.
"And secondly, most of them were vaccinated more than six months ago, so the antibody level has dropped into a level that's very likely undetectable," Dr Huang told ABC NewsRadio.
Similar to Australia's aged care crisis during the Omicron outbreak, China also struggled to effectively roll out vaccination in the elderly population.
Government data in early December showed only 42.3 per cent of people aged 80 and above had COVID-19 booster shots, while only two-thirds of those were fully vaccinated.
But there are also some key differences between Australia's and China's experiences.
China faces a unique set of challenges
Hui Yang, adjunct associate professor of public health at Monash University, said it was common to see a medical system — whether Australia's or China's — suddenly become overloaded when it was hit by an outbreak.
But Professor Yang said people should believe in resilience from both medical and policy systems to respond to the crisis.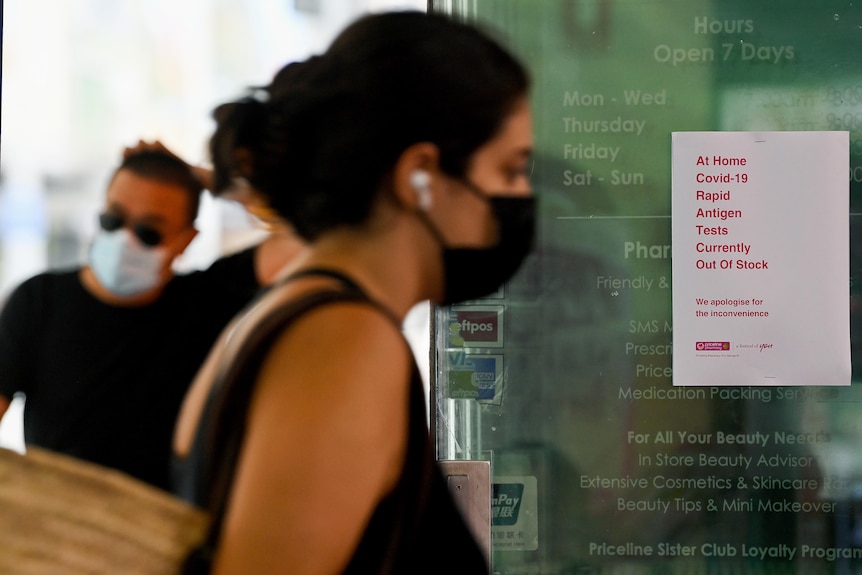 He noted China did have some unique challenges compared with Australia when it came to the Omicron outbreak, including its huge population base, complicated management structures and inadequate medical resources per capita.
"China's medical system builds its base on hospitals, while general practice and primary care are the foundation of Australia's medical system," Professor Yang said.
"The two countries also have huge distinctions in the quantity, quality and allocation of nursing resources."
Dr Amesh Adalja, senior scholar and infectious diseases expert at Johns Hopkins Center for Health Security in Pittsburgh, also noted China had a low ICU capacity, which could lead to "a high level of severe disease and death".
"The thing is, this was completely preventable. They've had three years or so to actually build resiliency into the population," said Dr Amesh Adalja.
"However, they were unable to do so — or they chose not to do so — and not to use potent vaccines from the Western world.
"And that's left them in this situation where they have really little choice left, based upon what's happened," Dr Adalja told ABC NewsRadio. 
But he added that China could still have opportunities to control the outbreak, depending on the Chinese government's next approach.
"A lot of what's happening in China has been wilful by the Chinese government," he said.
On Chinese social media, many netizens criticised Beijing for lifting restrictions while there were few plans to address the Omicron outbreak straight afterwards.
One criticism came from veteran journalist Qingchuan Lian, who said the current Omicron outbreak was an "unplanned and unmanaged herd immunity".
"But the real herd immunity obviously isn't about scrambling to reach infection peak without orders or consideration of costs," Mr Lian said in an opinion piece which is now censored.
In response to criticism over its approach to lifting restrictions, a representative from China's National Health Commission insisted the current adjustments were "appropriate, scientific, in line with Chinese laws and the situations of outbreak control".
Chinese president Xi Jinping also called for more unitiy and efforts as he described the country had "entered a new phase" of pulling through the pandemic in his New Year Eve speech. 
A changing narrative on long COVID
In October, Liang Wannian, who led China's COVID control working group at the National Health Commission, insisted China must comply with COVID-zero policies by stressing the long-term impacts of COVID-19 such as "fatigue, breathing difficulty and neurocognitive disorders".
While long COVID has no strict definition, the term is used to describe the illness following a SARS-CoV-2 infection with symptoms — which range from brain fog to body aches and pains — lasting at least two to three months.
The condition is being studied by health experts around the world.
But as the Omicron outbreak erupted in China and its COVID-zero policies were wound back, Beijing has changed its narrative on COVID as well as its side effects.
On December 9, China's leading health expert, Zhong Nanshan, said long COVID symptoms such as fatigue were a "subjective feeling" and rarely had long-term impacts.
Professor Zhong, who is regarded with the same level of authority in China as Anthony Fauci in the United States, has been the face of China's health authorities since 2020.
He claimed many long COVID cases were caused by "the mental stress caused by COVID infection" rather than the virus itself, and said he believed the impacts could be changed by time.
One week later, Professor Zhong said the death rate of Omicron was similar to "the death rate of a seasonal flu", saying "getting infected with Omicron is just like having a shot of vaccine, as you can gain immunity".
He also said it would be "a very small possibility" to get COVID-19 twice in a year.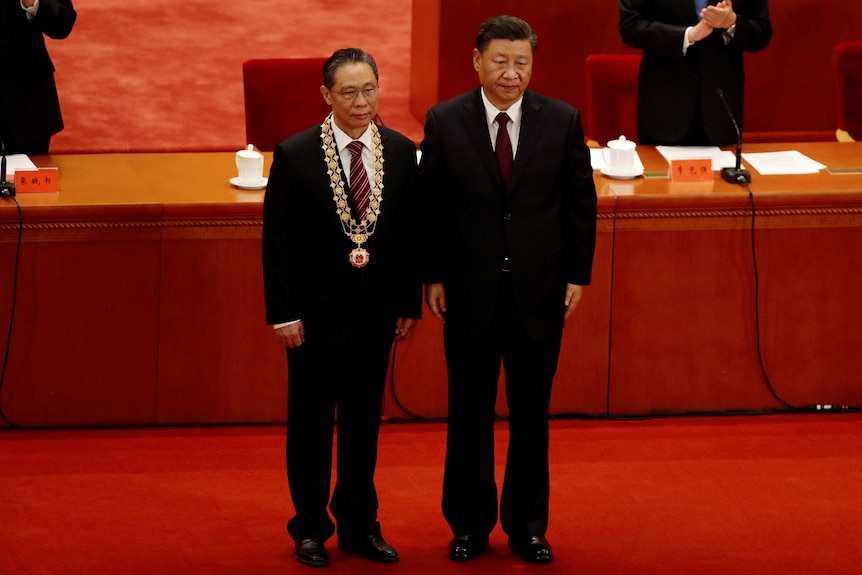 Professor Yang at Monash University said it was "very inappropriate" to directly compare COVID-19 and seasonal flu.
He said in the Chinese context, many people did not treat having a cold seriously, or know how to distinguish a cold and seasonal flu.
He said an "appropriate health education strategy is needed to help people understand what on earth is COVID, and characteristics of the variant that's now spreading".
"It is irresponsible to say '[Omicron] is just a big flu', because flu can also cause severe illness and death."
How will China's Omicron outbreak affect Australia?
China has announced it would open borders on January 8, which sparked rising search interest in international travel on the Chinese internet, with Australia one of the popular keywords.
Australia has requested that from January 5, all travellers from China to take a pre-departure COVID test prior to boarding. 
The United States, Canada, Italy, India, Taiwan and France have also announced COVID-19 screening of Chinese tourists. 
Yet several sectors have been looking forward to China's border reopening.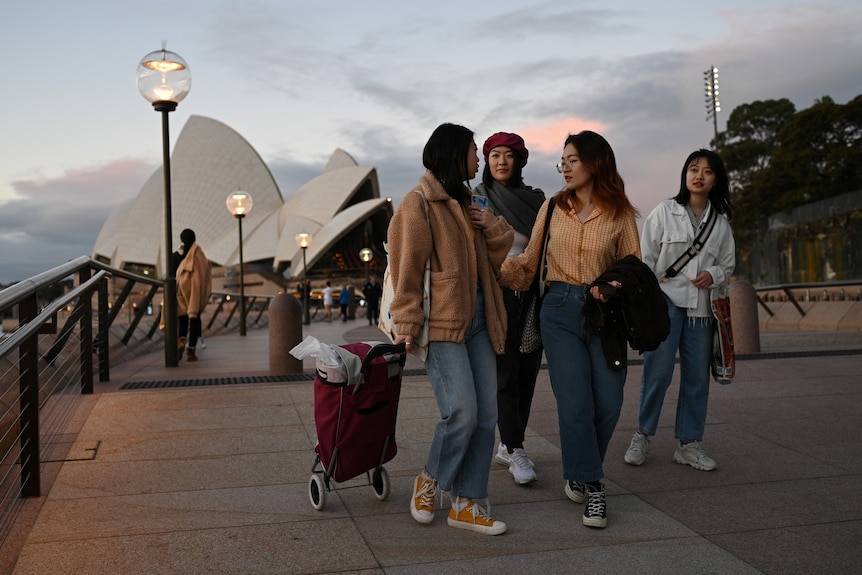 Tourism operators also expect the return of Chinese tourists, who occupied Australia's largest inbound market in 2019 prior to the pandemic.
But just as Australia experienced a shadow lockdown during its Omicron outbreak, businesses in major cities in China — such as Shanghai and Wuhan — were reported to be hit by the Omicron wave, despite the end of COVID-zero policies.
In Guangzhou, Ms Huang also noticed her office getting more and more empty, as many of her colleagues were infected with COVID-19.
"It's the end of year already, which is a busy time for many companies," she said.
But now Ms Huang felt "less scared" of COVID-19 and its impacts on work and life.
"I once thought COVID was very distant to me, but now people around me got COVID. Some already recovered, and some would share their COVID treatment tips.
"I feel more reassured."