MUMBAI: Non-Covid respiratory ailments, including asthma, claimed 13,444 lives in Mumbai in the past five years, shows BMC data.
The data assume significance at a time when the city is reeling under the unusual phenomenon of high air pollution levels in summer, and doctors' clinics are overrun with patients with allergies or throat infection and dry cough that persists for two to three weeks.
'Air pollution indirect cause of death in respiratory ailments'
BMC data shows over 1,000 deaths every year, roughly 1% of the total deaths in the city, occur due to asthma, a lung disease in which the airways get narrow and blocked by excess mucus. Even common chest infections such as acute bronchiolitis led to death in over 20 children every year. However, BMC executive health officer Dr Mangala Gomare said the data is not a reflection of the severity of air pollution. "This data is a compilation of death as per ICD (international classification of death) coding. Many doctors, especially those not attached to medical colleges and hospitals, are not often accurate in their ICD classification," she said.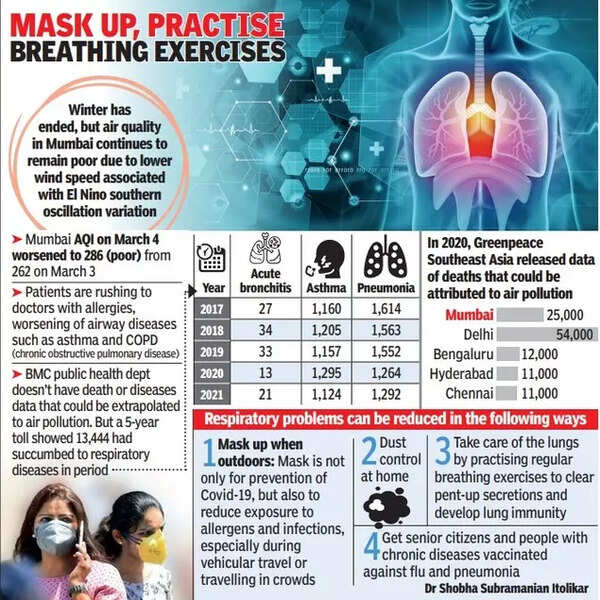 A senior civic hospital doctor said based on the present ICD data, it cannot be said air pollution leads to high mortality. However, a study released by the NGO Greenpeace-Southeast Asia in 2021 said Mumbai ranked fifth globally in annual deaths due to air pollution, with 25,000 deaths occurring in 2020. Delhi was the highest with 54,000 deaths related to air pollution the same year. Dr Salil Bendre, who heads the department of chest medicine at Nanavati Hospital, Juhu, said while air pollution worsens the symptoms of chronic pulmonary conditions such as asthma and COPD (chronic obstructive pulmonary disease), "it is the repeated infections that cause a problem". COPD is considered a preventable disease that worsens due to air pollution and causes 8.7% of the total deaths in India. "It is not an asthmatic attack or COPD exacerbation that suddenly kills a person, it's the effect of years of such attacks on lungs. The lungs get so weakened that the probability of death increases,'' he said.
In other words, air pollution is an indirect cause of death in the person. Air pollution-related morbidity has been high this year so far. Internal medicine specialist Dr Shobha Subramanian Itolikar from Fortis Hospital, Mulund said she is seeing many young people, especially those who step out to work, coming in with acute respiratory illness. "After Covid, acute respiratory illness is leading to an overwhelming rise in the number of patients coming in with breathing difficulty,'' she said. Patients come in with complaints of severe breathlessness or unrelenting cough that disturbs their sleep. "Most of the cases are due to acute allergic bronchitis, viral bronchitis or viral pneumonia, and the plummeting air quality is worsening the problem," said Dr Subramanian Itolikar. Dr Bendra concurred, saying patients coming in with pollution-related problems are higher than those with flurelated respiratory problems. "However, at times, patients themselves contribute to the burden by not complying with treatment. Inhalers are the best treatment option for patients with asthma and COPD, but many refuse to continue with it when they start feeling better," he said.