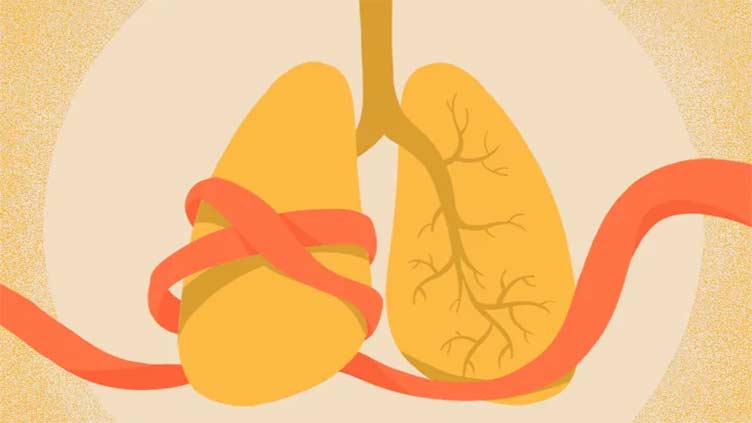 Asthma and COPD medication albuterol is in short supply: What you can do about it
ISLAMABAD, (Online) - A popular lung medication, albuterol, has been in a national shortage since the fall of last year. However, experts predict that this shortage is only about to get worse.
Last month one of the largest manufacturers of albuterol, Akorn Pharmaceuticals of Illinois, filed for chapter 7 bankruptcy. This company is responsible for producing many popular generic medications such as albuterol, acyclovir, dexamethasone, Lortab, and many others.
With this pharmaceutical company closing, South Carolina-based Nephron Pharmaceuticals is one of the only remaining sources of generic albuterol at this time.
According to the American Society of Health-System Pharmacists, it is unknown why other manufacturers such as Sun Pharmaceutical Industries and Mylan also had shortages of nebulized albuterol. While there is a short supply of the low concentration of nebulized albuterol, there is no estimated resupply date for the more commonly used dosage, 0.5%.
What is albuterol?
Albuterol is a type of medication that is called a bronchodilator. It helps keep the lung passageways open and helps treat people during acute exacerbations of shortness of breath.
"Many people believe albuterol is a medication that is used just for asthma but it is also used for COPD, chronic bronchitis, acute pneumonia, as well as acute Covid-19 infections," says Dr. Robert Miller, professor of Clinical Medicine at Vanderbilt University Medical Center. in Nashville, Tennessee
During attacks of these conditions, the airways become more narrowed, and as a result, it becomes increasingly difficult to breathe and catch your breath. These conditions affect infants to the elderly, and albuterol is used in all age groups.
When using a bronchodilator like albuterol, the inhaled medication allows the airways to open allowing for greater passage of oxygen to the lungs.
Albuterol can be used in multiple forms including through an inhaler or an aerosolized nebulizer – which is the form that is experiencing the greatest shortage.
While albuterol is one of the most common medications that is used for lung issues, there are other bronchodilators that are available – though, they can be costly and difficult to find in some scenarios.
"There are multiple medications that can be used as a bronchodilator and nebulizers – albuterol, levalbuterol, and ipratropium," says Miller.
"There are also longer acting bronchodilators that can also be used in a nebulizer form but in the most part those are not rescue medications – they are maintenance medications," Miller tells Healthline
Alternatives to albuterol
Although albuterol has been readily available and used, medical experts are urging people not to panic. There are several alternatives that can be used if you are experiencing shortness of breath including inhalers and metered dosing.
Much of the shortage has to do with the nebulized aerosol therapy but inhalers are still available.
There are different ways of using the same medication, inhalers will likely suffice as an alternative to using the nebulized treatments and they are currently not in short supply.
Medications like levalbuterol and ipratropium work in a similar fashion to albuterol and may be a reasonable alternative to albuterol if a nebulized form is needed.
One of the best ways to help prevent the overuse of albuterol is by using it less. Prevention is the key to avoid having exacerbations in the first place.
"People should try to conserve what albuterol they have if they can do so without compromising their asthma or COPD management and if there's a way to conserve some medication, that would be fewer number of treatments per day that are used," says Miller.
How to avoid asthma attacks
The Centers for Disease Control and Prevention says that one of the easiest things you can do to avoid an asthma flare-up is to reduce your exposure to asthma triggers.
Some exacerbations can be prevented by lifestyle choices, such as avoiding smoking and others who are sick. You can also avoid triggers such as pollen, pet-related allergens, and any other situations where you feel short of breath like workouts in the cold.
Additionally, staying up to date with your vaccines for things like pneumonia, and Covid-19 as well as your flu shot can help prevent contracting illnesses that affect the lungs.
Other medications can help
Albuterol is considered a rescue medication and should not be a medication that most people use multiple times a day. If you are finding that you are using this medication regularly, you may need another medication that is longer-acting and more preventative. By taking that additional step, you can help reduce the amount of albuterol you use, leaving it just for rescue, and it can also help by taking better control of your lung condition.
Additionally, if you are unable to get nebulized albuterol, Miller suggests that you can try different pharmacies as well.
"Sometimes a patient may not be able to fill their medication at their main pharmacy, but they may be able to try another one as each pharmacy's supply changes regularly," says Miller.
Although one generic manufacturer has filed for bankruptcy, it is still unknown why other manufacturers are facing shortages. Avoiding triggers that cause lung flares, working with your physician on alternatives early on before you need a refill, and changing your treatment regimen to include medications that are longer acting can help being affected by this shortage. 
' ;
var i = Math.floor(r_text.length * Math.random());
document.write(r_text[i]);