Sadiq Khan walks into the restaurant. If you had never set eyes on him before you'd guess he was a politician within five seconds. Ten, and you'd have him down as mayor. There's the fast walk, the faster talk, the quality coat, the handshake, the entourage. I've been sitting in the empty London restaurant with his personal adviser and suddenly it's half-full – people discreetly dotted at any number of tables.
I point to them. "That's my security. It's the same level of protection the prime minister and the king receive," says the former Labour MP and current mayor of London. The diminutive Khan is no stranger to bigging himself up, but he's not doing so now. He sounds embarrassed and regretful. Six years ago he was trolled on Twitter by Donald Trump and that's when the attacks intensified. But there had been plenty before then.
How has round-the-clock security changed his life? "There's no spontaneity – from playing five-a-side to popping for a pint of milk. I was clear I'd accept protection only if I could carry on doing the stuff I do. So me going to Carnival is a nightmare for them, doing Pride, going to concerts, using public transport, cycling, going to mosque. I'll be watching a film and they're three rows behind me. It's a bit weird!" In fact, as I discover later, the threats Khan has faced have had considerably more impact than to make his life a bit weird.
He seems in good form, though. He asks who I've interviewed recently. I mention Smokey Robinson and he's off – singing The Tears of a Clown, talking about seeing Stevie Wonder and Diana Ross live, and his love of soul music. The waiter arrives. Khan looks at my flat white dismissively. "What's that? That's very posh. I'm from south London so I'm going for a skinny Americano." It's classic Khan – playing the geezer and not getting it quite right. To his credit, he's told me every time we've met how uncool his two daughters think he is.
His feud with Trump started in 2015 when the then presidential candidate's pledge to ban Muslims from the US was criticised as "outrageous" by the then London mayoral candidate. Khan said he hoped Trump "loses badly". Fast forward to June 2017 and the attacks on Borough Market and London Bridge. Trump tweeted: "At least 7 dead and 48 wounded in terror attack and Mayor of London says there is 'no reason to be alarmed!'" What Khan had actually said was that the public should not be alarmed by the increased police presence on the streets. Khan called on the government to cancel Trump's state visit to the UK. Two weeks later, pedestrians outside Finsbury Park mosque were driven into in an Islamophobic attack, killing one person. "The terrorist was looking for me," Khan says. "He couldn't find me so he decided to target Jeremy Corbyn and Muslims. Every time Trump says something horrible about me there's a massive increase in hatred towards me on social media." Two years later, a man murdered 51 people at the Al Noor mosque in Christchurch, New Zealand. "The killer mentioned me as well. Then there are people who follow Daesh [Islamic State] and al-Qaida who think you can't be a Muslim and a westerner. I get it from both sides in relation to the death threats."
When he stood as mayor in 2016, his Conservative rival Zac Goldsmith launched a shocking campaign many condemned as "dog-whistle" politics. He wrote to families with Indian and Sri Lankan names under the headline "Sadiq Khan Will Put London's Future And Your Community At Risk," saying, "We cannot let him experiment with these radical policies." The campaign never mentioned that Khan is Muslim and of Pakistani heritage, but it didn't need to. Despite the smears, he emerged triumphant.
Khan has won election after election (three terms as MP for Tooting, twice so far as mayor) and has made enemies galore along the way. As he tells me numerous times, unlike many politicians he is not afraid to make tough decisions. Take his time as mayor. It may be best remembered for introducing the ultra-low emission zone (Ulez), protests from those who drive for a living and rightwing accusations of being an enemy of the people and a hypocrite (for flying while championing the environment), and promoting a regressive tax.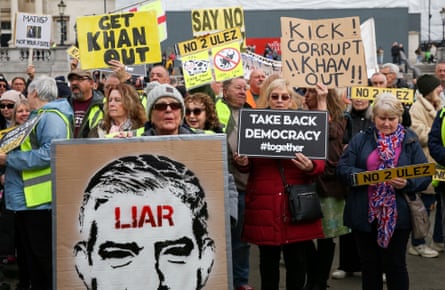 Ulez was actually the brainchild of Boris Johnson in 2013, but he made sure he would be nowhere near the mayoralty when it started. Khan introduced it in 2019, then extended it, and has arguably paid the price for his "war on motorists" – Ulez, low-traffic neighbourhoods (LTNs) and cycle lanes. Black cab-drivers brought Parliament Square to a standstill in 2019 after Khan banned them from part of the capital, and in 2020 they heckled him outside City Hall, shouting "Give us back our streets", "You're not the mayor of London, you're the destroyer of London" and "Black cab lives matter".
Now he has written a book called Breathe: Tackling the Climate Emergency, about his mission to make London a cleaner, safer city. It's an appropriate title. When Khan talks, you wish he'd do just that. Breathe between sentences, or at least topics. But he is relentless. He's the anti-Johnson. While the former prime minister is all bluster, Khan pummels you with facts.
Breathe is both personal and political. For Khan, everything is. At its most powerful, it tells the story of Ella Adoo-Kissi-Debrah, the nine-year-old Londoner who died in 2013 after an acute asthma attack and was the first person in the UK to have air pollution cited as a cause of death. It is personal in the sense that when Khan was training for the London marathon he started to struggle with his breathing and was diagnosed with adult-onset asthma, which he attributes to air pollution. Breathe is the story of his battle to clear the air.
"If I got asthma by running in the city, how many people don't realise they are stuck with breathing nitrogen oxide? You can't see it, but it's damaging every cell and organ. If you and I were speaking in the 19th century, we would smell the great stink. Then last century the great smog led to thousands of deaths. The problem is, you can't see or smell today's air pollution."
His track record as an environmentalist was shoddy, he says. "I voted for a third runway at Heathrow. I went from driving a black Saab convertible to a Land Rover when my daughters were little, to running the marathon and … " It's a typical Khan sentence. He's so keen to get to the next point that he doesn't bother concluding the current one. I think he means he went from driving his Land Rover to running the marathon and caring about the climate. But he gets distracted by something else important to him. "I raised lots of money running the marathon, and beat Ed Balls and Andy Burnham." There is not an uncompetitive bone in his body.
He compares the impact Ella had on him with that of Stephen Lawrence. Both had mothers – Doreen Lawrence and Rosamund Adoo-Kissi-Debrah – who have fought tirelessly to ensure their children didn't die in vain. "The reason I adore and was inspired by Doreen is that but for the grace of God I could have been Stephen. Rosamund or Doreen could have been my mum. What was Ella going through? Rosamund was advised to take tissues from her just before she was buried to examine them later on. And she discovered through experts that every day her daughter had a severe asthma attack, the same day there was bad traffic air pollution. Had she known that she could have taken action. And here's the thing that makes me really angry: Boris Johnson knew that, because he'd commissioned a report that was buried away which showed the impact polluted air has on some of London's most vulnerable communities. The second inquest into Ella's death, with all the evidence and all the experts, concludes air pollution is causative of death. So the book is trying to educate people about air pollution. Not in a gloom and doom way, but in a hopeful way that you can do things about it."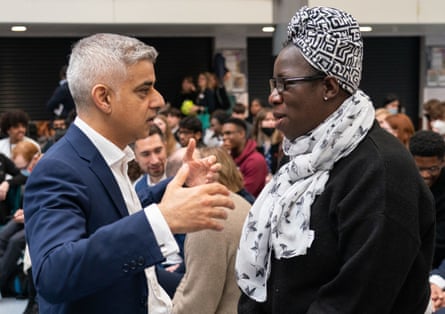 I'm still waiting for Khan to take a breath. "Listen, Simon, in just two years we managed to reduce the toxicity in a centralised city by almost 50%. I spoke to experts from around the world who say they have never seen a policy so effective in such a short time. When I first became mayor, King's College said it will take 193 years to make our air within legal limits. Now they're saying you can do it by 2025. So if you're fatalistic, don't be. There is something you can do. Here's the proof."
And … breathe. Interviewing Khan feels like watching Question Time with a solitary guest. The monologue is Khan at his migraine-inducing best – the verbal tics, the stats, the willingness to make political capital out of a powerful story. But it's also important and impressive. The clean air (human rights) bill – also known as Ella's Law – would enshrine the human right to healthy air in UK law. Khan has repeatedly called on the government to support the bill. Health officials estimate the death toll from human-made air pollution in the UK is between 29,000 and 43,000 every year.
His environmental record is far from perfect. Khan has been criticised over his support for the Silvertown tunnel, a £2bn road-building programme in east London. While he argues it will make London's air cleaner, many independent health, climate and transport experts believe that it will increase traffic and air pollution in some of the poorest boroughs in the country. He is constantly hammered for his commitment to LTNs even by Rosamund Adoo-Kissi-Debrah, who believes they lead to more congestion on major roads. "All they have done is diverted traffic. I told Sadiq this was going to happen. But no-no-no-no-no. The powers that be knew better. Sadiq knows I'll always tell him the truth." Nevertheless, she says, she can't speak highly enough of "the old man" and what he's done to highlight Ella's story and the dangers of air pollution. Khan is only 52. Why does she call him the old man? She bursts out laughing. "He'll kill me for calling him that! I saw some pictures of him when he was a lawyer and he had dark brown hair. I didn't recognise him. Oh my God!"
Adoo-Kissi-Debrah has seen an early copy of Breathe. "Sadiq said, 'I'm going to mention your daughter, is that OK?' I just shrugged and said yes. But I wasn't expecting this! The book keeps Ella's name alive and I'm glad she's inspired him. In highlighting air pollution and its impact on us in terms of cardiovascular strokes, dementia, suicide, teenage depression and on children even before they are born, Sadiq's done immense good."
---
Khan entered politics with a perfectly pitched backstory – the working-class son of a bus driver father and seamstress mother, one of eight siblings (seven boys) who had to fight to make themselves heard (that's why he talks so fast, he says). He was born in Tooting, raised in Tooting, became MP for Tooting and still lives in Tooting with his wife, Saadiya, and daughters Anisah and Ammarah. He and his brothers experienced so much racism that they took up boxing (one coached Olympic silver medalist Joe Joyce). Khan studied law at the University of North London (now London Met) and went to work for the eminent human rights lawyer Louise Christian in 1994, later becoming a partner in the firm.
As chair of the human rights organisation Liberty in the early 00s, Khan campaigned against imprisonment without trial, then in 2005, as a new MP, voted against Labour's proposal to hold terrorism suspects for 90 days without charge. He says his rebellion made an enemy of Tony Blair and stymied his career in the Commons, but he had to hold true to his beliefs. Three years later, however, he was a whip responsible for pushing through 42-day detention without charges. It's hard to see him doing a similar U-turn on the climate.
Last December, Khan announced he would seek an unprecedented third term as mayor. The day we meet a YouGov poll shows his ratings are down, with 35% of Londoners thinking he is doing a good job and 50% saying he is doing badly (marginally better than the ratings for Rishi Sunak and Keir Starmer). Could his stance on air pollution cost him the election in 2024? "I don't think it will. I stood in the last election saying I want to be the greenest mayor our city's ever had, and I got the biggest vote a sitting mayor's ever received." The only time polls matter, he says, are on election day.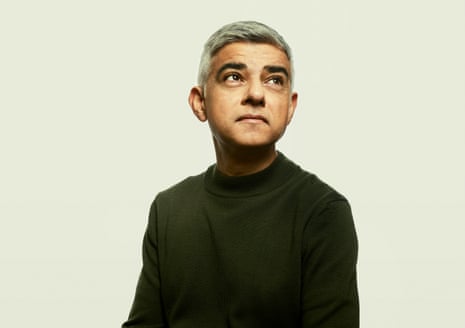 Khan may now be as closely associated with London as previous Labour mayor Ken Livingstone. And, like Livingstone, you sense he's aware of every pothole and dodgy traffic light. But the city has changed hugely since Livingstone's time. Although its overall population is rising, the number of people aged 25-39, and most likely to start families, is falling because of housing costs. Most young people simply can't afford to live in London any more. Inevitably, this will lead to a city famous for its diversity becoming the preserve of a moneyed elite.
Is London dying? Khan doesn't answer directly, but his response suggests he knows it is in need of urgent resuscitation. "One of the reasons my parents chose this country was so their kids were better off than they were. Now, for the first time in a long time, our children may be less well off than we are, for a variety of reasons – housing prices, Brexit and so forth. That's the bad news." Now for the good news, naturally provided in the form of stats – 36,000 affordable houses a year built under him as opposed to 25,000 under Johnson; more council houses completed than at any time since the 70s; a proposed rent freeze in London. Despite the progress, Khan himself said in 2017 that London needed 66,000 new homes a year to address years of underinvestment, chronic housing shortage and growing population. Back then, the capital's population was 8.92 million; today it is 9.65 million.
But for all the stats, schemes and proposals, he admits the city is in crisis. "If I was speaking to you 20 years ago, I'd be saying, listen, Simon, I'm worried about cleaners and bus drivers not being able to live in London. Now it's nurses, doctors, teachers." Again, he says his politics is informed by the personal. "My children have finished their degrees and are living at home. By 2030, one in three 30-year-olds will still be living with their mum and dad. I love my kids but I want them to leave at some stage, right? So we've got to fix the housing crisis. I was 24 when I bought my first home. That's unthinkable now." The biggest problem for him, he says, is he can spend so little of the taxes raised in the city. "Fact: I get to spend 7%, New York gets to spend 50%, Tokyo 70%."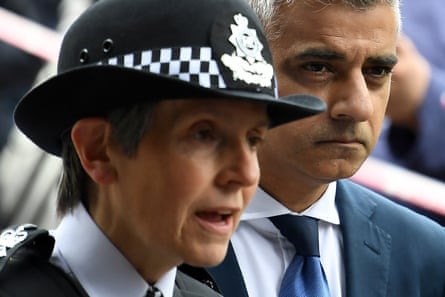 Housing is not the only crisis in London. Violent crime, as ever, is an issue. The Daily Mail recently ran an article with the headline "Sadiq's London: More than 150 teens have been murdered in the capital since Khan became Mayor". Then there is the calamitous state of the Metropolitan police. In September 2021, Met officer Wayne Couzens was sentenced to a whole life term for the kidnap, murder and rape of Sarah Everard. In February 2022 Met commissioner Cressida Dick resigned after Khan gave her an ultimatum, saying she wasn't doing enough to reform the force. Last September, a government-commissioned report by Sir Thomas Winsor branded his actions "irrational", alleging he had not followed "due process" and had treated her unfairly.
Did you act unlawfully, I ask him today. "No, it wasn't unlawful. If it was unlawful where's the court case; where's the legal challenge? It was the right thing to do and I stand by it." Again, he says, he was prepared to take a tough decision. "When I lost confidence in the commissioner, I was by myself. The prime minister was against me, the home secretary was against me, Tom Winsor was against me. And you know what? It's been a consolation to say I was vindicated." This March, Louise Casey's report into the Met concluded that it is institutionally racist, misogynistic and homophobic.
A month before Casey's report was published, former Met officer and serial rapist David Carrick was given 36 life sentences after pleading guilty to 49 charges against 12 women between 2003 and 2020.
Is Khan ashamed of the Met? "I think it's a problem, yeah," he says. "I'm ashamed there's not been the progress there should have been." He talks about growing up in London, being routinely stopped by the police, like so many boys and men of colour, being told to empty his pockets despite having done nothing wrong. "It got to the point where I crossed the road when I saw a police officer coming. When I was driving my car I'd be regularly stopped by the police." In 1999 the Macpherson report into the murder of Stephen Lawrence labelled the Met institutionally racist. Twenty-four years on, it is institutionally misogynistic and homophobic to boot.
Do his daughters trust the police? "I tell them to." And what do they say? "We hear you, but these are the reasons why we're nervous." What are those reasons? "We now know about Couzens and Carrick. A lot of girls and women have been touched up on tubes, have been on buses where men have been masturbating, right? In the past my daughters and their friends have reported things like this to the police and nothing much has happened. This commissioner says it's unacceptable. Every incident should be investigated."
Isn't it too late? Surely the organisation is so discredited it has to be disbanded and reconstituted, as the Royal Ulster Constabulary was in 2001? Not yet, Khan says. In fact, he argues the Met is ahead of other British forces in that it has acknowledged and is addressing its failings. But he does accept this is its final chance. "I think it is possible to reform the police. But it may get to the situation, in two years' time, when we've not seen the progress we need to see. It may then be the case that we do need to relook into this. What we can't do, though, is have an artificial rebranding."
---
He doesn't just want to win a third term as mayor, Khan tells me; he's hoping for six in total. I assume he's joking, then realise he's not. It becomes apparent that this is how long he thinks it will take to revive the city. What would he hope to have achieved by the end of a third term? "By then we'll have had a Labour government for at least three years, so we're going to see even more progress on fixing the housing crisis, the air quality, and you'll have started to see the fruits of the reformed police service and fire service, and more jobs created in London." And at the end of the sixth term? "You'll see a London that can have our children feeling they have a future rather than being worried about what the future holds." As he says, he's always been an optimist.
Khan never seems to rest. I'm knackered just listening to him. Does he ever feel exhausted? "No. I mean, I'm tired sometimes of course. But I'm doing something that for the last 13 years people with my politics have not been able to do – bring about change because you've won elections. I'm not a doctor, police officer or firefighter, but I'm saving lives by being the mayor. By improving the quality of air in London."
I ask if he still runs. "I did 12k last weekend, 7k a few days ago. Another thing I didn't realise until the pandemic is that it helped not just my physical fitness but also my mental fitness." Then the seemingly invincible Khan says something surprising. He tells me he really suffered in the pandemic. "I lost my mojo. I didn't have clarity of thinking. I wasn't so sparky. I wasn't inspiring my team." Did he see a therapist? "No. I've got friends who are doctors. I spoke to Alastair Campbell about it a lot. Alastair was very helpful."
Actually, he says, it was even worse in 2017 with the Grenfell fire, terrorist attacks and death threats. "I spent a lot of time with bereaved families and that has an impact on your mental health. I got help in understanding PTSD. A number of things can trigger post-traumatic stress disorder. By the way, I'm not comparing what I'm going through to the actual victims of Grenfell Tower."
You've been suffering with PTSD? "Without a doubt. One of my best friends is a doctor and we talk about it. We play tennis and he gives me talking therapy."
What did they relate the PTSD to: the terrorist attacks, death threats, the pandemic? "I think the phrase is cumulative." Again, he caveats it. "By the way, I'm not comparing what I am going through to some of the stuff people go through – as a lawyer my clients with PTSD were asylum seekers and refugees. I would never give equivalence to what I am going through. Nor would I ever want people to feel sorry for me. I'm very privileged to do the job I do." And another caveat – this time a different type. "By the way, if this means I'm a snowflake, so be it, right? Mental health is fragile if it's not looked after. And I shouldn't be afraid to talk about it."
Apart from the time we were discussing music at the start, Khan has hardly smiled in almost two hours. He's been too busy laying out achievements, obstacles and challenges ahead. I feel as if I've gone 12 rounds with the Human Encyclopedia of City Hall. But for all the talk of six terms, I think he's worried about the next election. And for all the braggadocio there is a vulnerability – partly a fear of letting London down by losing, partly a fear of personal failure. Khan is that rare thing: a politician with a mission and vision for the community he serves.
As he gets up to leave, most of the restaurant empties. Meanwhile, formalities over, Khan has recovered his chirpiness. On the way out he stops for a chat with Ahmed, the restaurant manager. "We're having an Eid celebration in Trafalgar Square on Saturday. You should come down. There'll be thousands of us. We take a picture with everyone there." He grins. "Then we send it to Trump." And with that he's off.
'One short life forced people to face up to an invisible killer'
An extract from Sadiq Khan's Breathe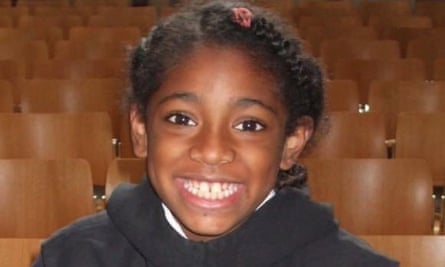 I never used to be particularly "green". When I was offered a salaried partnership in a law firm, I negotiated a parking space for my Saab convertible on the same street as the office in central London, and later upgraded to a gas-guzzling Land Rover Discovery. Climate change had always seemed very far away – both geographically and temporally. It was a "tomorrow" issue rather than a "today" issue.
Then in 2014, I agreed to run the London marathon and started to encounter a problem. After a long run, I would struggle to breathe. When the wheezing turned into coughing, my GP diagnosed adult-onset asthma. I was incredulous. I was 43. I'd never had any respiratory issues. My GP said it wasn't uncommon now for people to develop the condition in adulthood, largely due to environmental factors like poor air quality. I had almost certainly developed it while training on London's roads, and I began to notice the cars idling outside schools and the exhaust fumes streaming out of gridlocked cars. Environmental problems weren't just causing problems "out there" – they had given me asthma, here in London. This wasn't just a climate crisis – it was a health crisis.
I also learned that having an asthma attack is scary. And I'm an adult. I can rationalise what's happening when I find it hard to breathe. I can't imagine how frightening it must be for a child. And there is no better way to demonstrate exactly why our toxic air matters than the story of Ella Roberta Adoo-Kissi-Debrah.
Like me, Ella was born in south London. She attended a performing arts school from the age of three and dreamed of becoming a pilot. Just before her seventh birthday, Ella began to develop a cough. She was prescribed antibiotics for a chest infection, but the expected recovery never came and she was eventually diagnosed with a unique and severe form of asthma. The condition would cause Ella to faint and have seizures, and ultimately resulted in her lungs collapsing completely. A few months later, she stopped breathing and went into intensive care.
Ella was admitted to hospital 27 times in the following 28 months. Her mother, Rosamund, resuscitated her on more than 20 occasions and she was treated in five hospitals, by numerous specialists. Then on 14 February 2013, she stopped breathing, had a seizure in the ambulance and died in hospital in the early hours of 15 February. She was nine years old.
The pathologist who carried out her postmortem said Ella had suffered from "one of the worst cases of asthma ever recorded in the UK" and the coroner who investigated her death concluded that she had died due to a severe asthma attack followed by a seizure, "possibly caused by a reaction to something in the air". But what? It was not until months later that a neighbour mentioned to Rosamund that their neighbourhood in Lewisham often had poor air quality due to its location near the busy South Circular Road. Rosamund had never before imagined Ella's condition could be linked to the air she was breathing every day. Why would she?
---
It wasn't until I was elected mayor of London in May 2016 that I learned of Ella's case. Soon after, I met professor Stephen Holgate, an expert on air pollution and asthma. He identified the "striking association" between Ella's hospital admissions and the most dangerous episodes of air pollution around her home, and concluded that Ella's death certificate should reflect air pollution as a causative factor. He said there was a "real prospect that without unlawful levels of air pollution, Ella would not have died".
So began our campaign to have a new inquest. It took four years to get a verdict, but when it came, it was transformative. In December 2020, coroner Philip Barlow concluded that toxic air had indeed played a role in Ella's death. She became the first person in the UK to have "air pollution" listed as a cause of death.
The coroner's findings had finally answered Ella's family's questions. But the effects of his report were felt far more widely, with the ruling paving the way for others who wanted to see further action on air quality. It gave concrete evidence that toxicity from transport doesn't just stunt children's lungs – it is a killer.
Above all, the inquest verdict hammered home why it was important to take the environment seriously. Through running the marathon I learned that climate change is a force that harms all of us – not people "over there" in the distant future. And I learned that London is filled with brilliant, thoughtful, motivated people who want to do their bit. People like Rosamund, who remains a fearsome campaigner but was, first and foremost, a mum to Ella.
For me, Ella humanised why the environment matters. Her short life forced people to face up to the invisible killer we all breathe every day. Ella shows that the climate emergency is a health crisis, too, and that we cannot wait to take action to clean up our air.