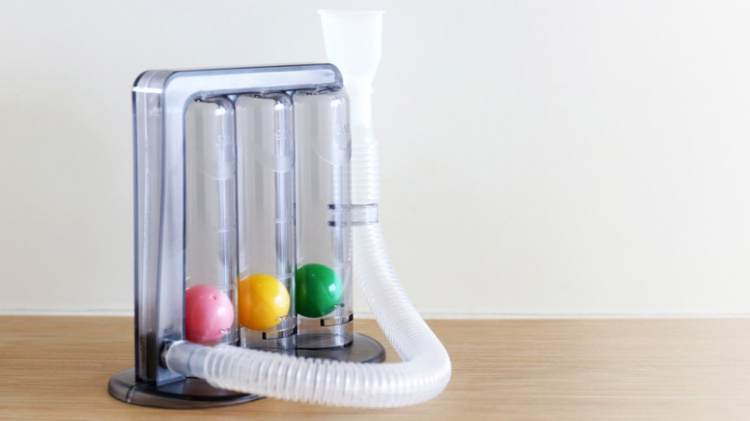 The products curated for this article are independently chosen by the
editorial team. If you make a purchase through the
links
mentioned below, we may receive a commission. Check out our
product
research & curation process
A breathing exercise machine claims to help strengthen the lungs, increases lung capacity, and improves overall respiratory function. Our findings show that, with the best breathing exercise machines you can engage in controlled breathing techniques that encourage slow, deep breaths, activating the body's relaxation response and helping to alleviate anxiety and stress.
By engaging in controlled breathing exercises with the help of this machine, you can improve the oxygen exchange in your lungs. This can result in increased oxygen circulation throughout your body, providing more oxygen to your muscles, organs, and brain. Athletes and individuals engaged in physical activities can benefit from breathing exercises to improve their endurance and performance. By training the respiratory muscles with a breathing exercise device you can increase their strength, stamina, and efficiency, leading to better physical performance during exercise or sports.
But with so many options on the market, it can be hard to know which ones are worth investing in. In this blog, we'll take a closer look at breath exercise machines and explore some of the best options available.
Our top picks
Best Scientifically Engineered
Best Instructions Included
Best for Both Adults And Kids
9 Best Breathing Exercise Machines to Improve Your Overall Health
Crafted with high-quality materials, this breathing exerciser from SoulGenie is built to last and withstand regular use. The exerciser also includes a comfortable mouthpiece that fits snugly in your mouth, making it easy to use and providing a comfortable experience. It comes with an easy-to-read measurement system that allows you to monitor your progress and see the results of your efforts. Whether you are looking to improve your lung function, manage a respiratory condition, or simply want to breathe better, this exerciser is the perfect solution for you.
Pros
Compact design
Break-resistant
Solid construction
Removable and washable parts
Very easy to use
Affordable
Cons
A bit small
Poor packaging
This breathing exercise machine from The Breather is the perfect tool to help you improve your breathing and overall health. With it, you can easily train your breathing muscles to become stronger and more efficient, allowing you to inhale deeper and more comfortably. This product comes with a guided mobile training app to help you get started with your respiratory therapy. And, the app provides step-by-step instructions for using it, along with video demonstrations and interactive exercises to help you get the most out of your training.
Pros
Drug-free
Scientifically engineered
Compact
Adjustable
Professional online support available
Can be used by all age groups
Cons
App does not work well
Difficult to use
Wonder Care's lung exercise device is designed to measure your breathing capacity and train your lungs to function at their best. Designed with a breath measurement system, this exerciser allows you to monitor your breathing and track your progress over time. The washable and hygienic design ensures a safe and clean experience with every use. With a convenient handle, this exerciser is easy to carry and use on the go. Whether you're recovering from a respiratory illness or simply looking to improve your lung function, it is a must-have for anyone looking to optimize their breathing and overall health.
Pros
High quality
Break-resistant
Compact
Detailed illustrated instructions included
Can be cleaned easily
Perfect for adults
Cons
Has a weird taste
Very small in size
You can start breathing your way to better health with this breath trainer from Breather Fit. With this innovative product, you can enhance your breathing capacity, lung function, and overall athletic performance. The product comes with a guided mobile training app that provides comprehensive training and exercise routines tailored to your individual needs. It is designed to simulate high altitude training, improving your lungs' ability to take in oxygen and deliver it to your muscles. This helps to increase endurance, strength, and overall performance.
Pros
Medical grade materials
Has 6 different resistance options
Independent inhalation/exhalation settings
Suitable for everyone
Proper packaging
Cons
No instruction included
Pricey
This breath exercise device from Nemstar when incorporated into your daily routine will help you improve your breathing and lung capacity through a series of easy-to-follow exercises. It is designed to help you boost your lung capacity and enhance your breathing technique, making it an ideal choice for anyone looking to improve their respiratory health. With adjustable resistance levels, it allows you to customize your workout and gradually increase your lung capacity over time. The inspiratory muscle trainer device o2 lung trainer is perfect for athletes, singers, musicians, and anyone looking to improve their respiratory health and increase their endurance.
Pros
Adjustable resistance dial
Durable silicone mouthguard
Soft teeth grips
Comfortable fit
Easy to clean
Great for daily use
Cons
Comes with no instructions
No scale to set resistance
With regular use of this breath machine for lungs from Bas Rutten, you'll notice an increase in lung capacity, improved breathing patterns, and a greater overall sense of well-being. This portable breathing mouthpiece is designed to help you improve your breathing efficiency and increase your endurance during high altitude and power training. The device is available in a stunning blue color and comes with an adjustable resistance setting, allowing you to customize your workout according to your fitness level. Use it as it can help to enhance your oxygen utilization, and improve your overall fitness.
Pros
Lightweight
Great for everyday life
Portable kit design
Travel-friendly
Designed for all
Can be used with any exercise or activity
This machine for lung exercise from NebuAksol is the perfect solution for anyone who wants to improve their breathing naturally. It works on the OPEP technique, a drug-free therapy that uses positive expiratory pressure to clear mucus from the lungs. This device is compact, portable, and easy to use, making it an ideal choice for people of all ages and fitness levels. Whether you're an athlete looking to enhance your performance or someone with respiratory issues seeking relief from congestion, it is the perfect solution. With regular use, you can expect to see a significant improvement in your lung function, respiratory health, and overall well-being.
Pros
Safe and reliable
Easy to use and clean
No batteries needed
Lightweight
Portable
Ideal for home and travel use
Cons
Poorly designed
Not for routine use
Sonmol's lung exercise devicewill help you train your respiratory muscles to become stronger and more efficient. Designed for athletes and fitness enthusiasts alike, this innovative device utilizes inspiratory muscle training to increase lung function and overall performance. It is easy to use and can be incorporated into any workout routine. Simply place the device in your mouth and inhale deeply, allowing the resistance to target and strengthen your inspiratory muscles. Use it regularly, and notice improvements in your endurance, stamina, and overall respiratory health.
Pros
High durability
Lightweight
Easy to carry
Can be cleaned easily
Proper packaging
Suitable for both adults and kids
Cons
Unstable mouthpiece
No instruction available
You can experience the benefits of improved lung capacity and abdominal strength with this breathing exercise machine from Powerbreathe. This handheld inspiratory muscle trainer is perfect for anyone looking to enhance their respiratory fitness and overall health. It features a sleek and stylish pink design and is equipped with light resistance, making it ideal for beginners or those with limited lung function. By using this device for just a few minutes a day, you can improve your breathing efficiency, reduce breathlessness, and increase your overall endurance.
Pros
Drug-free
Easy to use
Revolutionary patented technology
Ergonomic design
Comes with storage bag
User manual included
Cons
Does not work properly
Costly
Now that you've seen our product recommendations for the best breathing exercise machines, let us see the following buying guide and steps to use to shop wisely and make the best of the product.
How to Choose the Best Breathing Exercise Machines?
We will look at some of the factors you should consider when choosing the best breathing exercise machine for your needs. 
Type: There are different types of breathing exercise machines available, each with its own set of features and benefits. The most common types of machines include handheld devices, stationary machines, and masks. Handheld devices are portable and easy to use, making them a great option for those who want to incorporate breathing exercises into their daily routine on-the-go. Stationary machines are larger and more powerful, designed to provide a more intense workout for the lungs. Masks are another option, and they're often used in conjunction with other breathing exercises to help improve lung function.
Resistance Levels: The resistance level of a breathing exercise machine determines how difficult it is to breathe while using the machine. Higher resistance levels require more effort to breathe in and out, making them ideal for individuals who want a more challenging workout. Lower resistance levels are better suited for those who are just starting out with breathing exercises and need to build up their lung capacity gradually.
Ease of Use: Breathing exercise machines should be easy to use, with clear instructions and intuitive controls. Look for machines that are simple to operate, with easy-to-read screens and buttons that are easy to press. Additionally, consider whether the machine requires any additional equipment or accessories, such as batteries or replacement parts.
Size and Portability: The size and portability of a breathing exercise machine are also important factors to consider. If you plan to use the machine at home or in a gym, a larger, stationary machine may be a good option. However, if you want to take the machine with you on-the-go, a more portable option like a handheld device or mask may be a better choice.
Customization: Different people have different respiratory needs, so it's important to choose a breathing exercise machine that can be customized to your specific needs. Look for a machine that allows you to adjust the resistance levels and breathing patterns to fit your needs. 
Price: Finally, price is an important consideration when selecting a breathing exercise machine. While you don't want to skimp on quality, you also don't want to overspend on features you don't need. Look for machines that offer the features you want at a price point that's within your budget.
By considering these factors, you'll be able to find the right breathing exercise machine for your needs and start enjoying the numerous benefits of deep breathing.
How to Use Breathing Exercise Machines?
1. Before using a breathing exercise machine, it's essential to warm up your respiratory muscles. You can do this by taking slow, deep breaths or doing some light cardio exercises. Warming up helps to increase blood flow to your respiratory muscles, making them more receptive to training.
2. Read the instructions carefully. Each machine has unique features and instructions for use. Once you're familiar with the machine, follow these general steps: 
Sit in a comfortable position with your back straight, and your feet flat on the ground.
Hold the mouthpiece or mask securely in your mouth. 
Take a deep breath in and then exhale slowly into the mouthpiece or mask.
Repeat the process for the recommended number of breaths.
3. Don't try to push yourself too hard when you first start using a breathing exercise machine. Start slowly and gradually increase the difficulty of the exercises. This will help you avoid any discomfort or injury.
4. Most breathing exercise machines come with adjustable resistance levels that allow you to increase or decrease the intensity of the workout. Start with a low resistance level and gradually increase it as your muscles get stronger. It's important not to overdo it, as this can lead to muscle fatigue and discomfort.
5. To get the most benefit from a breathing exercise machine, it's essential to follow a routine. Set aside a specific time of day for your exercises and stick to it. Consistency is key when it comes to improving your lung capacity.
6. Keep track of your progress as you use a breathing exercise machine. This will help you see how far you've come and motivate you to continue your routine. You can measure your lung capacity, breathing rate, and other factors to monitor your progress.
7. Improving your respiratory health takes time, so be patient and don't give up. With regular use of a breathing exercise machine and a healthy lifestyle, you can achieve better lung capacity and overall health.
Breathing exercise machines can be a great tool for those looking to improve their respiratory health. From portable handheld devices to larger, more advanced equipment, there are a variety of options available to suit individual needs and preferences. By incorporating regular use of the best breathing exercise machine into your routine, you can strengthen your lungs, increase lung capacity, and potentially improve overall health and wellbeing. It's important to consult with a healthcare professional before beginning any new exercise regimen, but for many people, it can be a valuable addition to their daily routine.
Author BIO
Shebna is a content creator with an experience of over 6 years and likes to delve into all things health and fit More
FAQ's
When Should I Notice A Difference in Breathing?
The time it takes to notice a difference in breathing while using a breathing exercise machine can vary depending on individual factors such as frequency of use, intensity of the exercise, and underlying health conditions. However, with consistent use and proper technique, most individuals should begin to see improvements in their breathing within a few weeks to a couple of months. It is important to consult with a healthcare professional before starting any new exercise program, especially if you have a history of respiratory issues or other health concerns. Remember to stay patient and persistent in your practice to achieve the best results.
How Can You Track Your Progress While Using It?
By using the machine's built-in features such as performance tracking and progress reports, you can monitor your progress and make the necessary adjustments to your routine. Additionally, using an app or a fitness tracker can provide you with a more detailed analysis of your progress over time.
How Does Breathing Exerciser Work?
They work by providing resistance to the air that you inhale, forcing your respiratory muscles to work harder. By using a breathing exercising machine regularly, you can strengthen your lungs, improve your breathing technique, and increase your overall endurance.
How to Increase Lung Capacity?
Using a breathing exercise machine can effectively increase lung capacity and improve overall respiratory health. By consistently performing breathing exercises with the machine, individuals can strengthen their lungs and enhance their endurance during physical activity. Additionally, incorporating proper breathing techniques into daily life can result in a variety of benefits, including reduced stress and improved sleep quality.
How Often Should You Use A Breathing Exerciser?
The frequency of using a breathing exerciser largely depends on your individual needs and goals. If you are using a breathing exerciser for respiratory therapy, it is recommended to follow the guidance of your healthcare provider. However, if you are using a breathing exerciser for general fitness or stress relief, incorporating it into your daily routine for a few minutes at a time can be beneficial. It is important to listen to your body and gradually increase the frequency and duration of your breathing exercises as you feel comfortable. Remember to always prioritize your safety and consult a healthcare professional if you have any concerns or questions about incorporating a breathing exerciser into your routine.
Is Spirometer Exercise Good for The Lungs?
Using a spirometer for lung exercise can be a beneficial tool for improving lung function and overall respiratory health. Regular use of a spirometer can help to increase lung capacity, improve breathing patterns, and reduce the risk of developing respiratory illnesses. While it may not be a cure-all for lung-related conditions, incorporating spirometer exercises into an overall fitness routine can be a positive step towards better lung health.
Why Trust select
Shebna V, the author, likes to spend her time researching the best health and fitness finds ranking high across various platforms to bring her readers a curation of the most useful products. Here, she has researched and listed her recommendations for the best breathing exercise machines. 
Our product experts study the specifications of every product we suggest and try them out to bring what's proven to be worthy of your money, time, and energy. We also have subject matter experts from various fields like Fashion, Skincare, Haircare, Home Decor, and Health & Fitness onboard to make sure our suggestions are credible and trustworthy. You can trust Select to be your faithful shopping guide for all the right reasons!