Tobacco smoking has been linked to many harmful effects, including cancer. With the growing popularity of marijuana, a question arises: Does smoking marijuana have the same negative impact on lung health as tobacco? Two recent studies provide very different conclusions.
A longitudinal study conducted in Australia suggests that cannabis use does not increase the risk of lung damage any more than tobacco does, even after years of use. The study tracked 2,601 young adults aged 21 to 30, testing their lung function with a spirometry test, a common type of breathing test that measures how much air a person can breathe in and out.
The results demonstrated that cigarette smoking, with or without cannabis use, is associated with reduced airflow. However, no consistent association was shown between cannabis use and impaired lung function. The co-use of tobacco and cannabis appeared to have no additional risk to lung function.
A retrospective case-control study conducted in Canada found that marijuana smokers were more likely to develop airway inflammation and emphysema compared to tobacco-only smokers or non-smokers. Airway inflammation is a critical component of many chronic airway diseases. One of them is emphysema, a lung condition that causes shortness of breath and damage to lung tissue.
The study analyzed chest CT scans of 56 marijuana smokers, 57 non-smokers, and 33 tobacco-only smokers. The researchers found that the paraseptal subtype of emphysema, a type of pulmonary emphysema that damages the tiny ducts that connect to the lung's fragile air sacs, was predominant in marijuana smokers.
Does Marijuana Really Have No Effect on Lung Function?
The Australian study observed no significant lung function impairment in young adults who used marijuana. However, in an interview with The Epoch Times, Dr. Kelly Johnson-Arbor, co-medical director of the National Capital Poison Center, cautioned that the data from the study may not apply to current marijuana smokers.
"This one study pretty much shows that tobacco and cannabis have different effects on the lungs," Johnson-Arbor said. "And so because of that, maybe after short periods of use of cannabis, you don't really see the same changes in the lungs that you do with smoking [tobacco]."
The study is limited because the last follow-up was conducted in 2011, added Johnson-Arbor, a triple board-certified physician in emergency medicine, medical toxicology, and undersea and hyperbaric medicine. The study's participants underwent a spirometry test at ages 21 and 30, with the first evaluation taking place between 2001 to 2004. The final evaluation was conducted between 2008 to 2011.
Johnson-Arbor explained that the availability, frequency, and methods of cannabis use were markedly different a decade ago, so the results may not apply to current patterns of cannabis use.
The potency of marijuana today is significantly higher than it was in the past. The concentration of tetrahydrocannabinol (THC), the main psychoactive component of cannabis, rose from 8.9 percent in 2008 to 17.1 percent in 2017. Today, it is common to find marijuana with a THC content exceeding 20 percent.
Jake Najman, the lead author of the study and a professor emeritus at the School of Public Health at the University of Queensland, Australia, told The Epoch Times via email that patterns of cannabis use have constantly been changing, a fact the study had acknowledged. "In an uncertain world with change occurring in a range of behaviors, my best guess, on the available evidence, from our study and others, is that short-term cannabis use does not impair (may improve) lung function. Long-term use may impair lung function," Najman wrote.
The study also noted that cannabis had been used to treat asthma because, unlike tobacco, cannabis could expand airways.
Could Smoking Marijuana Be More Harmful Than Previously Thought?
According to the authors, the second study, conducted by Canadian researchers, used CT images to demonstrate a clear link between marijuana smoking and emphysema.
Researchers found 75 percent of the marijuana smokers had emphysema, while 67 percent of the tobacco-only smokers did. Emphysema was present in only 5 percent of the non-smokers.
Additionally, airway inflammation and gynecomastia, an increase in male breast tissues due to hormonal imbalances, were more common in marijuana smokers than non-smokers or tobacco-only smokers.
Giselle Revah, a co-author of the study and an assistant professor at the Department of Radiology, Radiation Oncology, and Medical Physics at the University of Ottawa in Ottawa, Canada, said the results were surprising, particularly since the tobacco-only group had a long history of smoking.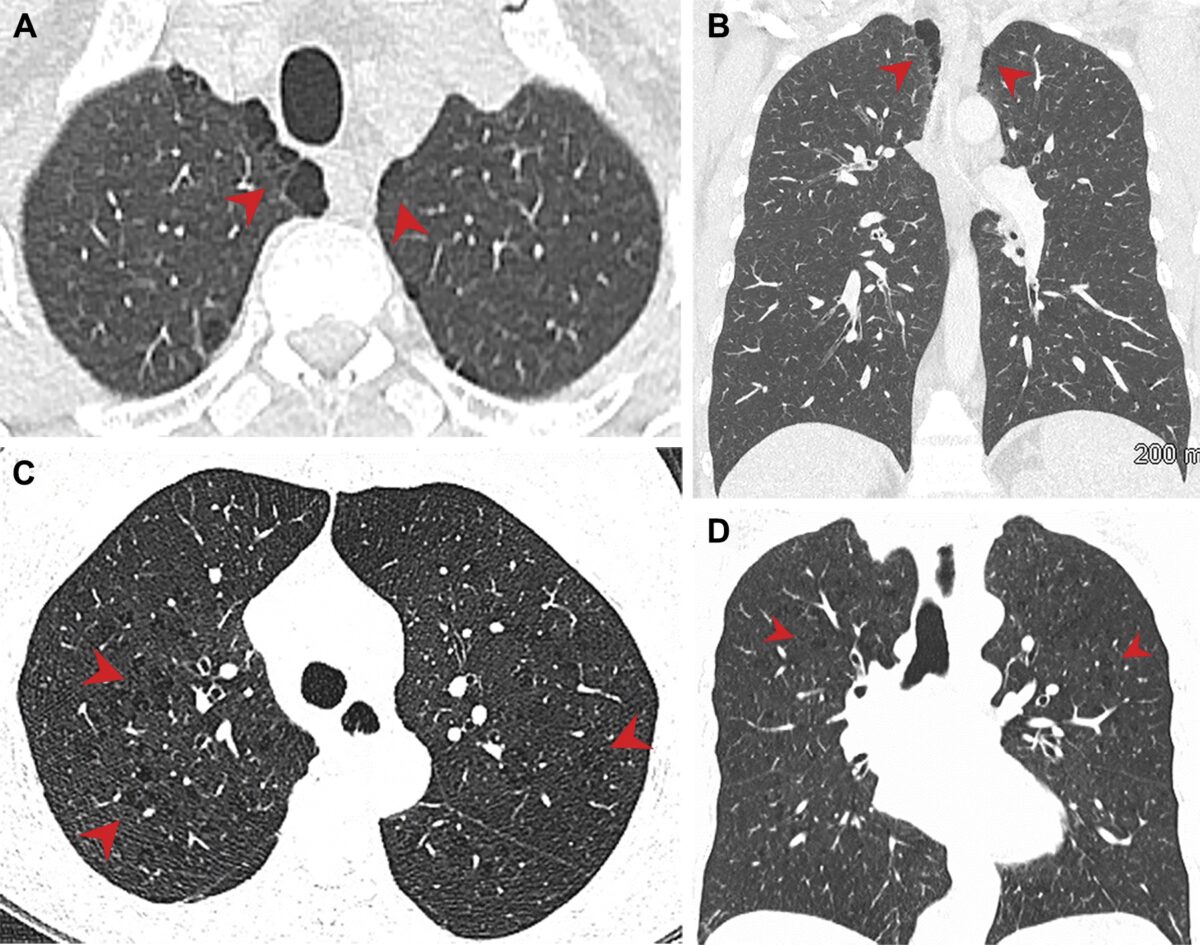 "The fact that our marijuana smokers—some of whom also smoked tobacco—had additional findings of airway inflammation/chronic bronchitis suggests that marijuana has additional synergistic effects on the lungs above tobacco," Revah said, according to a press release. "In addition, our results were still significant when we compared the non-age-matched groups, including younger patients who smoked marijuana and who presumably had less lifetime exposure to cigarette smoke."
The authors acknowledged the study's several limitations, including a relatively small sample size, the fact that most marijuana smokers also smoke tobacco, and the difficulties in accurately quantifying marijuana use due to different inhalation methods.
In an editorial in Radiology, Dr. Jeffrey Galvin, a professor at the University of Maryland School of Medicine, said the study "demonstrated a strong association between exposure to inhaled marijuana smoke and imaging evidence of small and large airway injury." He added that the authors had confirmed the presence of marijuana-related injury to large and small airways, which is "certain to have a deleterious effort on lung function and exercise tolerance."
Marijuana and Tobacco: Is One Safer Than the Other?
Tobacco smoking has been extensively studied and linked to numerous health problems. Smoking tobacco "leads to disease and disability and harms nearly every organ of the body," according to the Centers for Disease Control and Prevention. In fact, it is the leading cause of preventable disease, disability, and death in the United States.
Relatively few studies have been conducted on marijuana smoking. This is mainly due to the difficulties in researching an illegal drug. (The use and possession are illegal under federal law. California legalized the medical use of marijuana in 1996; today, 40 states and the District of Columbia have legalized the medical use of cannabis. Recreational use has been approved in 22 states and the District of Columbia.)
Marijuana and tobacco differ in their chemical composition. Tobacco smoke contains nicotine, while marijuana smoke contains THC.
Like all novel exposures, "there is initially unwarranted optimism regarding their benefits and positive effects while under-appreciating the negative consequences," Galvin wrote in the Radiology editorial. "This was true regarding the effect of cigarette smoke on the lung."
Galvin also noted that, prior to 1950, many popular magazines featured full-page ads of physicians extolling the benefits of various cigarette brands.