Bonham, Texas -- TMC Bonham Hospital is pleased to announce that patients with heart disease and/or chronic breathing issues may now benefit from cardiopulmonary rehabilitation services recently added at the hospital. Cardiopulmonary rehabilitation services combine two specialized areas of healthcare, the heart (cardiac) and the lungs (pulmonary). Nurses and respiratory therapists at TMC Bonham Hospital provide a range of inpatient and outpatient therapeutic and diagnostic procedures that are an essential aspect of recovery.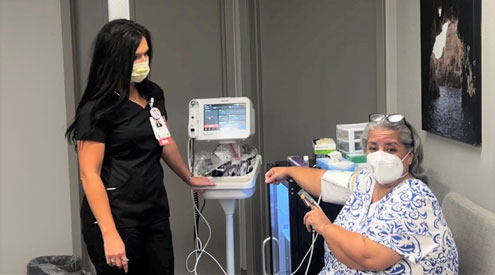 Jennifer Wilson, RN, with patient, Peggy Belcher, at TMC Bonham Hospital Cardiopulmonary Rehab.
Outpatient rehabilitation is a monitored exercise and education program that usually begins two to four weeks after discharge from the hospital from a qualifying cardiac diagnosis including coronary artery bypass grafting (CABG), heart valve replacement, heart attack (myocardial infarction), stent replacement, or percutaneous transluminal coronary angioplasty (PTCA). Lung surgery patients and those with chronic obstructive pulmonary disease (COPD), sarcoidosis, idiopathic pulmonary fibrosis, or cystic fibrosis can also benefit from these outpatient rehabilitation services.
To participate, please contact your physician to obtain a referral for this service. For more information visit tmcbonham.com/services/cardiopulmonary-services/ or call 903.640.7377.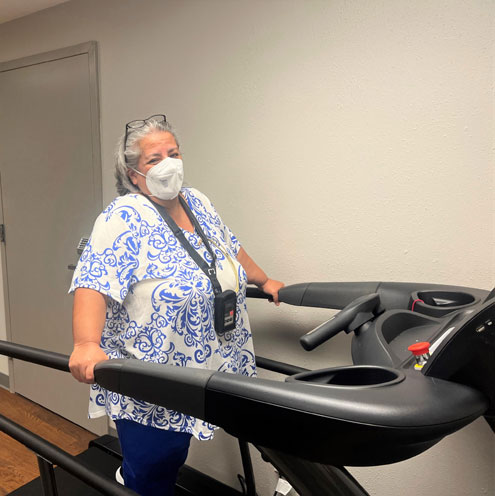 Patient, Peggy Belcher, at TMC Bonham Hospital Cardiopulmonary Rehab.