Tai chi is a great workout regime to better the body and mind. Here is a brief on what tai chi entails and how it benefits our mind and body.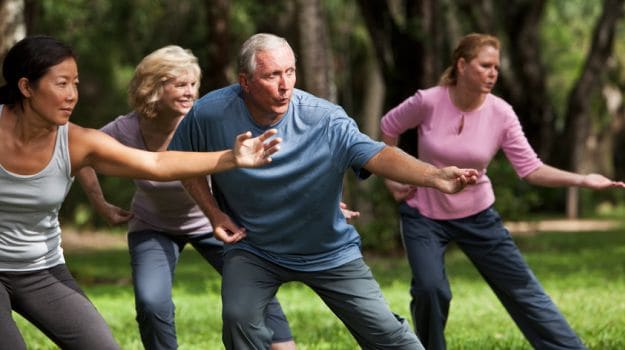 Tai chi is easy to do and can be performed by almost all ages
What is tai chi?
Tai chi is a gentle form of exercise that originated in China. It includes a set of slow, deliberate motions along with some deep breathing. Tai chi is a mild physical training and relaxation regime that is non-competitive and self-paced. Each posture flows seamlessly into the next, guaranteeing that your body is constantly moving.
Tai chi is a low-impact practice that places less strain on muscles and joints, making it suitable for almost everyone. Even though tai chi is generally safe, those with back problems, fractures, joint issues, or a hernia should seek medical advice before starting it. This precautionary step is also encouraged for pregnant women, as it may be necessary to modify or avoid certain positions altogether.
Tai chi in itself has 5 different types of methods. Each tai chi method might focus on different objectives such as maintaining health, bettering the body's flexibility, and so on. These different forms are:
Tai Chi Chen

Tai Chi Yang

Tai Chi Hao

Tai Chi Wu

Tai Chi Sun
How does tai chi help us?
Different workout regimes have different sets of benefits. Tai chi not only focuses on the movement of the body but also helps us by soothing the mind and the muscles. Here are some of the most common benefits of tai chi:
Promotes flexibility in the body
Tai Chi is a slow-pace calming workout regime. It focuses on the betterment of the body's functions. One of these functions is mobility. Just like yoga, regularly practicing tai chi can help make your body more flexible. This will help you better move and work with your own body. Furthermore, flexibility reduces the chances of tears and sprains as it enables the body to stretch more than it would normally. 
Eases the mind
Tai chi is considered a rather therapeutic form of working out. The slow-paced workout session incorporated with deep breathing works as a meditation session. Over time, tai chi has proven to help reduce depression and anxiety. Practicing tai chi regularly also helps better overall moods and mental health. It has also been shown to have reduced stress in people that practice tai chi. 
Betters breathing disorders
As mentioned above, tai chi incorporates slow-paced body movements along with some deep breathing. This combination has proven to better various breathing disorders such as chronic obstructive pulmonary disease (COPD). Tai chi has proven to increase lung capacity. Hence, it might also help with breathing issues while sleeping such as sleep apnea. 
Promotes weight loss
Although tai chi is a slow-paced, gradual movement workout. It is important to recognise that it does promote weight loss. However, it is a low-impact workout regime and may not show results as soon as others regimes such as HIIT, etc. In fact, you can incorporate tai chi with other workout regimes into your routine to maximise weight loss. As tai chi betters the elasticity of muscles and joints, it may be beneficial in keeping your body healthy and flexible to perform other workout regimes. 
Finally, it is necessary to understand the importance of the right guidance and knowledge. Workout regimes like tai chi are similar to yoga and should only be performed under expert guidance. Correct postures should be performed to avoid any repercussions and negative effects on the body.
Disclaimer: This content including advice provides generic information only. It is in no way a substitute for a qualified medical opinion. Always consult a specialist or your own doctor for more information. NDTV does not claim responsibility for this information.