The WHO says only "influenza type A viruses are known to have caused pandemics". Now, H3N2, which has been causing a wave of infections in parts of India, is a subtype of the seasonal Influenza virus. So how dangerous is it and should we be worried about it? Find out here.
The H3N2 influenza virus, which has claimed two lives in India this year, has put citizens and the government on guard again with the horrors of the COVID pandemic still fresh in minds of the people. The fact that H3N2 causes the flu and is capable of triggering an epidemic has alerted health officials in the country. But how dangerous is it and should we be worried about it? Find out here.
1. The challenge of getting the right diagnosis
The wave of infection caused by the
H3N2 influenza virus in various parts of
India is being reported at a time when the coronavirus variant (SARS-CoV-2) causing COVID-19 infection has still not completely gone. While citizens have now learnt to live with the COVID-19 virus, an outbreak of another viral infection might pose a challenge to the right diagnosis of the illness. Is it the common cold, flu or COVID-19? That's the question one might ask when dealing with symptoms that are common to all three.
Difference between common cold, flu and Covid-19 | A symptom check
Influenza can cause severe illness or death, especially in people at high risk. Here's how it is different from COVID-19 and the common cold:
| | | | |
| --- | --- | --- | --- |
| Symptom | Common Cold | Flu | COVID-19 |
| | Caused by many virus, but mostly it is rhinovirus | Caused by Influenza virus | Caused by SARS-CoV-2 |
| Symptom onset | Gradual | Abrupt | |
| Headache | Rare | Usually | Usually |
| Cough | Usually | Usually (can be severe and can last 2 or more weeks) | Usually (dry) |
| Muscle aches | Sometimes | | Usually |
| Tiredness | Sometimes | Usually | Usually |
| Sneezing | Usually | Usually | Rarely |
| Sore throat | Common/Usually | Sometimes/Usually | Usually |
| Runny or stuffy nose | Common | Usually | Usually |
| Fever | Rare to sometimes | Usually | Usually |
| Diarrhea | Never | Sometimes (more common in children) | Sometimes |
| Nausea or vomiting | Never | Sometimes (more common in children) | Sometimes |
| New loss of taste or smell | Sometimes (especially with a stuffy nose) | Rarely | Usually (early — often without a runny or stuffy nose) |
| Shortness of breath or difficulty breathing | May have difficulty breathing due to Stuffy nose | Usually | Usually |
(Info credits: CDC and Mayo Clinic)
Besides this, the other way to determine the nature of the pathogen is a laboratory diagnostic test. The H3N2 influenza virus sample can be collected from nasal, throat, tracheal aspirate and "nasopharyngeal secretions" or washings and then be sent to the lab for confirmation. "...a rapid influenza diagnostic tests (RIDTs) method is used (to detect the nature of the virus)," PharmEasy explained. RT-PCR methods can also be used for the same.\
2. Not the first time India witnessing such a flu outbreak
India witnesses two peaks of seasonal influenza every year - one from January to March and the other in post-monsoon season, said the Ministry of Health and Family Welfare in a press release. The government has, however, estimated that the cases arising from seasonal influenza are expected to decline from March end.
H3N2 is a subtype of the seasonal Influenza virus.
3. Death and severe disease due to influenza
According to the World Health Organisation (WHO) report in 2017, annual epidemics are estimated to cause 3 to 5 million cases of severe illness and about 290 000 to 650 000 respiratory deaths.
Meanwhile, a report in Our World in Data says, "The risk of death from influenza has declined over time, but globally, hundreds of thousands of people still die from the disease each year."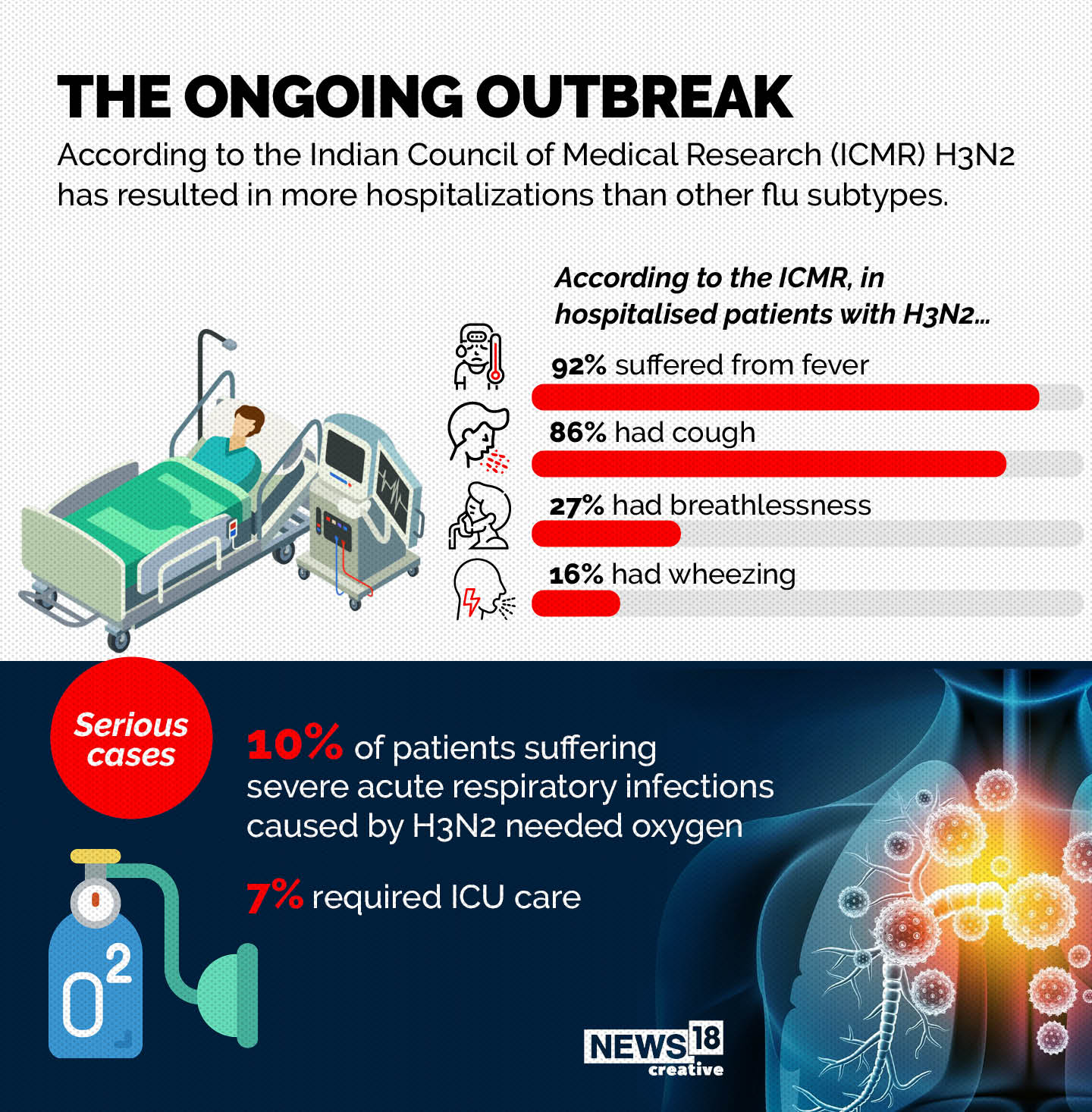 The CDC said that the severity of human illness associated with H3N2v resembles that of seasonal flu.
While there are groups that are more at risk of severe disease and hospitalisation than others, the CDC says that infections with influenza viruses (including variant viruses like H3N2v) can sometimes cause severe disease, even in healthy people.
The WHO says hospitalisation and death occur mainly among high-risk groups. However, a health ministry report in 2017 said that in India, "available information suggests that in the post-pandemic period (2012-2015) Seasonal Influenza has affected persons mainly in all age groups". Meanwhile, the CDC said that the severity of human illness associated with H3N2v resembles that of seasonal flu.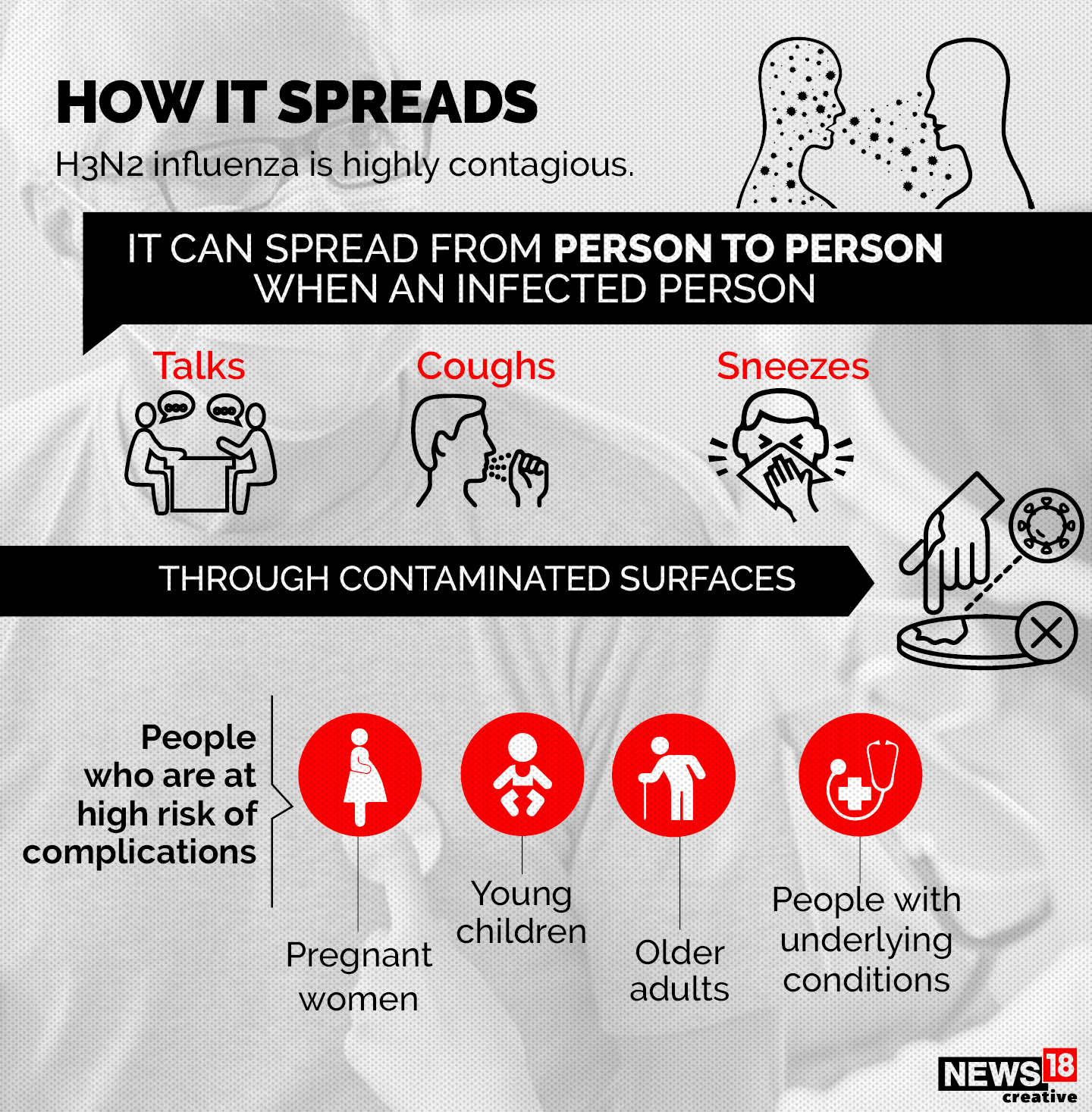 4. H3N2 influenza caused epidemics in the past
Th H3N2 virus "seems to spread more easily to humans from pigs than other swine influenza viruses", the CDC said. It added that "influenza viruses are always changing. It's possible the H3N2v virus could change and begin spreading easily from person to person".
H3N2 influenza, also known as "Hong Kong flu," is a subtype of the influenza A virus that causes respiratory illness in humans. This subtype has caused several influenza epidemics in the past and only influenza type A viruses are known to have caused pandemics, the WHO said.
The 1968 pandemic was caused by an influenza A (H3N2) virus, the CDC said. Meanwhile, Randeep Guleria, the former head of All India Institute of Medical Sciences (AIIMS), was quoted by ANI as saying that: "We had a pandemic many years ago because of H1N1. The circulating strain of that virus is now H3N2 and, therefore, it is a normal influenza strain."
In June 2009, the WHO declared the H1N1 pandemic. This is also popularly referred to as the swine flu pandemic
5. 'Cocktail of viruses' in the air — is it a threat? No
The "cocktail of viruses" in the air, which has increased infection from H3N2, Type B influenza, adenovirus and COVID-19, is not alarming but a usual trend, the chief of ICMR-run National Influenza Centre (NIC) was quoted by News18.com as saying.
NIC head Varsha Potdar said, "These are seasonal influenza viruses. One or two viruses co-circulate with one virus predominant in the season." "From August to October, H1N1 was predominant, whereas, from November, H3N2 starts dominating. Now, type B virus is also in circulation along with H3N2," she added.
Randeep Guleria said there is a need for people to use face masks and follow hand hygiene. According to a Times of India report, he even urged vulnerable groups to take vaccines, saying that COVID-apt behaviour further delays immunity to other viruses.
"The jabs comes as a new vaccine every year and quadrivalent vaccine covers both influenza A and B and their subtypes," Guleria was quoted as saying.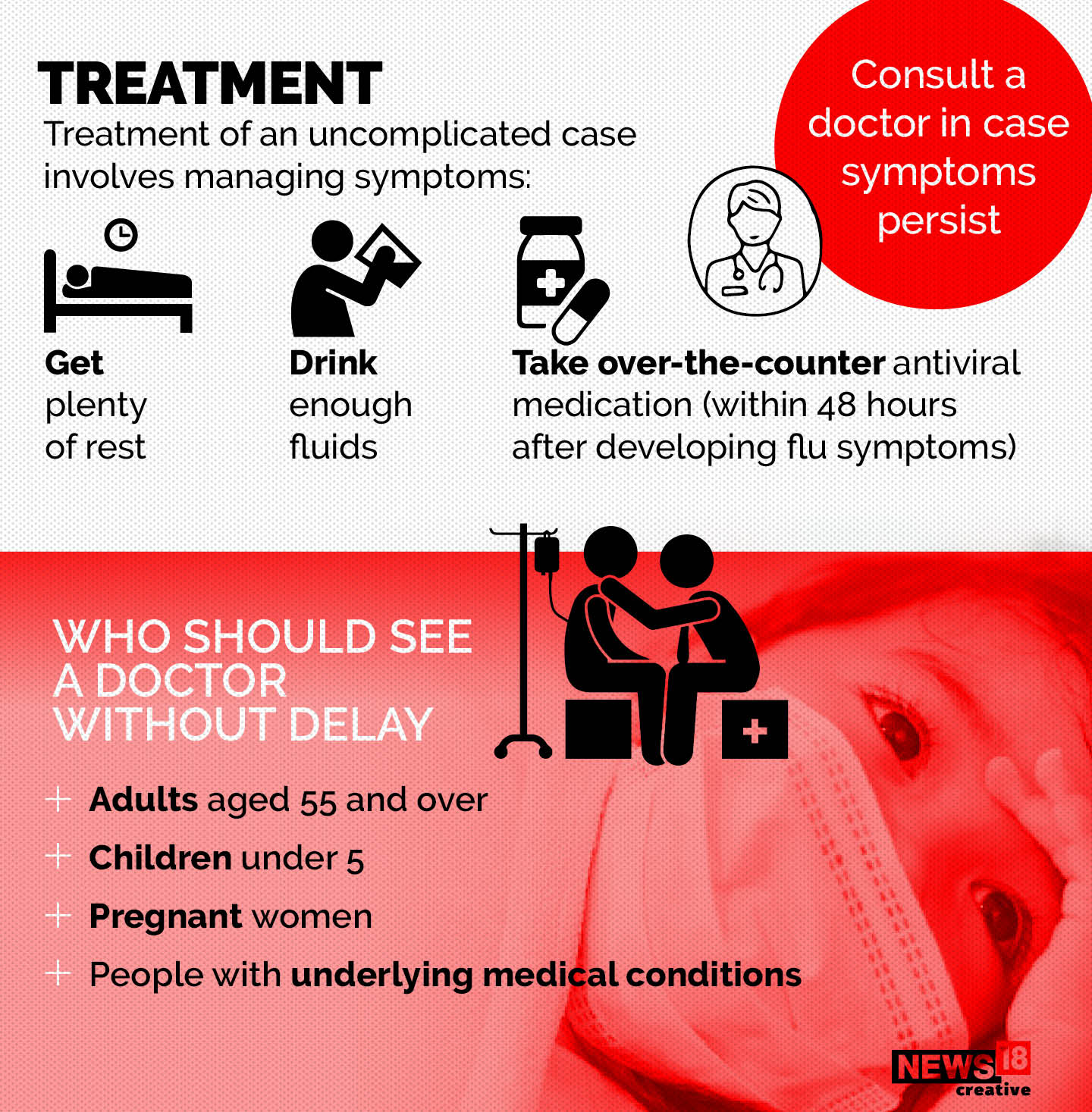 Is there any vaccine for influenza?
The WHO recommended annual vaccination to protect against influenza. "Among healthy adults, influenza vaccine provides protection, even when circulating viruses do not exactly match the vaccine viruses," it said, adding that, influenza vaccination may be less effective among the elderly in preventing illness, but reduces the severity of disease and incidence of complications and deaths.
Who can get flu vaccine in India?
The Advisory Committee on Vaccines and Immunization Practices has said that influenza vaccine in India has not been recommended for Universal Immunization Programme (
UIP
) yet. This is because "data on morbidity and mortality of influenza in India is very limited and current status does not justify the prioritisation of strategies for influenza prevention and control".
In the 2017 report, the government of India recommended the vaccination of high-risk groups with the seasonal influenza vaccine. The vaccine is said to be "desirable for elderly individuals (≥ 65 years of age) and children between 6 months to 8 years of age. There are other prioritized groups which one can check out
here
.
Meanwhile, the Serum Institute of India said the vaccine is known to be safe in children from 2 to 17 years of age and is not licensed for use in children younger than 2. "LAIV has been approved for use in healthy adults and the elderly also (without a history of egg allergies or asthma)," it added.
WHO recommends annual vaccination for:
> Pregnant women at any stage of pregnancy
> Children aged between 6 months to 5 years
> Elderly individuals (aged more than 65 years)
> Individuals with chronic medical conditions
> Health-care workers
The Ministry of Health and Family Welfare recommended the trivalent inactivated influenza vaccine earlier.
First Published: Mar 13, 2023 6:38 PM IST