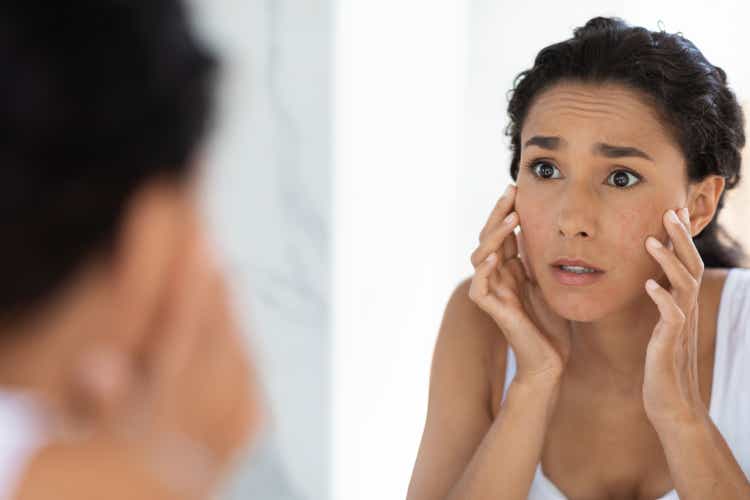 Fears of a Financial Crisis May Have Created Investment Opportunities in US-Listed Biotech Stocks
Fortunately, households and businesses can breathe a sigh of relief, as the regional banking crisis in the US with the bankruptcy of Silicon Valley Bank and Signature Bank (SBNY) did not have the hallmarks of a domino effect but it was enough to send the shareholders of several in the US listed stocks into a depressed mood.
Shareholders have seen much of the value of their holdings decline over the past two weeks as investors favored gold and gold-backed securities over US-listed equities amid heightened risk aversion.
The downtrend has gripped virtually all sectors except those whose components have been used as a hedge against the uncertainty caused by the risk of a financial crisis. The wave of pessimism has swept across biotechnology sectors as well, as can be seen in the chart below.
As benchmarks for publicly traded biotechnology companies, the iShares Biotechnology ETF (IBB) and SPDR S&P Biotech ETF (XBI) fell sharply from ≈ March 8, causing falls of 3.1% and 8.7% so far this year.
But what's been happening lately has positives, not just negatives, for lovers of US-listed biotech stocks.
The regional banking crisis could potentially have wiped out many biotech stocks with questionable financials. The market decline presents an opportunity to increase positions in quality biotech companies with good growth prospects by paying less and potentially benefiting from a significant discount on the stock's intrinsic value.
RAPT Therapeutics, Inc. Offers Amazing Growth Potential at Bargain Prices
RAPT Therapeutics, Inc. (NASDAQ:RAPT) has the potential to become a winner among US biotech stocks as the company continues to make significant advances in its pipeline of products targeting specific skin conditions and various cancers.
The research and development effort is on track to update the market on the latest advances in RAPT's lead product for atopic dermatitis and asthma. With investors having high expectations for the future success of these treatments, the release of upcoming results implies significant upside potential for the shares of the company.
Investors should therefore consider increasing their positions in RAPT stock and benefit from a much friendlier market valuation than just a few weeks ago.
About RAPT Therapeutics, Inc. and Its Pipeline of Treatments in Development
Headquartered in South San Francisco, California, RAPT Therapeutics is a clinical-stage biotechnology company developing and discovering immunological therapeutics to address unmet needs in inflammatory diseases and oncology.
In particular, the company uses its proprietary technology to develop specific small molecules that can modulate the critical immune drivers of inflammatory diseases and oncology in a highly selective manner.
RAPT technology has made it possible to obtain two drug candidates, which have been named RPT193 and FLX475.
Both drug candidates are C-C motif chemokine receptor 4 (CCR4) antagonists, as these types of drugs exert a physiological effect opposite to that of type 2 T helper cells by preventing them from migrating into inflamed tissue.
This Nature article states that "T helper 2 (TH2) cells orchestrate protective type 2 immune responses, such as those that target helminths and facilitate tissue repair, but also contribute to chronic inflammatory diseases, such as asthma and allergy."
About RPT193 in Asthmatics
Regarding RPT193, this product is being studied against the disease atopic dermatitis and asthma.
This quarter, RAPT Therapeutics, Inc. began the Phase 2a study that will evaluate the dosing requirements of RPT193 in asthma patients (see below screenshot of RAPT Therapeutics' March 2023 investor presentation), and it appears that the study started ahead of the company's plans.
The study aims to enroll approximately 100 patients, potentially divided into arms of 50 patients. The results of the study will consist of primary endpoints measured by loss of asthma control, while secondary endpoints will be measured by ACQ-5 (asthma control 5 questions) and FEV-1 (forced expiratory volume in the first second) indices.
About RPT193 in Patients with Atopic Dermatitis
The Phase 1b study of RPT193 in patients with moderate to severe atopic dermatitis shows that the treatment offers clear benefits to the patient in terms of improving both the signs and symptoms of the disease.
The chart below, from RAPT Therapeutics' March 2023 investor presentation, shows that RPT193 has achieved remarkable results in terms of improvement in signs and symptoms of the disease compared to other companies' atopic dermatology therapies as measured by EASI (The Eczema Area and Severity Index) and vIGA (The validated Investigator Global Assessment) indices.
RAPT Therapeutics, Inc. is also evaluating RPT193 in patients with moderate to severe atopic dermatitis in a Phase 2b study, but results from this study related to product efficacy will not be available until the middle of next year due to delays in patient enrollment.
The study aims to enroll approximately 268 patients to be divided into arms of 67 patients and the study outcomes will consist of primary endpoints measured by EASI and secondary endpoints measured by EASI 50-75/90 and vIGA, Pruritus NRS.
RPT193 seems to have all what it takes to become a product that could have outstanding commercial success, while the slide below shows that the product has excellent potential for further growth and expansion.
Following its launch in adults and adolescents with moderate to severe atopic dermatitis, RPT193 appears to have opportunities to grow in the pediatric patient population with moderate to severe atopic dermatitis and expand into the adult population with mild atopic dermatitis.
According to estimates in the screenshot above, the global atopic dermatitis market is valued at US$24 billion while the global asthma market is valued at US$21 billion. So these are pretty lucrative markets that certainly offer various growth and expansion opportunities through different patient categories.
About FLX475
In the second half of the current year, some updated data from a clinical trial currently in Phase 2 will provide information on whether FLX475 works in various advanced cancers and other diseases as well as information on the safety of the product.
As an oral treatment, FLX475 is being studied as monotherapy and in a regimen that includes the administration of pembrolizumab in addition to FLX475.
Pembrolizumab, marketed under the brand name Keytruda by Merck & Co., Inc. (MRK), is a humanized antibody used in cancer immunotherapy. The treatment targets melanoma, lung cancer, and head and neck cancer. Keytruda is also used to treat Hodgkin's lymphoma, gastric and cervical cancer, and certain types of breast cancer.
FLX475 has a patent protected until 2037 and has shown encouraging early results in terms of efficacy as a monotherapy for natural killer/T-cell lymphoma Epstein-Barr virus [EBV]-associated non-Hodgkin's lymphoma. This article from Nature says that this cancer "is found in Asia and Latin America but rare elsewhere".
From the above slide of RAPT Therapeutics' March 2023 investor presentation, FLX475 also appeared to be effective in combination therapy against checkpoint inhibitors in non-small cell lung cancer.
Targeted Diseases
Asthma refers to forms of shortness of breath and the following clinical syndromes have been defined.
Bronchial asthma is characterized by painful breathing, coughing, shortness of breath and sputum production. This is often associated with an allergy to certain substances when these are inhaled (pollen, furniture dust etc.), ingested (strawberries, milk etc.) or vaccinated (sera, histamine etc.).

Therefore, this type of bronchial asthma is also referred to as extrinsic asthma.
Intrinsic bronchial asthma, on the other hand, is not of allergic origin.

Cardiac asthma is a paroxysmal attack of shortness of breath that can occur in cardiac patients and usually occurs suddenly at night.
Asthma, caused by emotions, stress and depression, is characterized by occasional shortness of breath accompanied by mood swings in the person.
Unfortunately, asthma cannot be cured but can be treated depending on the severity of the patient's asthma and the frequency of symptoms.
Atopic dermatitis, sometimes called eczema, is a chronic condition characterized not only by inflammation of the skin but also redness and irritation.
Eczema is a very common condition that affects all age groups and people worldwide. It has its triggers in environmental factors or allergens and certain materials, especially synthetics.
Advanced cancer is terminal cancer that has little chance of being cured or controlled by treatment.
Fiscal year ended December 31, 2022
On March 14, RAPT Therapeutics released financial results for the full year ended December 31, 2022, showing the following.
The company did not sell any treatment as the operation is still in the clinical stage. Research and development activities resulted in the company's net income statement being impacted by related expenses of $67.1 million, an increase of 17.7% over the prior year.
The period ended with a net loss of $83.8 million, worsening from $69.2 million in 2021.
The balance sheet ended December 30, 2022, with $249.1 million in cash and cash equivalents and only $8.99 million in debt.
Also, in mid-March 2023, RAPT Therapeutics' balance sheet had a $2 million cash exposure to Silicon Valley Bank, closed by Federal Deposit Insurance Corporation, according to the SEC filing.
According to the company, this endowment of money and other assets that can be easily converted into cash should be sufficient to steer research and development activities through 2025.
Stock Valuation
RAPT Therapeutics shares do not look expensive at current levels as they have upside potential represented by a pipeline on track to update the market on the further development of FLX475 for the treatment of advanced cancers and further development of RPT193 for the treatment of atopic dermatitis and asthma.
There is a significant gap between FLX475 clinical results (expected in the second half of 2023) and RPT193 clinical results (expected in mid-2024), but that does not mean the company will not be able to deliver faster than expected or perhaps moving forward a bit and give some anticipation on the evaluation of RPT193 in asthmatics.
The company's pipeline includes RPT193, which is being developed through a Phase 2b study as a potential treatment for patients with atopic dermatitis in a $25 billion market with room for growth and further expansion. Given the strong premise of RAPT193, any anticipation or interim update of further advances in this treatment could be enough to propel the stock price to much higher levels than the current one.
Shares are trading at $18.12 per unit for a market cap of $612.71 million as of this writing and are significantly below the 200-, 100- and 50-day simple moving average lines of $22.64, $22.78, and $25.95.
Shares are also below the middle point of $21.155 of the 52-week range of $9.86 to $32.45.
The restored calm in financial markets after two gloomy weeks due to some US regional bank turmoil should help the stock recover from recent lows, as should the expected slowdown in US Federal Reserve rate-hiking policy bolster upbeat market sentiment.
There is also a risk that the ongoing experiments will produce results that fall short of expectations, resulting in downward pressure on the security's share price. If that were the case, RAPT Therapeutics, Inc. stock would have little chance of generating significant value in the market.
Judging by the company's presentation and analysts' confidence in the pipeline of treatments in development (they unanimously gave a Buy rating), there could be little risk of being disappointed.
Conclusion
RAPT Therapeutics is a clinical-stage immunology-based therapeutic developing oral small-molecule therapies for patients with significant unmet needs in the medical areas of inflammatory diseases and oncology.
This pipeline of investigational therapies is making good progress with FLX475 as a potential therapy for advanced cancers and RPT193 as a potential therapy for atopic dermatitis and asthma.
In particular, RPT193, as an anti-inflammatory for eczema, appears to have strong potential to make a commercial blockbuster.
So, this stock could be worth a lot more than the current market valuation, which has been affected by bearish sentiment over the past two weeks due to fears of a financial crisis that probably will not occur.