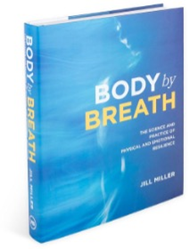 Body by Breath prioritizes the health, mobility, and connections to the respiratory diaphragm for all people.It unlocks how pain, chronic stress, disturbed sleep, and relational issues can all be improved by addressing each person's ability to embody breath.

LOS ANGELES (PRWEB)
February 28, 2023
Humans take 22,000 breaths in one day. Breathing is the single most important thing we do, and yet it is the most overlooked and underappreciated wellness tool. Jill Miller has dedicated her career to researching the latest science behind breathwork and its connection to our movement, mental health, and mindset. In her new book, Body by Breath, Miller shares that information to demystify the vast power behind the mechanics of breath. It revolutionizes the way readers think, access, and use this life-giving force. Miller's methods empower readers to optimize each breath and movement, combat external stressors, and build physical, mental, and emotional resilience.
Body by Breath dives deep into four primary types of resilience-building exercises— breathwork, movement, rolling, and non-sleep deep rest–to amplify the relaxation response. It explores how breath is a body wide phenomenon and should not be limited as only a nose-to-lungs experience. Readers will walk away with greater power; improved recovery ability; relief from pain, injuries, and chronic conditions; and the freedom to feel and connect with their emotions.
"Body by Breath prioritizes the health, mobility, and connections to the respiratory diaphragm for all people," said Miller. "It unlocks how pain, chronic stress, disturbed sleep, and relational issues can all be improved by addressing each person's ability to embody breath. This book comes to market at a time when the global population is intensely aware of lingering effects of COVID not only on lung health, but also on mental health."
Miller features more than 100 step-by-step techniques and practices to help readers master the body-breath connection and reset their physiology. She shares her scientifically supported methods that have been proven to help train and modulate the body and nervous system for reduced stress, improved mobility, and whole-body resilience.
The Body by Breath method is also an effective alternative to traditional meditation for those who struggle with anxiety and unrest that can arise from sitting still. This inclusive approach allows readers to reap the benefits of relaxation, restoration, and regeneration.
"The general population is now much more aware of the importance of respiratory health than in the past, but what they may not know is that there are simple at-home and on-the-go strategies they can do to vastly improve their breath behavior and function. This approach to breathwork has a dramatic ripple effect into mental and emotional well-being," added Miller.
At 480 pages, Body by Breath is complete with the latest findings related to the vagus nerve and fascia and includes Miller's proven methods for unlocking the body's full potential through breathwork and myofascial release. Miller's book will renew the way readers embody breath and give them a lifelong tool kit for optimal health.
Body by Breath is published by Victory Belt Publishing and is on sale at bookstores and through online retailers worldwide. For more on Body by Breath visit www.bodybybreath.com.
About Jill Miller

Jill Miller, C-IAYT, ERYT, is the co-founder of Tune Up Fitness Worldwide and creator of the self-care fitness formats Yoga Tune Up® and The Roll Model® Method. With more than 30 years of study in anatomy and movement, she is a pioneer in forging relevant links between the worlds of fitness, yoga, massage, athletics, and pain management. She is known as the Teacher's Teacher and has trained thousands of movement educators, clinicians, and manual therapists to incorporate her paradigm-shifting self-care fitness programming into athletic and medical facility programs internationally. As the creator of some of the world's best mobility tools, she has crafted original programs for Equinox, Golf Digest, 24 Hour Fitness, YogaWorks and numerous professional sports teams. She and her team of 500+ teachers help you to live better in your body with an emphasis on proprioception, mobility, breath mechanics, and recovery.
Jill has presented at conferences and symposia worldwide in the fields of fitness, fascia, pain, athletic performance, yoga therapy and mental health. She has the rare ability to translate complex physiological and biomechanical information into accessible, relevant moves that help her students transform pain, dysfunction, and injury into robust fitness. Jill is the former anatomy columnist for Yoga Journal Magazine and has been featured in The New York Times, Wall Street Journal, Shape, Men's Journal, Good Housekeeping, Women's Health, Yoga Journal, and Self and on the Today Show, Good Morning America, and the Oprah Winfrey Network. Miller is the creator of dozens of programs, including collaborations with Tom Myers, Katy Bowman, and Kelly Starrett, DPT. She is the author of the internationally bestselling book The Roll Model: A Step-by-Step Guide to Erase Pain, Improve Mobility, and Live Better in Your Body as well as a contributing author on the topic of self-myofascial release in the medical textbook Fascia, Function and Medical Applications. She lives in Los Angeles, CA, with her husband and two children.
About Tune Up Fitness

TUNE UP FITNESS WORLDWIDE is a health and wellness company empowering people to be their own best first-stage healthcare provider, equipped with the knowledge, skills, and tools to self-manage pain, reduce stress, build resilience, and perform at their best. For more information visit www.tuneupfitness.com
Share article on social media or email: