When Dale Lehman, 63, got COVID-19 in the winter of 2021, his initial symptoms were thankfully mild. But his condition worsened about two weeks after testing positive.
Lehman, who has an autoimmune disease that affects his lungs, regularly walked three to five miles per day before his infection. When he started to recover from COVID-19, he took up walking again, averaging about one to two miles daily.
But two weeks after his initial infection, "I went out for the walk, and I couldn't go half a mile," Lehman, an engineer based in Laurel, Maryland, tells TODAY.com. "I had to keep stopping and catching my breath."
Lehman didn't have any other remaining COVID-19 symptoms like congestion or fever at the time, so he thought it was probably a new issue.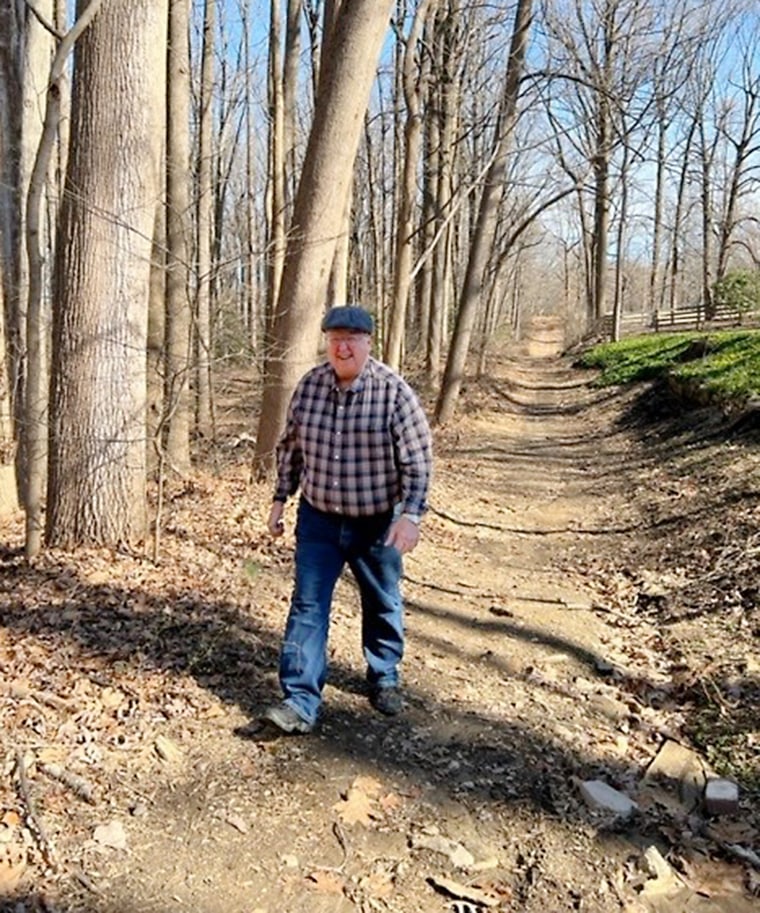 He went inside and checked his oxygen levels, which were "dangerously low," he says. After doing some breathing exercises, Lehman spoke with his pulmonologist and primary care doctor, both of whom encouraged him to get medical care quickly.
Imaging tests revealed that Lehman had pulmonary embolisms — blood clots — in both of his lungs. And they were likely a complication of his recent COVID-19 infection.
How common are blood clots after COVID-19?
Doctors realized early in the pandemic that COVID-19 has an unusually strong association with blood clots, Dr. Anuradha Lala, an advanced heart failure and transplant cardiologist at the Mount Sinai Hospital.
Early observational studies at Mount Sinai suggested that mortality rates were lower among patients who were hospitalized with COVID-19 if they received blood thinners, she explains. Those observations led doctors in many hospitals across the country to administer blood thinners to COVID-19 patients on a preventive basis.
Many people who are hospitalized for an acute illness get preventive blood thinners, Dr. Panagis Galiatsatos, a pulmonary and critical care specialist at the Johns Hopkins School of Medicine, tells TODAY.com. But with COVID-19, many doctors started administering higher doses more regularly, he says.
"I know that may not seem like a big move, but it was a huge move," adds Galiatsatos, who is also Lehman's pulmonologist.
"It was thought that the sicker the patient, the more that they would derive benefit from a higher dose of a blood thinner," Lala explains. "But that turned out not necessarily to be the case."
Dr. Johanna Contreras, a cardiologist colleague of Lala's at the Mount Sinai Hospital, has firsthand experience both treating and being treated for the condition.
After contracting COVID-19 back in April 2020, Contreras, 47, developed severe symptoms, including a persistent fever and chest pain, she tells TODAY.com.
After about six lonely days in the hospital, Contreras was able to return home — until she noticed a spot in her left arm that was painful, red and swollen and went back to the hospital. As it turned out, she'd developed deep vein thrombosis, a type of blood clot, but she'd been able to catch it before it traveled elsewhere in her body.
As the pandemic has progressed, with new variants, the use of vaccines and boosters, and more people having some level of protection against the virus, the way complications of COVID-19 can manifest has evolved. But for now, Galiatsatos says, blood clots post-COVID are most common in people 50 and older and those with diabetes or high blood pressure.
According to the U.S. Centers for Disease Control and Prevention, other risk factors for blood clots in general are:
Being overweight or obese
A family history of blood clots
Recent or recurring cancer
During and just after pregnancy
Being on birth control or hormone replacement therapy
Injury and trauma
What causes blood clots after COVID-19?
It's not clear exactly why a COVID-19 infection can lead to blood clots down the line, but there are likely three main factors involved, Dr. Sandeep Das, cardiologist and co-founder of the American Heart Association's COVID-Cardiovascular Disease Registry, tells TODAY.com.
First, we know that prolonged inactivity, like staying in bed sick for days, can make blood clots more likely. "Any kind of significant infection, like influenza, can do this," Das says, "although ... we see much higher rates (of blood clots) in COVID."
Second, SARS-CoV-2, the virus that causes COVID-19, can directly attack the lining of the blood vessels in the lungs, Das explains. This can lead to the formation of small, dangerous blood clots in the lungs called microthrombi, which have been detected in autopsies of COVID-19 patients. They develop more frequently in patients who have severe COVID-19 symptoms, like pneumonia, which doctors saw more often earlier in the pandemic, Das says.
Finally, experts are beginning to understand that COVID-19 — and the way it affects the lining of the blood vessels — may put the body in what's called a hypercoagulable state. That means that blood clots are more likely to form due to an overwhelming immune response, Lala explains.
"When the walls of the blood vessels are injured, you get this surge of inflammatory cells," she explains. That then triggers the release of cytokines, a type of molecule that contributes to coagulation.
This can be a normal part of the body's response to an infection or injury — think of the way your blood clots after you get a cut, Lala says. But, in the case of COVID-19, the response can be a massive cytokine storm that leads to serious complications, Das adds.
The coronavirus isn't the only infection that can cause this, Galiatsatos says, "but this virus just seems to be rather diabolical with it."
Do COVID-19 vaccines cause blood clots too?
One of the COVID-19 vaccines used in the U.S. did seem to increase the risk for a rare type of blood clot, mostly in young women, Das says. This particular vaccine, the Johnson and Johnson vaccine, is now reserved only for people who can't get the other vaccines for some reason (like an allergy).
The mRNA vaccines from Pfizer and Moderna do not have the same association with blood clots, Das explains. "If anything, the vaccine is going to be protective (against blood clots) because it's going to decrease the severity of infection," Das says. "So there's absolutely no question in my mind — we'll be better off being vaccinated."
Treatment for COVID-related blood clots
The best way to treat patients who might develop blood clots with COVID-19 is a topic of ongoing discussion in the field, the experts say, and the approach has changed considerably since March 2020. Today, there are "tremendous variations" in how doctors use blood thinners for COVID-19 patients, Lala says.
In general, experts now agree that people who are on anticoagulant medication before COVID-19 should stay on it if they get the virus, Das says, but patients should not automatically get a preventive dose of blood thinners just because they have COVID-19.
Still, "there's there's a gray area for people that are in the hospital with COVID and then go home," he adds.
For COVID-19 patients with risk factors for blood clots or severe COVID-19 symptoms, for example, there may be an argument for putting them on preventive blood thinners even on an outpatient basis, Galiatsatos says. But, ultimately, "that would absolutely have to be individualized between you and your doctor," Das says.
Even for patients in the hospital, "I would say that the jury is still out on the optimal approach," Lala says. Randomized trials have turned up conflicting results on whether higher doses of blood thinners can help, she explains, noting that they can also lead to increased bleeding as a side effect.
More than anything, Galiatsatos encourages people to have an "open dialogue" with their doctor and to make a COVID-19 action plan ahead of time, which might include antiviral medication as well as medication to prevent blood clots, he says.
If you've had COVID-19, keep this in mind:
Researchers don't know how long your risk for blood clots stays elevated after COVID-19. A recent study published in Circulation suggests the risk is still high almost a year later, but Galiatsatos says it's most concerning two to four weeks after the infection.
Das estimates that the peak risk may last up to six weeks after the infection. And, he adds, the most important thing you can do to prevent blood clots after COVID-19 is to just keep an eye out for the warning signs — especially during those first weeks.
COVID-19 blood clot symptoms
According to the CDC, signs of deep vein thrombosis can include:
Swelling, pain, redness or tenderness, especially in one leg.
And signs of a pulmonary embolism can include:
Shortness of breath that feels different and "much more aggressive" than what you had with COVID-19, Galiatsatos says.
Faster or irregular heartbeat.
Chest pain that gets worse when you take a breath.
Lightheadedness or fainting.
Coughing up blood.
Reducing your risk for blood clots is yet another reason to keep avoiding the virus as much as you can — and to get vaccinated to help keep your infection milder if you do get sick, Das says. Keeping up other healthy behaviors, like maintaining a healthy weight and getting regular physical activity, can also lower your risk for blood clots, he adds.
We know that a COVID-19 infection can be serious, and there's an increasing amount of attention being paid to long COVID, Galiatsatos says. But not enough people are aware that the virus can lead to delayed — and sometimes life-threatening — consequences, like blood clots. "We have to be mindful that COVID still carries a lot of complications," he says.
For Contreras, the effects of her brush with COVID-19 are still with her. "It takes time. I remember I couldn't walk a block without being short of breath," she says. "And I still don't think I am back to where I was before COVID, honestly."
Lehman ended up spending a day in the hospital receiving oxygen treatment and just finished his course of blood thinners.
But he knows that his condition could have claimed his life. He was only able to catch the blood clots quickly because he monitors his body so closely and stays active with walking, he says. Now, he takes time to educate his colleagues and encourages them to take any post-COVID symptoms seriously.
"It's better to go and get it checked out and know it's not an issue than to let it go unchecked," Lehman says.