Pneumonia is a common respiratory infection that affects millions of people worldwide, causing significant illness and even mortality in severe cases. In this article, we explore the causes, symptoms, treatment, and prevention strategies for pneumonia, providing valuable insights into this respiratory condition.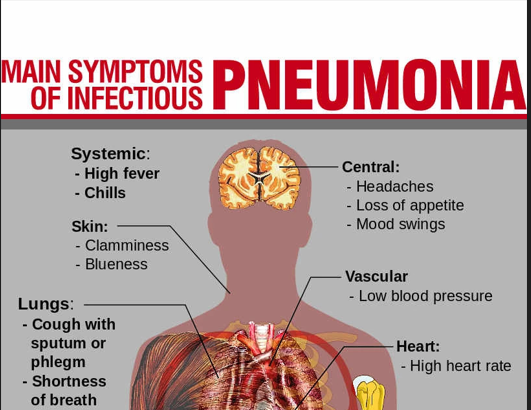 Image courtesy of vcdiseases.fandom.com/wiki/Pneumonia
Causes of Pneumonia:
Pneumonia is typically caused by an infection, most commonly by bacteria or viruses. The infection leads to inflammation and fluid accumulation in the air sacs of the lungs, impairing their ability to function properly. Bacterial pneumonia is often caused by Streptococcus pneumoniae, while viral pneumonia can be caused by influenza viruses or respiratory syncytial virus (RSV). Other less common causes include fungi, parasites, or exposure to certain chemicals or pollutants.
Common Symptoms:
The symptoms of pneumonia can vary depending on the age and overall health of the individual, as well as the causative agent. Common symptoms include:
1. Cough: A persistent cough that may produce phlegm or pus.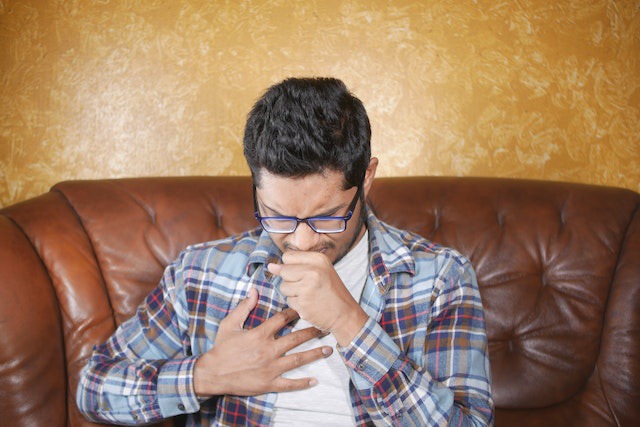 2. Chest Pain: Sharp or stabbing chest pain, particularly when coughing or taking deep breaths.
3. Fever: High body temperature, often accompanied by chills and sweating.
4. Shortness of Breath: Difficulty breathing, rapid breathing, or shallow breathing.
5. Fatigue: Feeling unusually tired or experiencing a general sense of weakness.
6. Confusion (in older adults): Pneumonia can cause confusion or changes in mental awareness, especially in older adults.
7. Other Symptoms: Additional symptoms may include headache, muscle aches, sore throat, and loss of appetite.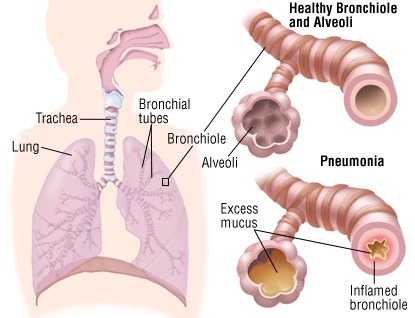 Image courtesy of vcdiseases.fandom.com/wiki/Pneumonia
Treatment Options:
Treatment for pneumonia is determined by factors such as the underlying cause of the infection and the severity of the condition. Common treatment options include:
1. Antibiotics: If the pneumonia is bacterial in nature, antibiotics will be prescribed to target the specific bacteria causing the infection.
2. Antiviral Medications: In the case of viral pneumonia, antiviral medications may be recommended to reduce the severity and duration of the illness.
3. Supportive Care: Rest, staying hydrated, and taking over-the-counter pain relievers to alleviate fever and discomfort can help manage the symptoms of pneumonia.
4. Hospitalization: Severe cases of pneumonia, especially in individuals with underlying health conditions or weakened immune systems, may require hospitalization for close monitoring and intravenous antibiotics or antiviral treatments.
Prevention Strategies:
Preventing pneumonia is crucial, especially for individuals at higher risk, such as young children, older adults, and those with compromised immune systems. Here are some preventive measures:
1. Vaccination: Vaccines are available to protect against certain bacteria and viruses that can cause pneumonia, including the pneumococcal vaccine and the influenza vaccine.
2. Good Hygiene: Practicing proper hand hygiene by washing hands regularly with soap and water or using hand sanitizers can help reduce the risk of respiratory infections.
3. Avoid Smoking: Smoking damages the lungs and weakens the immune system, increasing the susceptibility to respiratory infections like pneumonia. It is vital to quit smoking or minimize exposure to secondhand smoke.
4. Maintain a Healthy Lifestyle: Eating a balanced diet, exercising regularly, getting enough sleep, and managing stress can support a strong immune system and overall respiratory health.
5. Environmental Precautions: Minimize exposure to pollutants, irritants, and chemicals that can harm the lungs and increase the risk of respiratory infections.
Pneumonia is a serious respiratory infection that requires prompt diagnosis, appropriate treatment, and preventive measures. Understanding the causes, recognizing the symptoms, and seeking timely medical care can help minimize the impact of pneumonia on individuals and communities. By adopting preventive strategies and promoting respiratory health, we can reduce the incidence of pneumonia and improve overall well-being for everyone. If you experience symptoms suggestive of pneumonia, consult a healthcare professional for an accurate diagnosis and appropriate management.
Sources:
www.cdc.gov/pneumonia/index.html
www.who.int/health-topics/pneumonia/#tab=tab_1
www.healthline.com/health/pneumonia
vcdiseases.fandom.com/wiki/Pneumonia
Follow, share, and like for more on health and fitness 
Content created and supplied by: LucidGuy254 (via Opera
News )
Opera News is a free to use platform and the views and opinions expressed herein are solely those of the author and do not represent, reflect or express the views of Opera News. Any/all written content and images displayed are provided by the blogger/author, appear herein as submitted by the blogger/author and are unedited by Opera News. Opera News does not consent to nor does it condone the posting of any content that violates the rights (including the copyrights) of any third party, nor content that may malign, inter alia, any religion, ethnic group, organization, gender, company, or individual. Opera News furthermore does not condone the use of our platform for the purposes encouraging/endorsing hate speech, violation of human rights and/or utterances of a defamatory nature. If the content contained herein violates any of your rights, including those of copyright, and/or violates any the above mentioned factors, you are requested to immediately notify us using via the following email address operanews-external(at)opera.com and/or report the article using the available reporting functionality built into our Platform
See More