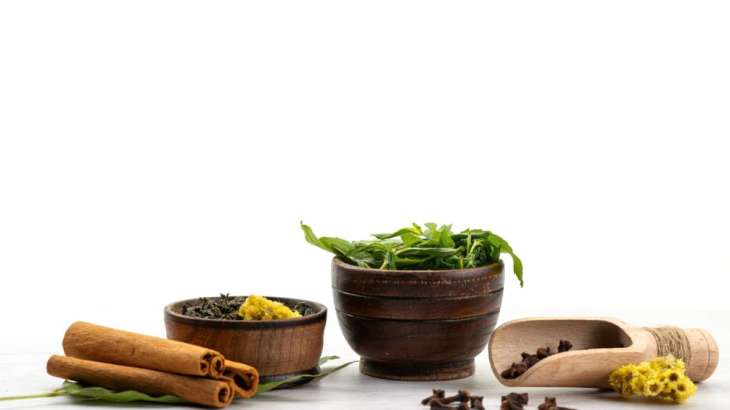 The importance of maintaining good respiratory health cannot be overstated, as it is a vital function of the body. The prevalence of chronic respiratory diseases such as chronic obstructive pulmonary disease (COPD), asthma, and tuberculosis in India is concerning, and air pollution is a significant contributor to the rising number of cases. However, there are natural ways to improve respiratory health, such as using herbs. Here are some of the magical benefits of five herbs that can help improve respiratory health and keep lungs strong and healthy.
Tulsi
Tulsi, also known as basil, is a popular Ayurvedic herb found in many Indian households. It has a high concentration of antioxidants, zinc, and vitamin C, which help boost immunity naturally. Tulsi also has antibacterial, antiviral, and anti-inflammatory properties, making it beneficial for treating respiratory health issues such as bronchitis, asthma, influenza, cough, and cold.
Licorice
Licorice root is frequently chewed to relieve a sore throat and cough, but it also helps with chronic illnesses like pneumonia, bronchitis, and asthma. Glycyrrhizin, a tannin present in liquorice root, is an active ingredient that increases lung capacity and strengthens the body's defenses against infections.
Pippali 
Pippali or long pepper is an effective herb for treating colds and coughs, and it is a boon for the entire respiratory system, according to Ayurveda. The active ingredient, piperine, has expectorant, carminative, and anti-infective properties, as well as enhancing lung function. Consuming long pepper powder with honey or incorporating it into a regular diet can help prevent respiratory infections and reduce inflammation.
Kalmegh
Kalmegh, which is frequently used by Ayurvedic practitioners, has anti-inflammatory, antiviral, antibacterial, antioxidant, and immune-stimulating properties that are beneficial in treating respiratory infections, fever, the common cold, cough, flu, and other respiratory issues.
Vasaka
Vasaka, commonly known as Adhatodavasica or Malabar nut, is a well-liked Ayurvedic remedy for respiratory ailments. It functions as a potent activator of the respiratory system, clearing the lungs and enhancing bronchodilation while treating bronchitis, tuberculosis, and other lung illnesses. Preparing a drink from Vasaka leaves can provide relief from cough and other cold symptoms.