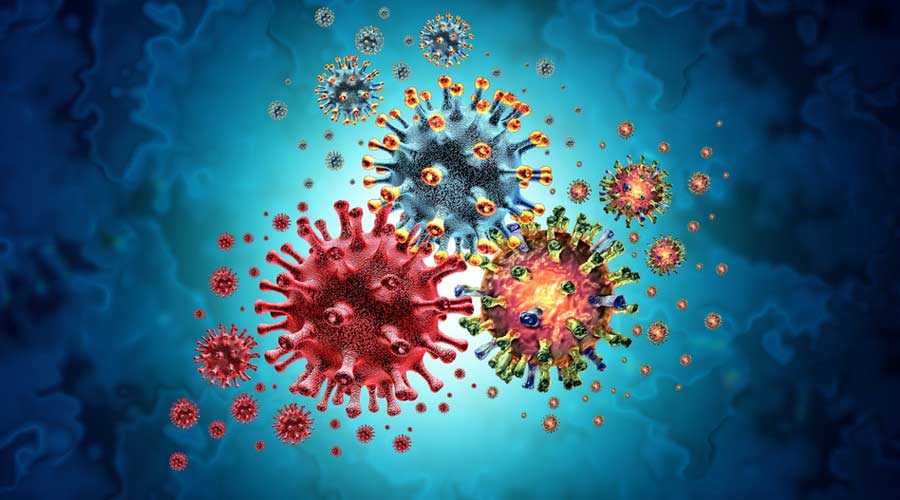 COVID-19 and its variants continue to pose a threat, with an average of 43,799 new cases a day in the first week of February. Meanwhile, as of February 3, 2023, the CDC estimates the flu has caused at least 25 million illnesses, 280,000 hospitalizations, and 17,000 deaths so far this season.  
Rounding out what experts have termed the tripledemic is the respiratory syncytial virus (RSV), a virus that usually causes mild cold-like symptoms. While most people recover from RSV in a week or two, it is especially dangerous for older adults and infants; according to the CDC, RSV is the most common cause of bronchiolitis, inflammation of the airways, pneumonia, and lung infections.  
While much has been written on COVID-19 and the flu symptoms — and many of us have experienced one or both by now — RSV is less familiar. Individuals infected with RSV usually show symptoms within 4-6 days of infection. The symptoms, which typically appear in stages versus all at once, include runny nose, decreased appetite, coughing, sneezing and fever. Meanwhile, irritability, decreased activity, and breathing difficulties may be the only visible symptoms in young infants. 
To further discuss the impact these three viral threats have on facilities and building occupants, Laurie Sewell, president and CEO of Servicon weighed in.  
Q: What impact is the tripledemic having on hospitals and other healthcare facilities? 
A:  As of January 25, the U.S. Department of Health and Human Services report estimates 78 percent of hospital inpatient beds across approximately 5,000 hospitals were in use, with three-quarters of intensive care unit beds occupied. Meanwhile, according to commercial data firm Definitive Healthcare, an estimated 333,942 healthcare providers left the workforce in 2021 alone. So, while the number of cases has decreased in recent weeks, this trio of respiratory diseases has put tremendous strain on hospitals and other healthcare facilities still struggling with capacity challenges, labor shortages, and diminished resources as a result of the COVID pandemic. 
Q: What personal safety measures do you recommend people take to combat the threat of the tripledemic? 
A: To keep us all safer and healthier in light of the tripledemic, we recommend continuing infection prevention safety protocols recommended by experts, including: 
• Wearing a mask in public indoor spaces, especially crowded ones. 
• Practicing social distancing. 
• Covering your mouth and nose when you sneeze or cough if you are not wearing a mask. 
• Washing — and drying — hands thoroughly and frequently. 
• Cleaning frequently touched surfaces often when you or someone you know is sick. 
• Quarantining if you come down with an illness. 
Q: Are there differences between COVID, the flu versus and RSV?  
A: SARS-CoV-2, the flu, and RSV are all enveloped viruses, meaning they are easier to kill than some other pathogens, as long as the right disinfectant is used correctly and makes direct contact. Although COVID and the flu can live on surfaces, they are primarily transmitted by breathing in airborne droplets. In contrast, RSV can survive on hard surfaces for hours and on soft surfaces for slightly shorter periods.  
However, the infection-prevention procedures and safety protocols we implemented during the COVID pandemic effectively fight all three viruses. Our employees are well-versed in these stringent protocols and receive updates and ongoing training for any potential infectious outbreak. They are fully prepared to combat all components of the tripledemic to keep themselves and our clients safe. 
Q: Can vaccines help ease the strain on hospitals and other healthcare facilities? 
A: Absolutely. More than 90 percent of our team members were vaccinated against COVID-19. We achieved this rate voluntarily by providing accurate information from credible sources, providing our employees with an open forum to discuss viewpoints and concerns, and encouraging those who were uncertain to talk with their doctors and families. We credit this high vaccination rate with keeping our team members, their families, our clients, and our communities safer. Sadly, today, we hear a lot about what has become known as the antivaccination movement that has kept some people from getting vaccines that, before the COVID pandemic, they never thought about not getting.  
One of the saddest examples of this is the resurgence of polio. In the early 20th century, the disease disabled thousands of children annually. However, there had not been a case in more than a decade — until last year when the virus was found in London sewers and discovered in wastewater in New York, where one unvaccinated man was paralyzed.  
Measles is another example. According to the CDC, from January 2019 to January 5, 2023, more than 1,450 cases of measles were reported in the United States. In 2019 alone, there was an estimated 1,274 cases, more than in any single year since 1992. Unvaccinated people accounted for the majority of cases. According to the CDC, the percentage of people receiving measle vaccines worldwide has "steadily declined since the beginning of the COVID-19 pandemic." As measles is one of the most contagious viruses known to humans, the CDC says that even a small drop in the vaccination rate can mean thousands more cases.  
Or consider cholera. The World Health Organization (WHO) reports at least 13,672 cases and 283 deaths have been recorded in Haiti since early October 2022. These numbers, plus an increase in cases in at least 27 other countries, led WHO to call for "urgent action to increase global vaccine production."  
I believe these figures speak for themselves. Consider the strain on our healthcare systems if these numbers continue to rise. This is why I firmly believe that as leaders in fighting infectious diseases, the example we set as an industry regarding vaccinations is critical.  
Q: What can healthcare institutions do to help prepare should the number of cases of infections associated with the tripledemic and of the other diseases you mention continue to rise?    
A: We recommend having an experienced and trusted environmental services (EVS) partner such as Servicon that has extensive, proven infection-prevention expertise and excellent communication skills. Healthcare facilities need an EVS provider that keeps abreast of the various national, state, and local guidelines and regulations to prevent staff from succumbing to information overload or, worse, the hazards of misinformation.  
To maintain the safety of our employees and clients during the COVID pandemic, Servicon dedicated significant time and resources to ensure that our team members and clients received the most up-to-date, accurate information. We have not stopped this. Our Infection Prevention Task Force continues to meet weekly to review and interpret the latest health and safety information from trusted government agencies and interpret what it means for our industry. We hold town hall meetings and communicate via social media and email to share this information with our team members and clients, usually in English and Spanish. 
COVID-19 and its variants, the flu, the tripledemic, and the resurgence of once near-extinct diseases are telling us loud and clear that the need for infection prevention and control is ever-present. As an industry, we must remain vigilant, while hospitals and other healthcare facilities must dedicate resources and choose the right partners to keep fighting the good fight. 
Laurie Sewell is president and CEO of Servicon, a hospital environmental services (EVS) provider headquartered in Southern California that operates with a mission: to elevate the industry and provide healthy environments for people to thrive. As a privately held, women-owned and operated company, Servicon lives by its vision of creating a better working future. To learn more about our EVS services and social and sustainability accomplishments, visit servicon.com.