Lalit Modi, the former IPL chairman and founder, has opened up about suffering double bouts of Covid in a span of two weeks "accompanied by influenza and deep pneumonia" and now on "external oxygen support 24/7".
"After three weeks in confinement with a double Covid in two weeks accompanied by influenza and deep pneumonia – and post trying several times to leave. Finally landed via air ambulance accompanied by two doctors and superstar super efficient son who did so much for me back in London. The flight was smooth. Unfortunately still on 24/7 external oxygen. Thank u to all at @vistajet for going the extra mile. I am extremely grateful to all. Love to all. Big hug," said Modi in a post on Instagram alongside a series of pictures and a video showing him on the hospital bed, his Covid positive result, oulse oximeter with his reading of 87 mm Hg, and x-rays of his chest.
The post was soon flooded with 'Get well soon' comments from Harbhajan Singh to Sushmita Sen's brother Rajeev Sen commenting.
Negating the claim that there is anything called "double Covid", Dr Subhendu Mohanty, interventional cardiologist, Sharda Hospital, Noida said that "Covid infection may take upto even a month or more to become negative." "The pneumonia may take even more time to settle in some cases. People with severe lung infection may need continuous oxygen support for even months to recover," said Dr Mohanty.
A 2020-study titled Study and overview of the novel corona virus disease (COVID-19), notes how Covid-19 disease spreads by respiratory droplets and contaminated surfaces. "In most cases, the virus shows mild symptoms like fever, fatigue, dyspnea, cough, etc. which may become severe if appropriate precautions are not adhered to. For people with comorbidities (usually elderly) the disease may turn deadly and cause pneumonia, Acute Respiratory Disease Syndrome (ARDS), and multi-organ failure, thereby affecting a person's ability to breathe leading to being put on the ventilator support," it noted.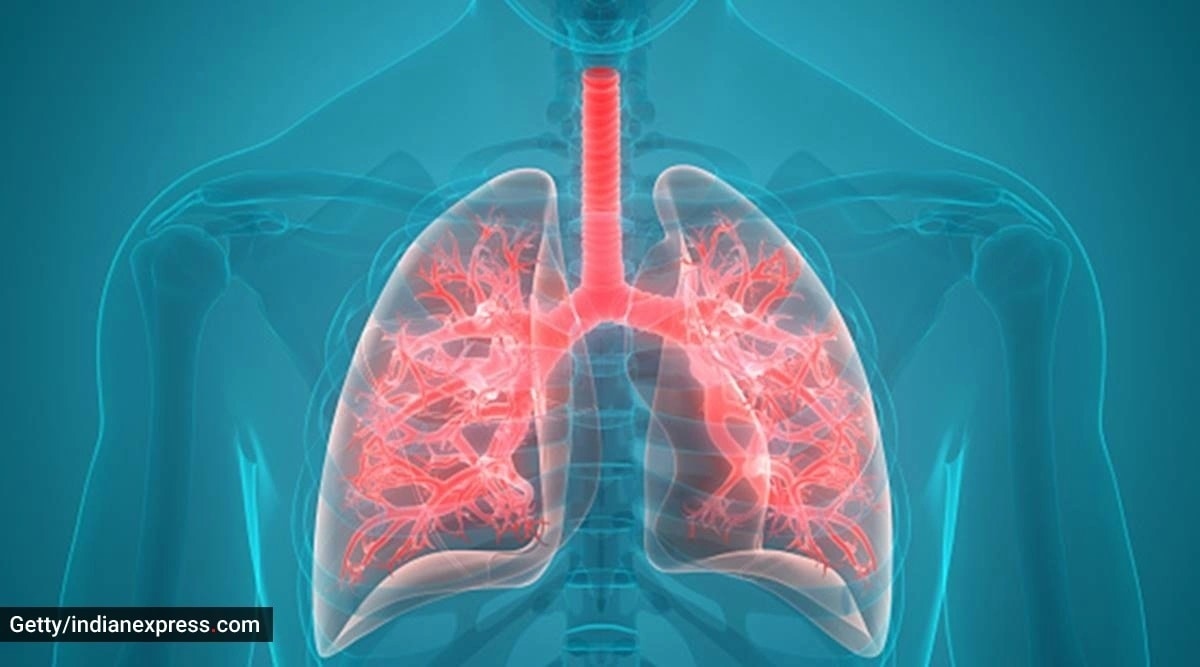 Lungs get affected during Covid-19 bout (Source: Getty Images/Thinkstock)
According to Dr Mohanty, this is what happened with many during the "dangerous" second wave of Covid-19. "There is nothing new. This is what we all got during the dangerous second wave. Fever, cough, and breathing difficulty. We get a CT chest to assess severity of pneumonia. Treatment is use of corticosteroids where needed, oxygen inhalation, antibiotics and good ICU care," he said.
At an instance, the apparent symptoms and effects of both may seem similar but there is a major difference. "Regular pneumonia is caused by bacteria or virus that inflames lungs, causes pus or phlegm in the lungs and the supply of oxygen is affected which causes shortness in breath. In the case of bacterial pneumonia, there are more chances of patients getting completely cured. But in the case of Covid pneumonia, it involves lung tissues as well which may lead to post-COVID complications," said Dr Navneet Sood, pulmonary consultant, Dharamshila Narayana Superspeciality Hospital.
Experts suggest that people who are prone to getting lung infection easily or are already suffering from any respiratory issues need to be extra careful.
? For more lifestyle news, follow us on Instagram | Twitter | Facebook and don't miss out on the latest updates!