A cat called Gouda has left the internet in stitches after a video of her being mad at her owner for using a respiratory machine to breathe went viral.
The video was shared on TikTok by the cat's owner earlier in March, under the username _laurenkay. It shows the cat sitting on the couch's back pillows as her owner breathes into a CPAP machine, to help with her health conditions.
Gouda can be seen becoming visibly more and more upset at the machine for making loud noises. As users noted, she even has "airplane ears," a sign that she is very upset.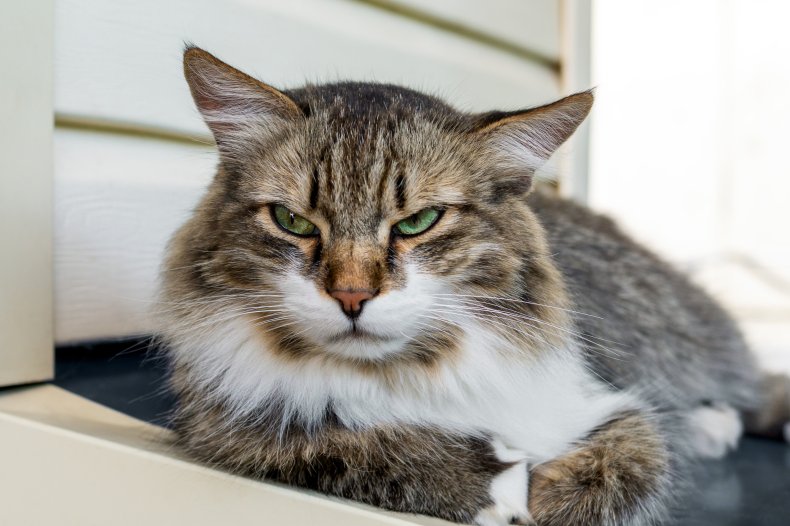 The post comes with a caption that reads: "My cat is so irritated that I'm trying to breathe in the same room as her." This is followed by: "Truly so sorry that my pneumonia and asthma is ruining your day babe."
According to Hill's Pet Nutrition, cats' ear movements tell us a lot about how they are feeling. When their ears are flattened against their head in "airplane mode" as if they're about to take off in flight, like in the above clip, it means that your cat is either frightened or nervous. It could lead to aggressive behavior.
Hill's website states: "When a cat's ears are in this position, the cat is telling you that they're uncomfortable and need some space. Your cat may hide in their favorite spot until they're feeling more secure, so it's important to respect their bubble and their privacy."
The video quickly gained popularity on social media, attracting animal lovers from across the platform. It has so far received over 1.9 million views and 450,000 likes.
One user, Rahjze, commented: "The airplane ears. She's over you." And Brooke wrote: "She's like 'can you not?"
Steph added: "her impulsive thoughts almost won but she stopped them lol." And kristina joked: "my cat acts personally offended if I ever sneeze in her presence."
Delucedeleche wrote: "She's like 'can you go somewhere else with that?!" And Dana posted: "trying to get comfy to not look annoyed." Valerie Martin pointed out: "They act as if they can't just move to another room." And alexmccaslin2 added: "I tell my pets all the time 'ya do know you have free will right' my one dog usually moves after that."
Another user, not impersonating, commented: "She's like 'you serious [right now]." And Planet_perreo wrote: "she likes 'maybe I shouldn't have been so approachable at the shelter." AmyRose92 added: "I mean you should consider her feelings too.. are you sure you HAVE to breath like right this minute?!"
Heyheyitsdj wrote: "She looks appalled!!" Matison posted: "[she]'s flabbergasted." luxeblueberry added: "My mom's cat figured out how to turn off my mom's CPAP at night. She knows she'll wake up bc she can't breathe and then maybe put food in her bowl."
Newsweek reached out to _laurenkay via TikTok messages for comment. We could not verify the details of the case.
Do you have funny and adorable videos or pictures of your pet you want to share? Send them to [email protected] with some details about your best friend, and they could appear in our Pet of the Week lineup.