For someone living with asthma, poor air quality raises the likelihood of exacerbations and breathing difficulties
Poor air quality affects patients suffering from a range of illnesses, but it has particular relevance for those with lung diseases such as asthma and COPD writes Michael McHale
Asthma sufferers can breathe a sigh of relief, as Ireland's long-awaited national clean air strategy was officially launched in recent weeks, many years after being first proposed. The plan sets out goals to reduce the level of pollution in our air, and make the country a cleaner and more environmentally friendly one for all, including the estimated 450,000 people living with asthma here.
In total, it is estimated that up to 1,400 people die in Ireland every year because of poor air quality – a number almost ten times greater than the annual death toll from our country's roads. Illnesses impacted or exacerbated by air pollution include stroke, heart and lung diseases, lung cancer, asthma, COPD and dementia.
More recent evidence indicates that the health impacts of poor air quality are even wider ranging than previously thought, with links to cognitive development and mental health.
"From a pulmonary point of view, it impacts on a variety of chronic lung diseases," Prof Marcus Butler, Medical Director of the Asthma Society of Ireland, told IMT. "It can even affect people who don't have disease. In children, growing lungs can be adversely affected."
The effects of poor air quality on asthma patients can be seen when compared to patients who live in areas where much less pollution is present. "The kind of issues that we worry about are fine particulate matter, which are tiny particles that are capable of getting deep into the many branches of the lungs.
"Also, we care about ozone at ground level which can build up – particularly in warm weather on sunny days in cities where there's lots of vehicular pollution. We're also worried about nitrogen dioxide and sulphur dioxide, which are all measurable pollutants in the air that air quality index reports will mention. So people are advised when they have asthma to pay attention to air quality readings that are widely available."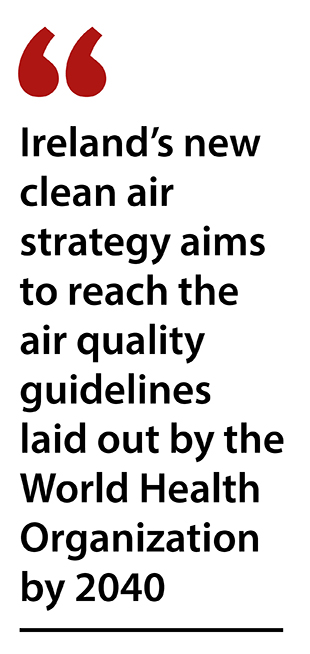 For someone living with asthma, poor air quality raises the likelihood of exacerbations and breathing difficulties. More frequent exacerbations also increase the chances of hospitalisations and further medical complications.
An ambitious and fully implemented clean air strategy can have far-reaching benefits for an already overstretched health system by reducing the number of medical presentations among asthma patients and patients with other respiratory conditions.
When it comes to knowledge among healthcare professionals of the effects of air pollution on public health, Prof Butler believes that awareness is growing as more evidence becomes available.
"There would be a high level of awareness among respiratory specialists of poor air quality affecting chronic lung disease, and I think cardiologists are well aware as well of poor air quality affecting cardiac outcomes.
"I'm sure the same extends to those working in medicine for the older person, who deal with cognitive impairment and dementia conditions where there's a link between pollution and cognitive decline."
When it comes to the frontlines of healthcare, Prof Butler believes that a key message that GPs can give to their asthma patients is the importance of good air quality when they are exercising outdoors.
"When we exercise, we breathe more deeply and more rapidly. That will greatly increase the potential exposure to pollutants on a more polluted day.
"We would recommend that people plan their activities around air quality. If it's a particularly poor air quality day, that you plan not to do intense exercise – so instead of doing a jog, to change it to a walk on the day when the air quality is poor."
Ireland's new clean air strategy aims to reach the air quality guidelines laid out by the World Health Organization by 2040, with progress to be measured against interim 2026 and 2030 targets.
The strategy will be legislated for as part of a new Clean Air Act, which will ensure that air quality is integrated into national plans and policy documents, as well as the establishment of a cross-government air quality implementation group, and each department reporting annually on their progress in reducing air pollution.
Launching the new plan, Environment Minister Eamon Ryan said: "Clean air is central to our wellbeing, and particularly the wellbeing of the most vulnerable – children, older people or people who may be medically compromised. It is also critical to our wider environment with benefits for our communities, our habitats and our wildlife.
"There is an intrinsic link between clean air and climate. Many of the sources of air pollution are also sources of CO2 emissions. The new Clean Air Strategy includes a range of measures aimed at addressing these overlapping issues, like electrifying our heating systems and improving the energy efficiency of our homes, or moving towards more electric vehicles and away from dirty and polluting fossil fuels, for example."
Prof Butler and the Asthma Society of Ireland welcome the strategy but are mindful of the need to act on these promises. "These recommendations, if they're achieved, would represent substantial progress. And the Asthma Society would welcome the full and complete implementation of those targets in order to improve air quality for all," Prof Butler added.
The strategy represents a long journey for the Asthma Society of Ireland in campaigning for measures to improve air quality. The organisation was involved in advocating for solid fuel regulations and, with University College Cork, produced research which drove the decision to expand the regulations from solely smoky coal to a wide range of solid fuels. According to Prof Butler, the benefits of the ban are already being felt.
"When the ban came in it was studied by researchers in this area who had data collected from before and after the ban, which showed improvements related to respiratory health. So there's objective evidence of the benefit, which is totally as expected and in keeping with research elsewhere."
With fossil fuels generating large amounts of fine particulate matter that pose significant health risks, Prof Butler and the Asthma Society are very much in favour of the move towards renewable forms of energy that carry far fewer, if any, pollutants.
As the charity continues to advocate for cleaner air, it is now working with the Environmental Protection Agency on the rollout of air quality monitors across the country.
The monitors are able to assess the levels of pollution in an area at any given time, and advise when people are most at risk of poor air quality.
Prof Butler believes that greater awareness of the existence of air quality monitoring can help significantly in reducing health risks. "The more actual (air quality monitor) measurements are taking place, and the more accurate these readings are, the less that people will be extrapolating or guessing what the readings might be.
"I can certainly see that there would be benefits to making sure that we have real time acquisition of this data so that patients can have accurate information about the actual air quality currently so they can plan their activities accordingly."
In the meantime, Prof Butler advises asthma patients with concerns around air quality or other aspects of their health to contact the Asthma Society of Ireland's adviceline on 1800 44 54 64 or visit asthma.ie for more information.