Holi, the festival of colours, is widely celebrated across the country. This year, the festivities are spread across two days — March 7 and 8 — with different regions celebrating the festival on different days. But, while Holi is all about playing with rang, the harmful effects of the colours cannot be stressed enough. As such, experts caution against the use of chemical-laced colours for not just the skin but for the respiratory system, too.
According to medical practitioners, store-bought holi colours may contain heavy metals, broken pieces of glass, chemicals, and pesticides that are responsible for aggravating Chronic Obstructive Pulmonary Disease (COPD) — a chronic inflammatory lung condition that causes obstructed airflow from the lungs.
"The colours are loaded with hazardous chemicals such as mercury, silica, lead, glass, and pesticides or detergents which are toxic for the skin, eyes, and even lungs. The colours can enter the mouth and aggravate conditions such as asthma, bronchitis, and chronic obstructive pulmonary disease. COPD is an inflammatory lung disease that causes obstructed airflow from the lungs," Dr Chetan Jain, pulmonologist, Zynova Shalby Hospitals, told indianexpress.com.
The signs and symptoms of the condition are inability to breathe, cough, mucous (sputum) production, and wheezing.
"Bronchitis, asthma, and allergies are all exacerbated by chromium, which is also present in Holi colours, along with mercury that has an influence on the health of the kidneys, liver, and an unborn baby. Iron can enhance skin sensitivity to light. Additionally, the silica present in these colours can cause dry skin. Hence, it is extremely important to remain vigilant and report any odd changes to your doctor," advised Dr Jain.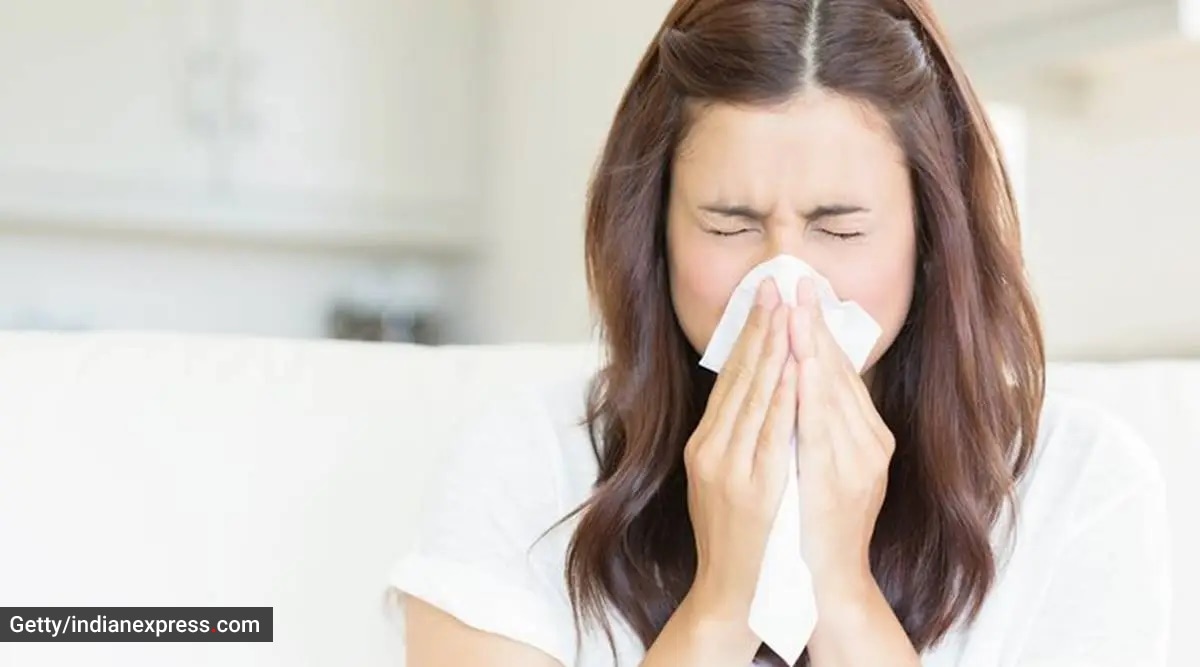 Sneezing can be a symptom (Source: Getty Images/Thinkstock)
In fact, even inhalation of organic dry colours can precipitate acute exacerbation of asthma/COPD. "Try to avoid colour inhalation as that can trigger cough or breathlessness," said Dr Aniket Mule, consultant, internal medicine, Wockhardt Hospitals, Mira Road.
According to Dr Tanvi Bhatt, pulmonologist, SRV Hospital Chembur, the colours also lead to rhinitis (a reaction that happens in the eyes, nose, and throat when allergens in the air trigger symptoms) causing runny nose, sneezing, and even pneumonitis. It causes chest congestion, difficulty in breathing, and fatigue.

What can be done?
It is better to stay safe while playing Holi by using organic colours. "Consult an expert if you happen to ingest any colour by mistake," Dr Bhatt added.
???? For more lifestyle news, follow us on Instagram | Twitter | Facebook and don't miss out on the latest updates!