New York, Sept. 04, 2023 (GLOBE NEWSWIRE) -- The global anesthesia breathing circuits market size is predicted to expand at ~3% CAGR between 2023 and 2035. The market is projected to garner a revenue of USD 2 billion by the end of 2035, up from a revenue of ~USD 1 billion in the year 2022.The growth of the sector is expected to be dominated by a surge in the prevalence of asthma. Globally, there are around 300 million people suffering from asthma, while another 100 million people are thought to be at risk. Hence, the use of anesthesia breathing circuits is set to rise.
Request Free Sample Copy of this Report @
www.researchnester.com/sample-request-5127
Moreover, this surge in the rate of asthma is expected to be influenced by growing air pollution. For instance, the amount of CO2 emitted globally in 2022 grew by about 2% compared to 2021 (+8% and +3% compared to 2020 and 2019, respectively). However, the prevalence of asthma through pollution can be observed more in kids. Early life contact with air pollution broadened a person's risk of having asthma in early adulthood and throughout youth. Therefore, this factor is also estimated to drive market expansion in the coming years.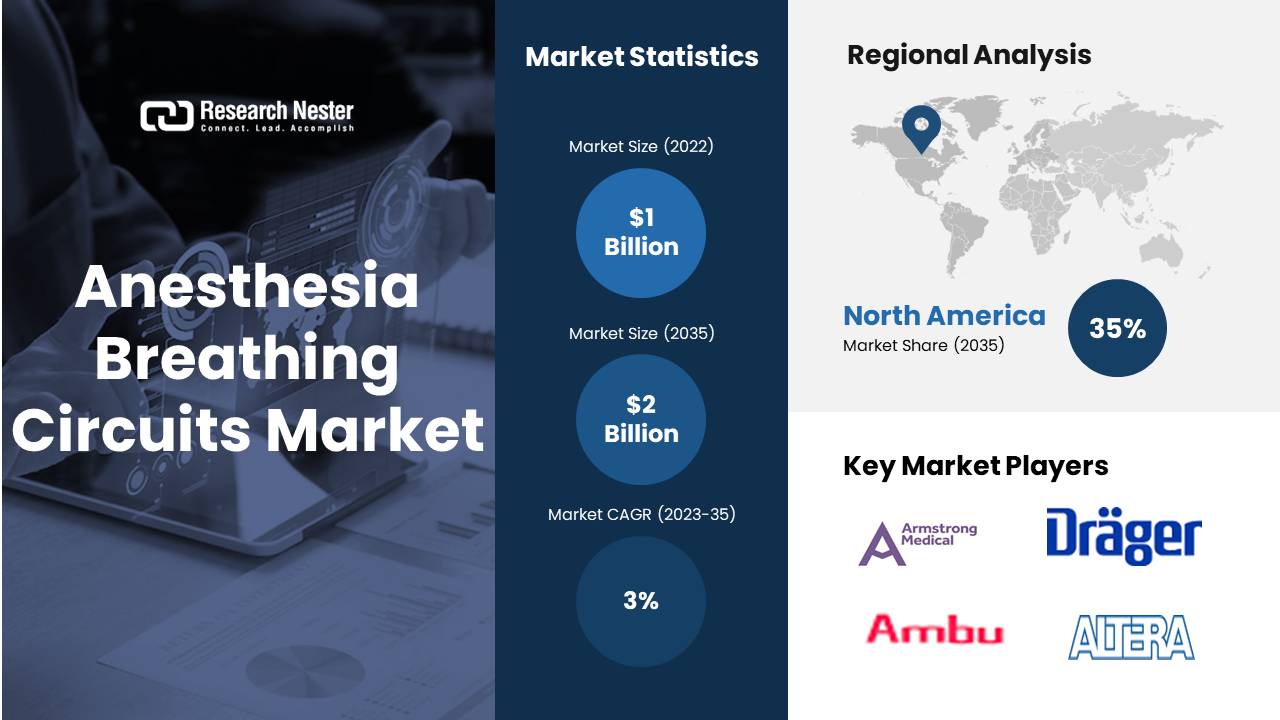 Anesthesia Breathing Circuits Market: Key Takeaway
Market in North America region to garner the highest market share.
The Closed segment to garner the highest revenue.
Market in the Asia Pacific region to grow at a significant rate.
Growing Consumption of Smoking & Alcohol to Boost the Growth of Anesthesia Breathing Circuits
Smoking is a major contributor to COPD. Individuals with a history of smoking account for about 74% of all COPD cases. Over 7,000 chemicals are produced while a cigarette burns, many of which are dangerous. Smoking weakens the capacity of the lungs to fight off infections, narrows airways, swells air tubes, and damages air sacs, all of which are variables in COPD. The link between alcohol consumption and chronic obstructive pulmonary disease (COPD) is still not conclusively established, according to research. Alcohol consumption, however, may harm the immune system and the lungs. As a result, breathing can become more difficult, raising the possibility of developing COPD.
Anesthesia Breathing Circuits Market: Regional Overview 
The market is segmented into five major regions including North America, Europe, Asia Pacific, Latin America, and the Middle East and Africa region. 
Growing Disposable Income to Drive the Market Growth in North America
The anesthesia breathing circuits market in North America is estimated to grow at a share of 35% over the forecast period. This growth could be influenced by growing disposable income in this region. In the United States, disposable personal income increased from about USD 19872 in May to close USD to 19940 in June of 2023. Hence, they are expected to invest more in anesthesia breathing circuits since they can afford it.
Make an Inquiry Before Buying this Report @ www.researchnester.com/inquiries-before-buying-5127
Rising Geriatric Population to Influence the Market Expansion in Asia Pacific
The Asia Pacific market for anesthesia breathing circuits is also expected to grow at a share of 28% by the end of 2035. The growth of the market is set to grow on account of the rising geriatric population. One in four persons in Asia and the Pacific is expected to be older than 60 by 2050. Between 2010 and 2050, the region's elder population (those over 60) will quadruple, growing to around 2 billion individuals. Age-related physical changes result in decreased lung function. As bones begin to thin, the ribcage's shape changes, affecting how much it may expand to accommodate breathing. The capacity to inhale and exhale is impacted by the weakening of the diaphragm, which maintains your body's motions while you breathe. Hence, the anesthesia breathing circuits market is anticipated to grow in this region.
Anesthesia Breathing Circuits, Segmentation by Type
The closed segment is poised to garner the highest share of 44% over the coming years. This growth is expected to be dominated by the low cost of this method. For instance, according to the WHO, low- and middle-income countries (LMIC) account for about 90% of deaths from COPD in those under the age of 70. Additionally, according to disability-adjusted life years, COPD is the sixth most common cause of poor health worldwide.. Hence, this method could be beneficial in such nations.
Anesthesia Breathing Circuits, Segmentation by End-User
Hospitals
Clinics
Ambulatory Surgery Centers
The hospitals segment is expected to capture the highest share of 45% over the forecast period. The major factor influencing this segment's growth is the growing investment in the healthcare sector. In 2021, the amount spent on health care in the United States increased by 2.7 percent to USD 4.3 trillion, or USD 12,914 per person. Hence, improvements could be made in hospitals such as advancing the equipment and adopting digitalization. Therefore, the preference of people for hospital for anesthesia breathing treatment is expected to rise further boosting the market growth.
Request for Customization of this Report @ www.researchnester.com/customized-reports-5127
Anesthesia Breathing Circuits, Segmentation by Application
Anesthesia
Respiratory Dysfunction
A few of the well-known market leaders in the anesthesia breathing circuits market that are profiled by Research Nester are Armstrong Medical Ltd, Dragerwerk AG & Co. KGaA, Ambu A/S, Altera Corporation, C.R.Bard, Inc., Teleflex Incorporated, Bio-Med Devices, Inc., Becton, Dickinson and Company (BD), Fisher & Paykel Healthcare Corporation Limited, Smiths Group plc, and others.
Recent Development in the Market 
The Middle East market and the Gulf Cooperation Council (GCC) region have seen the introduction of AquaVENT VT, Armstrong Medical Ltd.'s most cutting-edge heated breathing circuit technology.
The debut of the closed-circuit breathing equipment Drager BG ProAir has been announced by Drigerwerk AG & Co. KGaA. This cutting-edge breathing circuit offers novel characteristics to safeguard firemen participating in lengthy deployments, such as those in basements, tunnels, towering buildings, and intricate constructions.
About Research Nester
Research Nester is a one-stop service provider with a client base in more than 50 countries, leading in strategic market research and consulting with an unbiased and unparalleled approach towards helping global industrial players, conglomerates and executives for their future investment while avoiding forthcoming uncertainties. With an out-of-the-box mindset to produce statistical and analytical market research reports, we provide strategic consulting so that our clients can make wise business decisions with clarity while strategizing and planning for their forthcoming needs and succeed in achieving their future endeavors. We believe every business can expand to its new horizon, provided a right guidance at a right time is available through strategic minds.