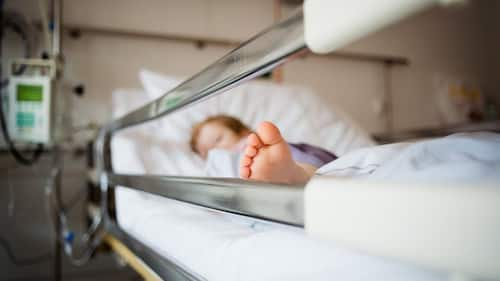 Adenoviruses infection is spreading rapidly in India. As per experts, this infection can cause a range of health complications, including common cold to pneumonia, croup, and bronchitis.
After COVID-19, another highly infectious disease, Adenovirus, is wreaking havoc in West Bengal. In the last 24 hours, six more children have died of the acute respiratory infection at Kolkata's Dr BC Roy Memorial Hospital for Children. The current surge in cases of this respiratory wrecking disease is bringing back fears of what people faced back in 2021 when the second wave of COVID-19 was at its peak. Of the six deceased, two children were admitted to the hospital with high fever, cough and shortness of breath, all symptoms of adenovirus.
According to the Health Department, 12 children with confirmed adenovirus infection have died in the state so far. However, reports have also added that some of them had comorbidities.
Symptoms of Adenovirus In Children
West Bengal and Mumbai are seeing a sudden spike in flu-like symptoms in children. Calling it a pandemic-like situation, experts have warned that the cases may go up if proper care is not taken to contain the virus from spreading.
Speaking to the media, the doctors from those hospitals, which are seeing a surge in daily cases associated with the virus, said that there are many children being admitted with pneumonia who show adenovirus on the PCR from the lungs. The doctors added that these children with symptoms of adenovirus are coming with severe sickness and need prolonged artificial ventilation.
"Many of the patients suffering from adenovirus are showing signs of severe lung damage even on recovery. Our patient profile is of prolonged cough for 4-6 weeks and high fever lasting for over a week. Most are not tested for the virus. Masking and cough hygiene is the only prevention," a doctor was quoted as saying.
How To Keep Your Kids Safe?
One of the best ways to keep kids safe from such virus attacks is by maintaining or following the safety protocols, these may include:
Wearing a properly fitted face mask.
Avoiding stepping out in crowded places.
Keeping a close check on the symptoms.
Washing hands before touching the face.
Following a healthy diet to keep the immunity system strong.
Staying safe when suffering from conditions like asthma, lung infection or when recovering from COVID.
How long does it take to get better? It actually depends on the severity of the infection. However, doctors are of the opinion that such virus attacks, which can cause acute respiratory infection, can last for about 5-7 days. While fever lasts for about three days, cough can persist for up to three weeks in such cases, say experts.
Total Wellness is now just a click away.
Follow us on