Meet Daily Point of Light Award honoree Joseph Darcourt. Read his story and nominate an outstanding volunteer or family as a Daily Point of Light.  
Joseph Darcourt, a rising senior from Merrick, New York, grew up in an immigrant family. His father, born in Lima, Peru, dedicated his entire life to the service industry. His work brought him joy while supporting the family, allowing Joseph's mom to be a devoted stay-at-home mom. Joseph's mom grew up in Taipei, Taiwan, and instilled in him, since he was little, the value and practice of meditation, gratitude and the belief that "giving is a blessing," regardless of its magnitude.  
Today, Joseph has served in the classroom, hospital, church, monastery, street, park and local settings through the medium of his "M&M/Music and Meditation" workshop. This workshop aims to normalize self-care and daily gratitude practices with a two-part structure that includes a breathing meditation focused on gratitude, and the soothing melodies of the cello. Joseph and his mother established their nonprofit Olifeclass during the pandemic. 
Read on to find out what inspires Joseph and hear about the volunteer work he's been doing utilizing music and self-care practices in recovery settings. 
Describe your volunteer role.
During my sophomore year in the summer of 2022, I initiated the "M&M" workshop as part of the Sparks of Life program at NewYork-Presbyterian (NYP) Brooklyn Methodist Hospital. As a volunteer, I led the workshop to bring joy and brightness to patients' days in the neurological rehabilitation unit.
Initially, I conducted group sessions alongside a physical therapist as the COVID-19 restrictions were lifted. While interacting with patients, I discovered varying musical preferences, with some even being classical music enthusiasts unfamiliar with the cello. Nonetheless, the sound of the cello had a profound impact, touching the hearts of listeners.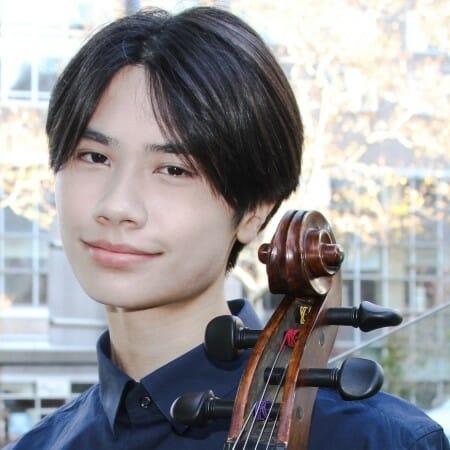 In my junior year, I was able to start conducting room-to-room visits weekly. Each visit encompassed approximately five rooms, including patients, their loved ones and, occasionally, nurses and staff. I volunteered regularly over the course of a year, visiting hundreds of patients and their families. Volunteering became the highlight of my week, bringing immense joy to others as to myself.   
What inspired you to get started with this initiative?
When I was 11 years old, I created the "M&M" workshop as part of the Artist as Citizen assignment at the Juilliard School's Music Advancement Program (MAP). The assignment aimed to explore how the arts can foster connections, strengthen community and inspire social change. Combining the "Thank You Breathing Meditation," which I learned from my mom at age five, with classical music, I invited my elementary school principal, teachers, friends and their families to my first workshop at my local library. The performance moved everyone, and it reaffirmed for me the power of music in bringing people together. 
Recognizing stress as a significant concern among my peers, I became inspired to use classical music and the "Thank You Breathing Meditation" to promote collective mental well-being among youth. A little self-care can go a long way. 
Through volunteering at the library and my elementary school, I was able to witness the positive impact of music on listeners. Although it was my dream to bring the "M&M" workshop to a hospital, age restrictions delayed that plan. During the pandemic lockdown, I witnessed the overwhelming growth of depression and anxiety-related disorders worldwide; my motivation to volunteer at a hospital only grew. Research led me to the "Sparks of Life" program at New York-Presbyterian (NYP) Brooklyn Methodist Hospital, one of, if not the only program that accepts individually-created projects for the healing process. Once I turned 16, I submitted my project, and my dream of volunteering at a hospital came true through NYP's "Sparks of Life" program.  
Are there any rewarding stories from your work?
So many stories come to my mind. First, Charlyria, who first joined the group workshop on May 10, 2022, experienced a newfound love of my music. In that moment, she felt solace and peace within, and all her pain would seem to dissipate when listening. After that day's workshop, her sister, Jeannie, shared that Charlyria would listen to my music on YouTube throughout the day – even when she was asleep! When I initially met her, she had a noticeable bump on her head, but in subsequent visits, she wore a special helmet. I admired her bravery, and I made sure to visit her room each time until she underwent cranioplasty surgery in the ICU. Even during the surgery, they streamed my live cello recital online for her. Charlyria went above and beyond by offering her data for my future scientific research.  
During my first room-to-room visit, I met Fred, a social studies teacher. When I knocked on the door, Fred faced the wall, leaving me unsure of what to do. Bravely, I called out, inviting him to join the "M&M" workshop. Fred was amazed by my playing, particularly because he himself was a classical music fan, especially fond of Bach since he was 14. He praised me, saying, "You didn't make a single mistake. You are so talented, you made my day twice."  
As our conversation continued, Fred shared how as he was in the hospital, he greatly missed his dog and felt alone. In response, I shared the story behind "Salut d'Amour," a piece composed by British composer Edward Elgar, that, besides being a lovely romance, can embody the love of life. Coincidentally, the TV screen displayed a farewell to the queen while I played "Salut d'Amour," adding an extra layer of significance to the moment. 
Finally, nurse Stacy remarked after tuning in to one of my room-to-room visits that, in her 20 years at the hospital, she had never witnessed such a joyful and uplifting workshop experience for patients and their families. "Your unique volunteer spirit is a breath of fresh air, unlike anything we have ever witnessed in our hospital before." 
Any lessons you've learned along the way, or things you'd do differently?
Like my mom says, "It is a blessing to give." Having the privilege to share the uplifting power of music and a simple "Thank You Breathing Meditation," engaging in meaningful interactions with patients and their families along the way, I have realized the immense potential music and meditation can hold in the healing process.  
That is another key point: social interactions. Whether it be asking questions about the meditation, the pieces being played, or even about what the cello is, the "M&M" workshop can help participants feel connected and loved. I have realized the transformative impact volunteering has had on giver and receiver. Seeing the nurses, hospital staff and the patients' families during every hospital visit has inspired me to create an "M&M" hub/pod within the hospital, providing a dedicated space for patients/staff alike to rest and rejuvenate. My hope is to bring this vision to life in the near future.  
What's your advice for people who want to start volunteering?
Be sure to start small, stay open to new experiences, choose a cause you are passionate about, research local opportunities, reach out to organizations directly, and most importantly, enjoy the journey. And know that you are welcome to join my team! 
Do you want to make a difference in your community like Joseph? Find local volunteer opportunities.