By Jennifer Heitman, Senior Market Development, CHRISTUS Mother Frances Hospital – Sulphur Springs,

[email protected]
Sulphur Springs, Texas, August 8, 2022 – CHRISTUS Mother Frances Hospital – Sulphur Springs has ONE mission: To Extend the Healing Ministry of Jesus Christ.
Back to School
Are you going through the checklist of things to take care of before returning your students to school? Perhaps they need their annual vaccines or sports physical? We want to help! Call us at 903.885.3181 to schedule an appointment with a Pediatrician or Family Medicine provider today!
Pulmonary Rehabilitation
Do you need help managing your lung condition? Pulmonary rehabilitation can help. Pulmonary rehab is a program that can help you learn how to breathe easier and improve your quality of life. You can benefit from pulmonary rehab if you have:
Emphysema
Asthma
Chronic bronchitis
Bronchiectasis
Cystic Fibrosis
A Neuromuscular disease (such as Multiple Sclerosis or Parkinson's Disease)
Lung Cancer
History of smoking
Post lung surgery
Post COVID shortness of breath
Pulmonary rehab can make a difference. It is a safe, smart way to help you: decrease symptoms like being short of breath, coughing and wheezing. It can help you breathe better, get stronger, decrease stress, and reduce the risks of future lung problems and related hospital admissions. Pulmonary rehabilitation is designed to help increase strength, endurance, and overall health through exercise, education, diet, and support while decreasing patients' shortness of breath.
Ask your physician for a referral to CHRISTUS Mother Frances – Sulphur Springs' Pulmonary Rehabilitation Program 903.439.4141.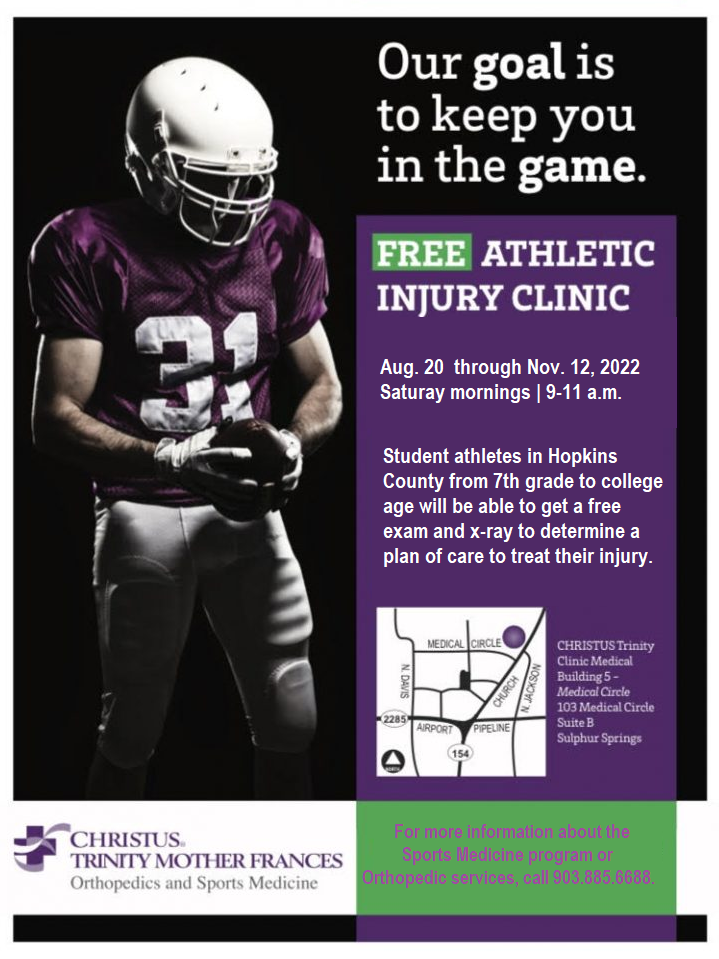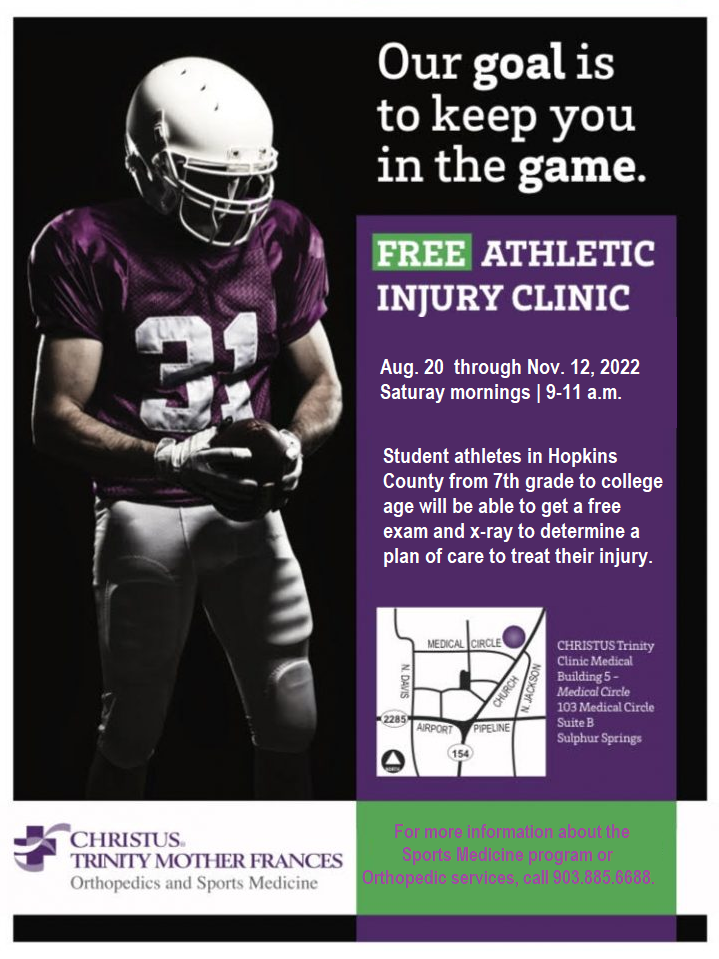 Sports Medicine
FREE Saturday Athletic Injury Clinic for student athletes of all ages is back this month! Starting August 20, Saturday sports injury clinic will be held every Saturday from 9 a.m. to 11 a.m. August 20 through November 12.
The clinic will be held at our CHRISTUS Trinity Clinic Orthopedics, Medical Building 5, at 103B Medical Circle in Sulphur Springs. For more information about our Sports Medicine program, or Orthopedic services, please call 903.885.6688.
Student athletes in Hopkins County from 7th grade to college age will be able to get a free exam and x-ray to determine a plan of care to treat their injury.
COVID Vaccine Clinic Dates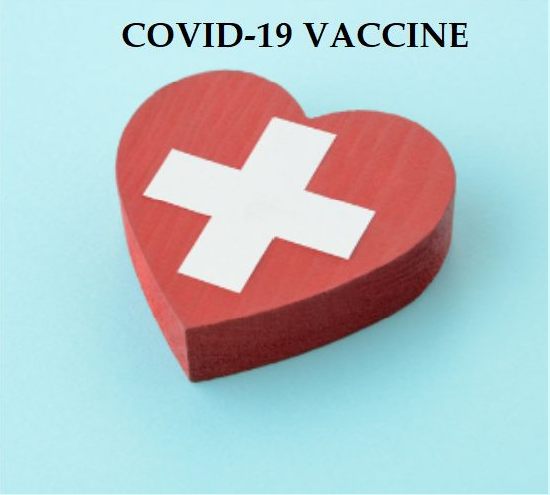 Net Health continues to offer adult and pediatric vaccines and boosters every three weeks at the clinic on 100 Medical Circle in Sulphur Springs. The clinic will be held on the following dates:
August 22-26,
September 19-23, and
October 17-21.
You may walk in from 10 a.m. to 3 p.m. daily. No appointment is necessary.
---
CHRISTUS Trinity Mother Frances Health System includes CHRISTUS Mother Frances Hospitals – Tyler, South Tyler, Jacksonville, Winnsboro and Sulphur Springs, the CHRISTUS Trinity Mother Frances Louis and Peaches Owen Heart Hospital – Tyler, CHRISTUS Trinity Mother Frances Rehabilitation Hospital a partner of Encompass Health, Tyler Continue CARE Hospital at CHRISTUS Mother Frances Hospital, a long-term acute care facility, and CHRISTUS Trinity Clinic. CHRISTUS Trinity Clinic is the area's preferred multispecialty medical group, with more than 400 Physicians and Advanced Practice Providers representing 36 specialties in 34 locations serving Northeast Texas across 41 counties. For more information on services available through CHRISTUS Trinity Mother Frances Health System, visit christustmf.org
Bed count – 402 – CHRISTUS Mother Frances Hospital – Tyler
Bed count – 8 – CHRISTUS Mother Frances Hospital – South Tyler
Bed count – 25 – CHRISTUS Mother Frances Hospital – Jacksonville
Bed Count – 96 – CHRISTUS Mother Frances Hospital – Sulphur Springs
Bed count – 25 – CHRISTUS Mother Frances Hospital – Winnsboro
Bed count – 94 – CHRISTUS Trinity Mother Frances Rehabilitation Hospital
Bed count – 96 – CHRISTUS Trinity Mother Frances Louis and Peaches Owen Heart – Tyler
Bed count – 51 – Tyler Continue CARE Hospital at CHRISTUS Mother Frances Hospital