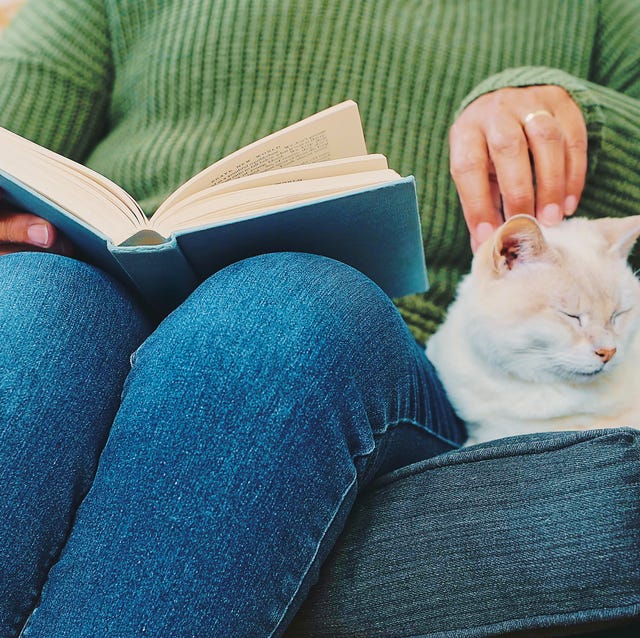 katleho SeisaGetty Images
Anxiety is everywhere and touches every family. Way back in 2018, Barnes & Noble reported that sales of books about anxiety were surging, and that was before anyone had ever heard of masking or social distancing. In the years since the pandemic, the need for concrete tools to combat uneasiness, apprehension and excessive nervousness has only become more critical, with an estimated 25% increase in the prevalence of anxiety, especially among women and young adults.
"The mental health crisis is real," says Ellen Hendriksen, Ph.D., a clinical psychologist and author of How to Be Yourself: Quiet Your Inner Critic and Rise Above Social Anxiety. "The clinic I work at has experienced the longest wait list we've ever seen in our 25-year history." Dr. Hendriksen adds that the average age of the patients she sees is skewing younger and younger, with many college students now seeking her help.
While anxiety is best treated with counseling and medication, self-help books can also be beneficial when it comes to complementing traditional treatment, and they can also provide some good ways to stop feeling anxious while you wait for an opening with a therapist. "A strength of self-help books is their versatility," says Joshua Magee, Ph.D., a clinical psychologist and founder of Wellness Path Therapy. "You can use them rather inexpensively at your own pace, which can be useful for people who aren't currently working with a therapist. It's just important to check that they are rooted in scientific evidence," he adds.
Ramani Durvasula, Ph.D., a licensed clinical psychologist and author of Should I Stay or Should I Go? Surviving a Relationship With a Narcissist, recommends anxiety books to patients for their useful tools: "Self-monitoring, practicing breathing and mindfulness exercises you can do at home — people can see what works and what doesn't, and they become a really useful way to extend the work of therapy to the time in-between," she says.
"You might come away from a good self-help book with a changed attitude, different behavior, fresh motivation or something else shiny and new to test-drive," says Dr. Hendriksen. She says that a solid anxiety self-help book meets three criteria:
It articulates a feeling or experience you've carried for years but couldn't identify.
It shrinks shame and isolation.
It encourages you to move forward.
How we chose the best books about anxiety:
We went straight to the experts for this one: We asked seven mental health professionals to name the books that they recommend most to their clients — and that they have found helpful themselves. Our health editors have vetted that these book recommendations are all based on reliable scientific research.
Our top picks:
If you're struggling with anxiety, read our full reviews of the top recommendations below; you can find more information about what to look for in books about anxiety, as well as coping mechanisms that work and when to see a professional about anxiety, at the bottom of this guide.
Advertisement - Continue Reading Below
Best Overall Anxiety Book
New Harbinger Publications
The Anxiety & Phobia Workbook
Best for Dealing With Stress
The Stress-Proof Brain
Best for Perfectionists
Free Press
Never Good Enough: How to Use Perfectionism to Your Advantage Without Letting it Ruin Your Life
Best for Sensitive People
The Highly Sensitive Person
Best for a Loud Negative Inner Voice
Chronicle Prism
Detox Your Thoughts: Quit Negative Self-Talk for Good and Discover the Life You've Always Wanted
Best for Catastrophizers
The Worry Trick
Best Practical Tools for Anxiety
The Anxiety Toolkit
Best for People Who Experience Panic Attacks
Mindfulness Workbook for Panic Attacks: Healing Strategies to Reduce Anxiety, Manage Panic and Live in the Moment
Best for People Who Experience Negative Thoughts
New Harbinger Publications
The Negative Thoughts Workbook: CBT Skills to Overcome the Repetitive Worry, Shame and Rumination That Drive Anxiety and Depression
Best for Anxiety About Health
Freedom from Health Anxiety: Understand and Overcome Obsessive Worry about Your Health or Someone Else's and Find Peace of Mind
Best for People Pleasers
Please Yourself: How to Stop People-Pleasing and Transform the Way You Live
Best for Chronic Worriers
When Panic Attacks
Best to Find Balance
Better Than Perfect
Best for Learning Mindfulness
Full Catastrophe Living
Best for People With OCD
Getting Over OCD
Anxiety is a psychological state in which you may feel worried, tense and have physical signs such as increased heart rate or sweating, according to the American Psychological Association.
You might feel anxious about something specific in the future, or feel a more diffuse sense of anxiety. "For some people it's a very physical feeling, and in some people it shows up as being unable to sleep," while others still avoid engaging in activities about which they have a lot of anxiety, says Debra Kissen, Ph.D., M.H.S.A., chief executive officer for LightOnAnxiety CBT Treatment Centers and the co-author of four books on anxiety, including the upcoming Overcoming Parental Anxiety: Rewire Your Brain to Worry Less and Enjoy Parenting More. "It's important to know how it shows up in you so you can recognize it in yourself."
What is the best coping mechanism for anxiety?
There is no single best way — different things work for different people, says Kissen. "When you're on anxiety, it's a fight-flight-freeze response, because your brain is thinking 'danger!'" she says. One helpful way to cope in the moment is to do something with your body, such as take a brisk walk, jump up and down or dance, "to do something to relieve the energy," she says.
Another good coping mechanism for anxiety is to took around to reassure yourself that you are no in actual danger, even though it feels that way. "Is there a lion coming? Are my pants on fire? Is there an immediate danger?" Kissen asks hypothetically. "If nothing is actually occurring, then that's a false alarm." Realizing that can give you space from the emotion.
Once you've recognized that you're feeling anxiety, you might try repeating a helpful mantra, such as "this is a false alarm," or "this feels uncomfortable but I am teaching my brain I can handle this." Kissen advises having your helpful mantra handy as an in-the-moment reminder.
Breathing slowly and deliberately can also help dial down some of the physical reaction to anxiety, say experts, as can focusing on fidget toys.
Can reading cure anxiety?
Anxiety is a normal human emotion, not something you'd want to "cure," but self-help books can be calming when your anxiety feels excessive.
Not only are research-based solutions useful in reducing anxiety, it's comforting to have a manual handy when you're having a moment. A reputable book on anxiety "is like having an on-demand therapist that can offer you instant support," says Kissen. But unless your anxiety is pretty mild, it's unlikely a book on its own will be enough to really get it under control, she says. "It's really hard to change on your own," she says. "It's hard to be the coach and the one who needs the coaching."
Still, as part of a treatment plan, it's a great tool. "A book is an additional tool in the toolbox, especially when an anxious brain is driving the moment, because it can offer a more balanced perspective," says Kissen.
What to look for in books about anxiety
Ask yourself if you fit into one of the targeted audiences of the books on our list. For example, have you been told you're a perfectionist? That you're "too sensitive"? Note: If you choose a workbook, order a hard copy (not an audiobook) and don't forget to grab a pencil, because a number of these reads require note-taking and have actionable exercises.
When to see a doctor about anxiety
It's time to see a doctor about anxiety when it is getting in the way of your happiness, or if you're not functioning well. "If you're not meeting your life requirements at work or at school or in terms of taking care of the kids," it is time to consider getting help, says Kissen.
It may also be that you're not enjoying your life as much as you might if anxiety were less of a factor. "If your anxiety is causing you distress, or if you're anxious more days than not or more stuck in the anxiety than engaging in your life, why not have all the tools in the toolbox at your disposal?" she says.
"If you find a book you really like, it's a good idea to bring it to your therapist," she says, so you can focus on ways to alleviate your anxiety.
Advertisement - Continue Reading Below