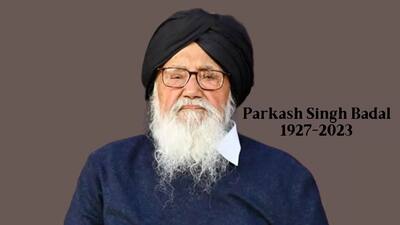 Former Punjab Chief Minister Parkash Singh Badal Dies at 95: PM Modi Pays Tributes in Chandigarh; Punjab Declares 1-Day Holiday.
India is mourning the sudden demise of its renowned political leader Parkash Singh Badal. Punjab's political idol breathed his last on Tuesday after a brief illness at a private hospital in Mohali. According to the initial medical reports, Akali Dal patriarch and former Punjab CM Parkash Singh Badal was suffering from a chronic respiratory illness due to which he has difficulty in breathing. Speaking to the media, sources revealed that the 95-year-old political role model of Punjab, Mr Badal was undergoing treatment at the hospital after he complained of uneasiness while breathing.
According to the hospital's media bulletin, Mr Badal was admitted to the hospital on April 16 with acute exacerbation of bronchial asthma. He was later shifted to the ICU on April 18 after suffering major difficulty while breathing. Doctors also said that his respiratory condition worsened drastically before he was shifted to the ICU. The bulletin adds that despite appropriate medical management, Mr Badal succumbed to his illness.
Mr Badal's Remarkable Journey
Born on December 8, 1927, in Abul Khurana, near Malout, Mr Badal graduated from Forman Christian College in Lahore. In 1970, he became the youngest Chief Minister of an Indian State at the time. Later, he served as Punjab's Chief Minister five times: 1970-71; 1977-80; 1997-2002 and from 2007 to 2017 (two consecutive terms). He also led the party as its president from 1995 to 2008. His commitment towards his duties made the Government of India award him the second-highest civilian award, the Padma Vibhushan, in 2015.
#WATCH | PM Narendra Modi pays last respects to Shiromani Akali Dal patron Parkash Singh Badal in Chandigarh pic.twitter.com/gIrJYHHt6h ANI (@ANI) April 26, 2023
The sudden demise of Parkash Singh Badal has left the nation in mourning. The state government has declared a 1-day holiday to pay respect to the departed soul.
Total Wellness is now just a click away.
Follow us on