A dog called Sligo has melted hearts all over the internet after a video of his reaction to losing his human at the beach went viral on social media last month.
In the viral clip, shared on TikTok in June by the dog's owner, under the username Ccolasuono6, the Labrador retriever can be seen walking in the shallow water, looking around trying to locate his mom, whom he believes he has lost forever.
After a brief moment of panic, Sligo finally can finally see his mom, and after breathing a sigh of relief, he starts running towards her with a big smile on his face.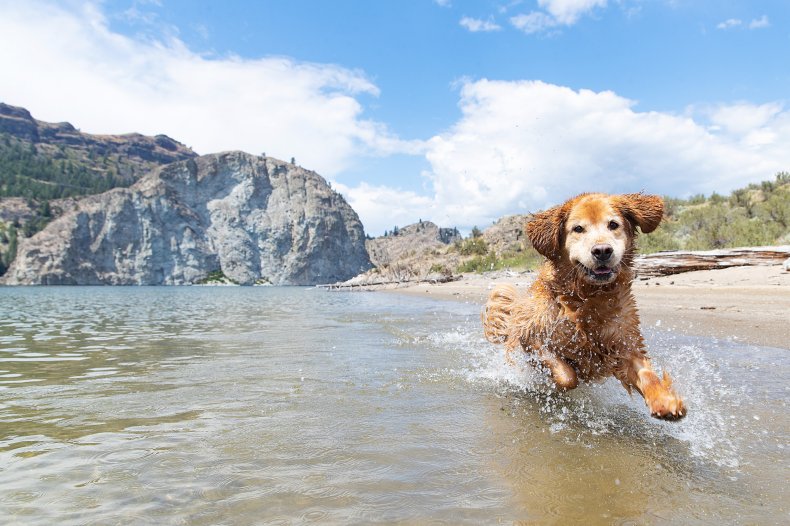 The hilarious video clip comes with a caption that says: "When you lose mom at the beach," followed by: "My sweet boy."
Dogs are very quick to think they've been abandoned; in fact, they think their owners abandoned them every time they leave the house. According to the science website IFL Science, dogs experience a considerable amount of stress when their owner is gone,
When dogs are under a lot of stress, their heart rate, respiratory functions, and levels of stress hormones, such as cortisol, are also likely to be impacted.
The video quickly gained popularity on social media, receiving views from across TikTok. It has so far received over 5.2 million and 1.1 million likes on the platform.
One user, Crystal, commented: "Omg how cute, I can't imagine the owners who abandon their dogs and they are looking for them." Kelly said: "His heart dropped for a sec." Sxvnshiii added: "This is so sweet, the thought of my dog looking for me and wondering where I am breaks my heart."
Rebeca wrote: "Unconditional love right there. We don't deserve dogs." Abby Baffoe said: "I'm dead this was so precious omg." Sadie's wife added: "Aww poor baby, it makes me panic just thinking about the fact you had left him!"
Another user, Cctexas1, commented: "You can see the second he smiled." And sarahspoonmore said: "I saw my Aussie do this at the dog park. It's a huge park and he lost me for a sec and it made my heart melt."
Alyson fry wrote: "This is so pure! I hope people see the good in every dog, I don't understand why people could ever abandon one." User rierose74 said: "Ah bless him. I could feel his panic until he saw you x."
EgalvE pointed out: "He runs to Youuuu with light in his eyes. I remember my dogs did the same." And Fdrprk26 added: "lol the panic like losing your mom in the supermarket."
Newsweek reached out to Ccolasuono6 for comment via TikTok chat. We could not verify the details of the case.
Do you have funny and adorable videos or pictures of your pet you want to share? Send them to [email protected] with some details about your best friend and they could appear in our Pet of the Week lineup.