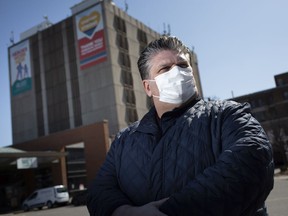 Article content
During a hospital board meeting that began with Windsor's mayor presenting awards to Windsor Regional Hospital staff for getting the city through the pandemic, the hospital's CEO warned that COVID is still present — and infections are expected to climb.
Article content
In his report to the board, CEO David Musyj said influenza struck early in Windsor-Essex and the hospital is seeing fewer people sick with the flu. But wastewater surveillance for COVID — an early predictor of community illness — shows a rise in virus activity to levels not seen since spring.
Article content
"Unfortunately, we are not out of this pandemic," Musyj said. "As we know, the more this virus replicates, the more it mutates (into) possibly different variants."
Dr. Wassim Saad, the hospital's chief of staff, said Windsor is likely seeing cases of a new and highly infectious subvariant of Omicron, the most contagious variant of the virus that causes COVID yet. The subvariant, XBB.1.5, has been nicknamed the "Kraken" variant, and makes up the majority of recent cases in Michigan.
Article content
"We know that in Windsor, being a border city, we are going to be one of the first areas in Canada to see a variant like this enter our community," Saad said. "I don't think there's any question that it's already in our community."
At least one study has found that the bivalent COVID vaccine "do have good effect" against the subvariant, he said. Therapeutic measures, namely the antiviral treatments remdesivir or paxlovid, are also effective.
"With simple vaccination and mask use, we still have great mitigation strategies for the spread of the virus, and we still have therapeutics that can work for it," Saad said. "What we do not know yet about … the Kraken variant is how deadly it is — this is a variant that you will be hearing a lot about in the next couple of weeks because it is likely to become globally dominant in the near future."
Article content
Windsor Regional continues to assess and treat people with COVID at its assessment centre, which has recently broadened its purview.
In November, the hospital received approval from the province to expand the assessment centre to include adult and pediatric patients experiencing all respiratory illnesses.
Karen Riddell, the hospital's chief nursing hospital, reported that the clinic sees between 40 and 70 patients per day. The majority of those patients require COVID testing, and between one and five patients per day are eligible for and treated with remdesivir or paxlovid.
Musyj said the clinic is guaranteed to remain open until at least March 31. Considering the number of patients it continues to divert from emergency departments, he wants the province to keep it open indefinitely.
Article content
The assessment clinic continues to operate from 9 a.m. to 3 p.m. seven days a week including holidays. It offers COVID-19 testing for eligible patients, clinical assessment for respiratory illness, and clinical treatments for COVID.
Appointments are required and can be made online at wrh.on.ca/onlinebooking or by calling 519-973-4443.
Individuals are encouraged to seek care from their primary care provider before making an appointment with the hospital's clinic.
Children with difficulty breathing, excessive vomiting, change in their level of consciousness, lacerations, or broken bones should still call 911 or go to the emergency department, as should adults with severe symptoms such as shortness of breath, chest pain, loss of consciousness or confusion.