Local students won prizes at a contest on preserving Asian cultural heritage as part of the Asian cultural heritage youth forum organised by the UN Educational, Scientific and Cultural Organization (UNESCO) held recently in China.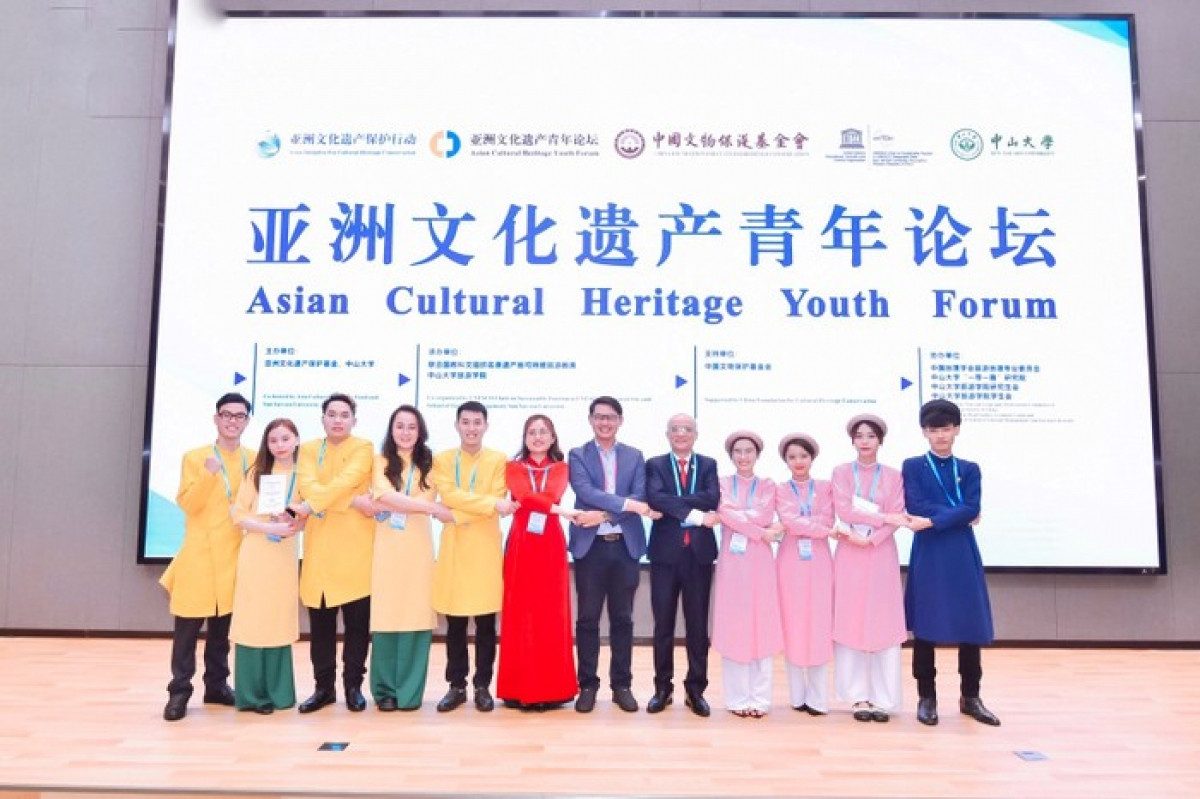 The only Vietnamese representative teams of Trang An and Hoang Thanh Thang Long, both from Hoa Binh University, were awarded the third and consolation prizes, respectively.
They were able to surpass the other 576 entrants in Asia to finish among the Top 20 alongside representatives from the Philippines, Malaysia, Indonesia, Macau (China), Tajikistan, and Vietnam.
Each team put on a 10-minute presentation detailing solutions aimed at preserving cultural heritage and developing tourism in the Asian region.
The contest was first launched by UNESCO from late 2022, with the final round taking place in Guangzhou, China, from April 22 to April 26.
The event is part of the Asian cultural heritage youth forum which was first held back in 1997. The objective is to involve young people in world heritage preservation efforts and promotion through a series of discussions and creative workshops.
Vietnam records highest number of COVID-19 cases in six months
Vietnam on April 27 reported 2,958 new COVID-19 cases – the highest recorded in a day in the past over six months, according to the Ministry of Health.
Since the pandemic broke out in the country in early 2020, Vietnam has reported over 11.55 million cases, of whom nearly 10.62 million were given the all-clear, and 43,188 people died of the disease.
To date, the country has administered approximately 266.2 million doses of vaccines against COVID-19.
Statistics of the Ministry of Health showed the number of new COVID-19 cases has been increasing again, and two deaths have also been recorded after nearly four months, including a patient with underlying diseases who was not vaccinated against COVID-19.
Authorities have requested localities accelerate vaccination for people of high-risk groups.
Prof. Phan Trong Lan, Director of the Ministry of Health's Department of Preventive Medicine, said that the implementation of COVID-19 prevention measures – masking and disinfecting – should be done regularly and continuously during the upcoming holidays of Hung Kings Commemoration Day, National Reunification and May Day from April 29 to May 3, amid a rise in infections in the country.
Vietnamese fishermen save Myanmar man adrift at sea
The Cửa Đại Border Guard Station in the southern province of Bến Tre on Tuesday said it received a Myanmar national who was found adrift at sea and rescued by local fishermen.
Trần Minh Nghĩa, captain of fishing boat BT 99234 TS, said his boat was operating in the sea when fishermen on the boat spotted the man.
They took him onboard, brought him to the shore and reported to Cửa Đại Border Guard Station.
After receiving the case, the station sent military medical staff to provide medical check and care to the foreigner, who said he was a Myanmar citizen.
The man's health now is in stable condition. The border station continues to coordinate with functional forces to verify information and complete procedures on the case in line with regulations. 
PVI Insurance pays over $1.5 mil for Bell 505 helicopter
PVI Insurance Corporation said on Monday that it completed the procedures related to Bell 505 helicopter with registration number VN-8650 to pay full compensation to Vietnam Helicopter Corporation (VNH).
The amount of the compensation payment was nearly US$1.57 million.
According to the insurance company, 20 days after the accident occurred, it was able to complete the payment of full compensation for the Bell 505 helicopter.
On the afternoon of April 5, a helicopter taking off from Tuần Châu island, Hạ Long City, Quảng Ninh Province was involved in an accident, claiming the lives of four passengers and one pilot.
Previously, PVI Insurance had paid advance compensation of $50,000 to the family of the deceased pilot. The company is cooperating with the pilot's family to complete the procedures to pay the remaining amount of compensation under the Pilot Accident Insurance Policy of $150,000.
It is also coordinating closely with VNH to discuss with passengers' relatives to determine specific wishes based on the provisions of the law. 
Traditional rituals celebrated in cultural heritage festival
A traditional festival is held from April 25 to 27 in Láng Pagoda and the surrounding area in Đống Đa District of Hà Nội. For the first time in 70 years, the Láng Pagoda Festival will restore all the folk rituals that have made it a unique event.
Láng Pagoda is an ancient pagoda built in the 11th Century. It has always been a famous pagoda in Hà Nội for its wide space, various antiques and Buddhist statues.
Láng Pagoda Festival is a traditional Spring Festival of people living in the Tô Lịch River region held in the third month of the lunar calendar. In 2019, it was certified a National Intangible Cultural Heritage by Việt Nam's Ministry of Culture, Sports and Tourism.
The festival honours and illustrates great milestones in the life of a Zen master named Từ Đạo Hạnh (1072-1116) – father of the traditional water puppet art. He was also known as Lý Thần Tông (1116 - 1138) - the fifth king of the Lý Dynasty.
For a long time, not all of the rituals were carried out. However, this year, the organising committee has determined to bring back all traditional rituals of the festival which have not been demonstrated for about 70 years such as "Tế lễ" (offering), "Độ Hà" (carrying palanquin through the river) and "Đấu Thần" (fighting between gods). Every ritual has a unique meaning based on myths about Từ Đạo Hạnh.
Various activities occur during the three days of the festival. The first day is for authorities and octogenarians of the area to open the festival through the "Cáo Yết" Ceremony (informing the god).
The second day is for the aforementioned important rituals before entertainment and folk games on the last day.
The Hà Nội Government has banned vehicles on the roads in some areas of Đống Đa and Cầu Giấy districts in order to serve the festival. 
Sepak takraw team seeks SEA Games glory
With their recent 2022 World Championship title in Sepak Takraw, the Vietnamese women's team has set their sights on winning gold at the upcoming 32nd SEA Games.
The competition promises to be tough, with world number one Thailand among the participants, Myanmar, and several other countries that have developed strong teams in the sport.
Despite being a strong force in Sepak Takraw, it has been 20 years since Việt Nam won SEA gold in the sport, with their last victory coming at the 2003 edition on home ground.
Despite having the home-ground advantage at the previous SEA Games, the Vietnamese team could only manage three silvers and three bronzes.
Three silvers of the women's team went to regu (group of three), team regu and quard (team of four), losing to Thailand in all three finals.
The whole team are working hard to end the long-time drought at the Cambodian competition by once again beating the world dominator and SEA Games reigning champion in either doubles or quard event.
In the Hoàng Mai Gymnasium, the team are training hard to improve their serving, blocking and finishing skills.
According to the former SEA Games champion Vui, in the quard event, Thailand and Myanmar will be the two main opponents of Việt Nam. There is a small gap between participating teams in the doubles, but Thailand is still a strong force.
Cambodia organises four events of sepak takraw for men and women from May 6-16 at the Indoor Basketball Hall of the Olympic Stadium Centre in Phnom Penh.
Northern, central regions see rain, light cold weather
The northern and northern central regions of Vietnam have experienced rainy and cooler weather.
The National Centre for Hydro-meteorological Forecasting reported that from early this morning, April 25, the cold weather had affected most northeastern localities with rain. 
The temperature in the northeastern region has fallen to 18-23 degrees centigrade. Some mountainous areas would see temperatures of below 18 degrees centigrade.
The northeastern region would witness moderate rain with strong wind with temperatures of 22-25 degrees centigrade.
Hanoi would be cloudy with rain. Whirlwinds have been warned during the rain. The temperature would drop to 21-23 degrees centigrade.
The same weather has also been forecasted for central localities from Thanh Hoa to Thua Thien-Hue.
Tan Son Nhat Int'l Airport asked to assign more staff at peak time
Vietnam Civil Aviation Authority yesterday reported its inspection results of current issues, including long waiting time for luggage checkout and extra taxi fee in Tan Son Nhat International Airport to the Transport Ministry.
 
Firstly, the Civil Aviation Authority of Vietnam asked that Tan Son Nhat International Airport urgently select passenger automobile units according to the approved plan, along with the minimum service rates.
Secondly, as to the long waiting time for luggage checkout, Tan Son Nhat International Airport must designate more human resources at luggage carousels and flexibly operate these carousels based on real situations. Staff must be assigned at entry areas to help passengers claim their luggage.
The Civil Aviation Authority of Vietnam forecast that during the upcoming holiday as well as following summertime, it will closely work with related units (the border police, the customs, ground service units) to pay several inspection visits to this airport in order to timely detect and handle problems, inadequacies so that the waiting time of passengers here can be reduced effectively.
HCMC ensures disbursement proportion of over 95 percent for key traffic projects
Vice Chairman of HCMC People's Committee Bui Xuan Cuong yesterday directed that related state agencies urgently complete necessary procedures to boost the progress of traffic projects, ensuring the percentage of disbursement of 95 percent this year.
Accordingly, HCMC People's Committee asked that the HCMC Transportation Works Construction Investment Project Management Board must disburse VND15 billion (US$638,550) at the end of the second quarter and then VND20 billion ($851,400) at the end of the third quarter this year. The proportion for the whole year must reach over 95 percent of the allocated capital.
In particular, the project to improve Luong Dinh Cua Street (from Tran Nao Street to Nguyen Thi Dinh Street) has to accelerate the construction progress for the part finishing land clearance. Out of the VND40 billion ($1.7 million) distributed from the public investment plan to this project, only VND9.8 billion ($417,000) was successfully disbursed. 
The construction project for An Phu Intersection must receive VND75 billion ($3.19 million) and VND570 billion ($24.26 million) in the second and third quarter this year respectively, then concluding the year at 95 percent of the allocated VND1.2 trillion ($51 million). However, the obtained amount now is just VND5 billion ($212,850).
Similarly, the construction project for Nam Ly Bridge to replace Rach Chiec Dam must ensure the yearly disbursement percentage of more than 95 percent of the assigned VND150 billion ($6.39 million).
Therefore, HCMC People's Committee requested that all investors actively review the current progress of their projects to propose their capital needs in order to maintain the schedule and disburse all given amounts.
Direct flight linking northern, southern major economic zones launched
A direct air route connecting the Mekong Delta province of Can Tho and the northern coastal province of Quang Ninh was launched on April 25.
 
The new service will be offered twice s a week on Tuesday and Sunday and is scheduled to take two hours and 20 minutes.
The opening of the new the new flight is an opportunity to develop tourism and trade between two major economic regions.
The first trip carrying more than 170 passengers arrived at Can Tho Airport on April 25.
5 winners of National Architecture Awards 2022-2023 announced
Vietnam Association of Architects yesterday held an award ceremony for winners of the 15th National Architecture Awards (2022 - 2023).
National Architecture Awards is a bi-annual contest chaired by Vietnam Association of Architects and co-held by the Construction Ministry and the Ministry of Culture, Sports and Tourism. From 226 papers of this year's contest, the Final Judge Board chose 5 gold, 18 silver, 34 bronze awards as well as one for the most voted work by the community.
The Final Judge Board of the National Architecture Awards commented that all participating papers this year display improvements in both quality and quantity to reflect the current level of Vietnamese architecture. Many designs have smartly exploited the theme of sustainable architecture or environmentally friendly architecture to adapt to climate change and answer the demands for socio-economic growth.
The awards this year also show a healthy competition among domestic and foreign architecture offices.
Vehicle registration center in HCMC shows disorder due to brokers
Vehicle Registration Center No.50-05V (District 12) yesterday became disordered, congested owing to a large quantity of people coming to receive appointments for car registration.
 
The order at Center No.50-05V was restored when traffic police officers came to distribute appointment slips
Nguyen De Tham from Tan Phu District informed that on April 25, Vehicle Registration Center No.50-05V announced it would distribute 1,000 appointment slips for the time from May 4-13. Knowing that, he came to the center at 3:00 a.m. but was not able to get any slip. He recalled that due to such a large crowd waiting for those slips, at the time the staff began to distribute them, justling and trampling happened. Even with the help of police officers right after that, it took two hours for the order to restore.
Deputy Director of Center No.50-05V Chu Dinh Hiep confirmed that there was such a disorder yesterday morning. He explained that formerly, his center had used an online appointment making procedure at the address of ttdk.com.vn or via the app TTDK.
However, there had been frequent cases of people making appointments then did not come for the process. Seeing that, the center decided to directly deliver appointment slips for those who really need to register their vehicles. Yet the center did not expect such a huge crowd, and must now consider a better appointment slip distribution method to avoid similar incidents in the future.
As to the cases of booking for a registration slot but not coming to proceed with the procedure, Deputy Director Hiep reported that those cases belong to 'brokers' who first try to win registration slots. When they pinpoint people in need, they will cancel their registered accounts (meaning the slot is now available) so that their customers can immediately fill in the blank.
This situation of brokers playing tricks with the online registration booking happens in several vehicle registration centers as well. To stop this, managers of the centers proposed that Vietnam Register quickly update the registration software.
Ho Chi Minh City police break up six transnational drug smuggling rings
Police operating in Ho Chi Minh City announced on April 26 that they have successfully broken up six more shipments containing synthetic drugs related to a Vietnamese resident in France.
Following the case of four flight attendants of Vietnam Airlines transporting drugs into the country via Tan Son Nhat Airport, the police have prosecuted a total of 22 cases and 65 defendants for illegally trading, transporting, and storing drugs, as well as for failing to report criminals and concealing crimes.
They also seized a total of 50 kg of various drugs, several guns, and many other related exhibits. The police said that the six drug smuggling cases were run by an overseas Vietnamese national who is residing in France. The shipments shared similar features and methods, with drugs being hidden inside products such as toothpaste and functional foods.
Once the drugs arrived in Vietnam they were delivered to an unknown person in the southern province of Dong Nai and then transported to specified locations throughout Ho Chi Minh City and Binh Duong Province for consumption.
Police forces of Ho Chi Minh City confirmed that the six drug smuggling cases were not related to the case of four Vietnam Airlines flight attendants transporting drugs from France to Tan Son Nhat Airport on March 16.
Diverse events set for 2023 culinary culture festival in Phu Tho
The 2023 Culinary Culture Festival is taking place in the northern province of Phu Tho as part of activities to mark the death anniversary of the Hung Kings, the legendary founders of the nation, and the Culture and Tourism Week of Ancestral Land.  
Boasting a wide range of unique culinary and cultural activities, the event provides an ideal venue in which to introduce the local unique culinary culture whilst contributing to spreading the value of Vietnamese culinary culture to both domestic and international tourists.
On display across the 70 stalls are specialties of three regions across the country, as well as One Commune One Product (OCOP) products of Phu Tho province.
Most notably, visitors will have the opportunity to enjoy a range of impressive performances by renowned culinary artist Matsuo Tomoyuki, who is also president of the Japan - Vietnam Culinary Association (JVGA), and artisan Le Thi Thiet, chairman of the Nam Dinh Culinary Culture Association.
The gastronomic demonstration put on by two artisans will be the highlight of the Japanese-Vietnamese culinary exchange programme, aiming to introduce the local dish of bagridae of Phu Tho province.
Aside from culinary spaces at the five-day event, visitors will also have the chance to be entertained with performances of Xoan and Ca Tru singing, Quan Ho Bac Ninh folk songs in the north, and the southern amateur music of Don ca tai tu.
Heat-related health risks increase as summer approaches
As summer approaches, the scorching heat in major cities poses health risks to people, especially those who work outdoors and young children.
Required to be on the move all day for work, 42-year-old Thiện from HCM City said that the weather in the past few days was the most unbearable since Tết (Lunar New Year). Although he takes precautions and brings a large water bottle, it is still insufficient to ease the heat.
For Nhung (not her real name), the blazing heat in recent days means her chronic sinusitis is back with headaches, a runny nose, sneezing and sinus pain.
Young children are also vulnerable to the hot weather. Many of them have had to be admitted to hospitals due to respiratory and gastrointestinal diseases indirectly caused by the heat.
Dr Đoàn Thị Thanh Hồng from the Respiratory Department of HCM City Children's Hospital 2 said that in recent days, the facility had received multiple patients with pneumonia, asthma and gastroenteritis.
Meanwhile, at outpatient clinics, the hospital records a 20 per cent increase in child patients with respiratory diseases related to the extreme heat.
Doctors at HCM City Children's Hospital 2 warned that being active in a high-temperature environment could lead to heat stroke, which can be life-threatening when the body temperature rises above 40 degrees Celsius.
This medical emergency can also damage the central nervous system and other body tissues.
Dr Nguyễn Văn Chi from A9 Emergency Centre of Hà Nội's Bạch Mai Hospital said that as the long holiday approaches this weekend, families should be cautious about their children's health when travelling.
When children show signs of dehydration, fever, headache, rapid breathing or shortness of breath, they need to be immediately taken to medical facilities for treatment.
Dr Phan Thái Sơn, deputy head of the intensive care unit at the HCM City University Medical Centre (under HCM City University of Medicine and Pharmacy), said that anyone is at risk of heat stroke, especially when the person spends over one hour in the 40 degrees Celsius temperature.
2023 Nha Trang-Khanh Hoa Sea Festival expected to lure 100,000 visitors
The 2023 Nha Trang-Khanh Hoa Sea Festival in the south central province of Khanh Hoa will take place from June 3-6 with more than 60 events, organisers said at a press conference in Hanoi on April 26.
The opening night on June 3 will feature a light show featuring drones that reenact stories about the history, culture and people of Khanh Hoa.
Programmes and activities held in the framework of the festival, including street festivals, a Vespa parade, art performances, sports competitions, tourism promotion events as well as scientific and educational seminars.
The province is expected to attract 100,000 visitors during the festival.
Nha Trang-Khanh Hoa Sea Festival is held every two years and has become a trademark of the beach resort city since 2003. In 2021, the festival was suspended due to the impact of the COVID-19 pandemic.
In 2022, the province welcomed 2.57 million tourists, raking in nearly 14 trillion VND (590.5 million USD) in tourism revenue.  
This year, it targets 4 million tourists, including 1.5 million foreign visitors, and earning approximately 21 trillion VND, according to the province's Department of Tourism.
Toward the goals, the domestic tourist market still plays a key role, with significant attention paid to the expansion of traditional and potential international ones such as the Republic of Korea, China, Malaysia, India, Japan, Thailand, Russia, and Kazakhstan, it said.
Khanh Hoa plans to launch a myriad of tourism communications and promotion activities to stimulate demand, and to host field trips from delegations of international and domestic travel companies. The province will also develop regional linkages, work with airlines to open more routes, and build a digital map of local tourism.
Conference reviews implementation of national cyber security and safety strategy
A conference on guiding the launch and evaluation of the implementation of the national cyber security and safety strategy was held in Ha Long city of the northern province of Quang Ninh on April 26 by the Authority of Information Security under the Ministry of Information and Communications (MIC) and the Departments of Information and Communications of provinces and cities.
According to the authority, cyber attacks in Vietnam mainly target servers to gain access, and steal passwords, and data. Computer viruses cause economic loss of 21.2 trillion VND (nearly 903 million USD) in the country last year.
The MIC coordinated with relevant agencies to organise three national-scale exercises on ensuring cyber security in the year. The authority directly prevented more than 3,600 fraudulent websites, contributing to protecting nearly 4 million people, equivalent to 6% of internet users.
The authorities have handled 76 websites distributing malware and blocked connections to 915 IP addresses of computers in virus-infected computer networks (IP Botnet).
Tran Dang Khoa, Deputy Director of the Authority of Information Security, said that ensuring cyber security and safety are the key tasks in the digital transformation process, and are important pillars in establishing digital trust and promoting prosperity in the digital era.
He underlined the necessity to invest in cyber security, saying that this helps promote sustainable development and create value.
The agency needs to maintain and enhance the effectiveness of the "4-layer" information security assurance model, focusing on monitoring and professionally protecting, and connecting and sharing information with the national monitoring system; training and updating technical personnel on knowledge and skills of information security; and taking anti-malware solutions.
At the event, participants proposed measures to promote the implementation of the strategy.
Dinh Sy Nguyen, Deputy Director of the provincial Department of Information and Communications of Quang Ninh province, said that the local authorities have paid heed to investing in developing and protecting digital infrastructure, digital platforms, digital data, and network infrastructure.
Vietnam aims to build a cyber security research and development centre, protect information systems in 11 important areas, and form cyber security forces at ministries, sectors and State agencies by 2025.
The authority stressed that it is necessary to strengthen the protection of national sovereignty in cyberspace, digital infrastructure, digital platforms, digital data, national cyber infrastructure, information systems of Party and State agencies and important fields.
Nature reserve in Ninh Binh promotes sustainable tourism development
With diverse natural resources and rich ecosystems, Van Long Wetland Nature Reserve in Gia Vien district, the northern province of Ninh Binh, has many advantages and potential to develop a service-based economy, effectively contributing to local socio-economic development.
Van Long Wetland Nature Reserve, is one of the few intact lowland inland wetlands remaining in the Hong (Red) River Delta, and also the largest wetland nature reserve in the northern region.
It is home to two ecosystems, the wetland environment and the limestone ecosystem. More than 720 species of plants from 277 families and six phyla of higher vascular plants can be found in the area, with eight species included in the Vietnam's Red Data Book of rare and threatened species.
The range of animals in the reserve is also incredible. There are 39 species of mammals, 100 bird species, 38 reptile and amphibian species, 43 fish species, 132 insect species, 48 terrestrial mollusc species, and 60 aquatic mollusc species here.
Notably, Van Long Wetland Nature Reserve houses the greatest number of langurs in Vietnam, which could be seen in the wild.
The site holds two national records for having the most Delacour's langurs and for being the largest unspoiled landscape in Vietnam.
Vu Thi Duoc, Vice Chairwoman of Gia Vien district People's Committee, said that protecting the landscape, environment and biodiversity of Van Long plays an important role in the district's tourism and socio-economic development, helping to create jobs and improve incomes for the locals.
Nguyen Cao Tan, Deputy Director of the Department of Tourism of Ninh Binh province, emphasised that the authorities and locals at the nature reserve have made efforts to implement measures to protect its environment and natural beauty. In order to promote the locality's advantages, the province needs to strengthen education, research and development of specific tourism products associated with biodiversity conservation and environmental protection.
Van Long Wetland Nature Reserve receives a large number of visitors every year. Between May and September is the best season to explore the reserve.
The nature reserve is among various attractions in Ninh Binh province, which is blessed by nature with a wide range of beautiful natural landscapes and ecosystems.
Other sites in Ninh Binh that have become familiar to travel fans include Tam Coc - Bich Dong, Cuc Phuong National Park, and particularly the Trang An Landscape Complex. 
The Trang An complex was recognised by UNESCO as a World Cultural and Natural Heritage Site in 2014 - the first in Vietnam and Southeast Asia to receive the honour.
Venezuelan FM appreciates comprehensive partnership with Vietnam
Vietnamese Ambassador to Venezuela Vu Trung My on April 25 (local time) presented a copy of President Vo Van Thuong's credentials to Venezuelan Foreign Minister Yván Gil Pinto.
My affirmed that he will do his utmost to contribute to strengthening and enhancing the fine traditional friendship between Vietnam and Venezuela for the benefits of the two countries' people.
He also proposed measures to promote the bilateral cooperation, especially in politics, economy and trade, in the context that the two nations are preparing to celebrate the 35th founding anniversary of their diplomatic relations next year.
Pinto spoke highly of the Venezuela-Vietnam comprehensive partnership, as well as the Southeast Asian country's socio-economic achievements in recent years.
He suggested the two sides continue to coordinate and agree on specific measures to step up the bilateral cooperation in all fields, particularly economy, trade and investment, to be commensurate with their traditional friendship, for the mutual benefits of the two nations.
The minister affirmed to create the best conditions for the ambassador to fulfil his tasks to contribute to deepening the bilateral comprehensive partnership.
Deputy FM meets with Argentine official
Deputy Minister of Foreign Affairs Ha Kim Ngoc had a meeting with Acting Minister of Foreign Affairs, International Trade and Worship of Argentina Pablo A. Tettamanti on April 25 (local time) in the framework of the official visit to the South American nation by National Assembly Chairman Vuong Dinh Hue.
During the meeting, the Argentine official spoke highly of the close and effective cooperation between the two foreign ministries in recent times, especially the preparation for Hue's visit to Argentina.
The two sides expressed the belief that the visit will create a new impetus to deepen the Vietnam -Argentina comprehensive partnership, for the benefit of each country, and for peace, cooperation and development in the two regions and the world.
Deputy FM Ngoc affirmed that NA Chairman Hue's visit to the Latin American region aims to convey a message that Vietnam always appreciates the solidarity and precious support of Latin American nations for Vietnam's struggle for independence and reunification in the past, as well as national construction and defence today.
Vietnam always attaches importance to and wants to further step up the traditional friendship and multifaceted cooperation with regional countries, including Argentina – one of the most important partners of Vietnam.
The two sides agreed to continue promoting and deepening the comprehensive partnership in politics-diplomacy, bilateral economics-trade, their cooperation at international multilateral forums, as well as people-to-people exchange; and expand cooperation to new areas such as clean energy, digital transformation and climate change response.
The two countries will effectively maintain bilateral cooperation mechanisms such as the Intergovernmental Committee, and the political consultation between the two foreign ministries.
They will also consider opening the market for each country's goods towards a harmonious and sustainable trade balance; and Vietnam's proposal on accelerating the start of negotiations of a free trade agreement (FTA) between Vietnam and the Southern Common Market (Mercosur).
The two officials took the occasion to compare notes on regional and international issues of common concern.
HCMC begins work on circus center
The HCMC Department of Culture and Sports has started work on a long-planned circus and performing arts center in District 11.
The Phu Tho circus and performing arts center is scheduled to be put into service on April 30, 2025, with a service life of 100 years.
This will be a venue for circus and puppetry performances, preservation and development, and for circus training and other purposes, according to the HCMC Department of Culture and Sports.
The 2,000-seat center was approved by the city government in late October 2019, with a total floor area of 10,000 square meters and a total cost of nearly VND1.4 trillion provided by the city's 2021-2025 medium public investment fund.
The 12-story building will have a wide range of facilities such as an auditorium, training zones for circus animals and restaurants, among others.
HCM City follows three-tier model for treatment of COVID-19 cases
To tackle the impact of the COVID-19 pandemic, especially during the upcoming national holiday of April 30 and May 1, HCM City continues to have a system of COVID-19 treatment facilities that follows the three-tier treatment model, which have been applied by the city in the past COVID outbreaks. 
According to the HCM City Centre for Disease Control, the city's Department of Health on Wednesday organised online training for hospitals and medical centres on the treatment of COVID-19 in adults and children.
Due to the appearance of new sub-variants of the Omicron variant such as XBB.1.5, XBB.1.9.1, XBB.1.16 and XBB.1.16.1, HCM City has recorded a rising number of new cases of COVID-19, together with higher hospital admission rates in recent days.
Medical facilities need to stay alert and ensure that admission and treatment of people with COVID-19 can take place promptly and effectively, contributing to reducing the risk of severe progression.
The city's COVID-19 treatment facilities will follow the three-tier treatment model.
Specifically, the first tier provides treatment for asymptomatic and mild cases of COVID-19, the second tier for medium and severe cases, and the third for severe and critical cases. 
All steps are implemented in accordance with the Ministry of Health's guidance, doctor Nguyễn Minh Tiến, deputy director of the city Children's Hospital, said.
It is crucial for hospitals to comply with strict infection prevention measures before and during treatment of children infected with COVID-19, Tiến said, elaborating on some cases when children need hospital admission.
The first case is when a child is diagnosed with mild symptoms of COVID-19 but is progressing to moderate, severe or critical status.
The second case is when a child has mild symptoms of COVID-19 but is accompanied by a high fever above 39 degrees Celsius for more than three days.
Lethargy, chest pain, rapid breathing, and irregular breathing, among others, are some other symptoms that need parents' attention.
For hospital admission and treatment of COVID-19 in adults, Dr. Hà Thị Hải Đường of the Hospital for Tropical Diseases emphasised the importance of treatment equivalent to the degree of COVID-19 infection of the patient.
At the same time, relevant authorities are responsible for sharing and instructing units on the use of drugs in the treatment of COVID-19 such as antiviral drugs, corticosteroids, anticoagulants, and respiratory support methods, especially the use of ECMO.
Over the past few days HCM City has been seeing a light increase in new COVID-19 cases.
Key riverside road links tourism traffic system
One more riverside traffic route – the Tuyên Sơn-Túy Loan – has been added to the central city's tourism ring-road system to boost smooth connections between destinations.
The city said the 7km route, which was built for VNĐ745 billion (US$29.8 million), runs along Cẩm Lệ and Túy Loan rivers to link destinations in Liên Chiểu District, Thuận Phước, East Bạch Đằng and beach tourism sites in Sơn Trà Peninsula, Hội An and national road systems.
The two-lane 10.5m wide route will offer more convenient traffic for commuters and buses in transporting travellers on the trans-Việt Nam to the city and world heritages sites in the central region.
Also, on the occasion of the country's Reunification Day and May Day vacation (April 30 - May 1), the city debuted the expansion project of the Đà Nẵng Monument and the March 29 Square.
A series of ring-road systems had been used in setting up entrance connection with the newly inaugurated Tuyên Sơn-Túy Loan river-ring road, including coastal Nguyễn Tất Thành Street and the Hải Vân Tunnel-Túy Loan Ring-road; the Hòa Phước-Hòa Khương and La Sơn-Túy Loan Expressway in the northwest.
Đà Nẵng has been investing much in urban development to make it a 'green' and 'smart' city by 2025.
The neighbouring Quảng Nam Province has also completed a key coastal road linking Đà Nẵng, Hội An, Duy Xuyên, Thăng Bình, Tam Kỳ City and Chu Lai Airport.
The province said the four-lane 36.5km Võ Chí Công road, which was part of the 69km section in the national coastal road system, will offer a good connection for both tourism and logistics transport from Đà Nẵng and Hội An to industrial zones in Quảng Nam and National Road No 14H and National Highway No 1A. 
Source: VNA/SGT/VNS/VOV/Dtinews/SGGP/VGP/Hanoitimes