Breathe and Connect will be held on Tuesdays from June 6 to July 18 at The Point and as well as adults with Long Covid, is also aimed at people with Chronic Obstructive Pulmonary Disease (COPD), Fibromyalgia, breathing pattern disorders or those recovering from Pneumonia.
A spokesperson said: "If you are experiencing symptoms like breathlessness, fatigue, finding it difficult to focus, pain and/or feeling depressed or anxious, then these sessions might help."
Breathe and Connect uses singing, breathing techniques, relaxation and gentle movement to help manage symptoms.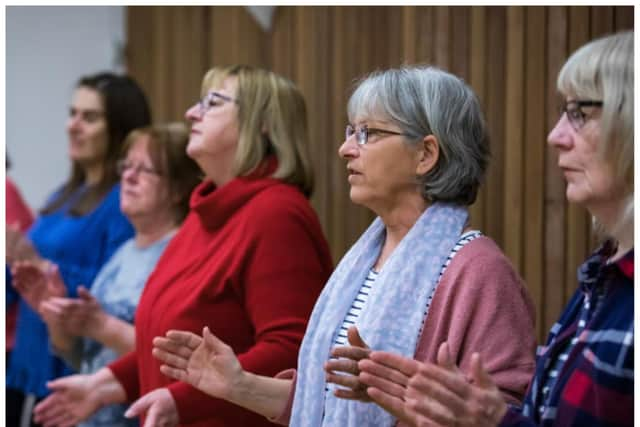 Designed by experienced artists at darts, Doncaster's award winning participatory arts organisation, in collaboration with health professionals, the programme is safe, warm and welcoming for all, and is responsive to each individual's needs and energy levels each session.
Seven weekly sessions from Tuesday 6 June can be booked by contacting [email protected] or call 01302 493991- if you have any questions at all, do get in touch for a chat.
All sessions will take place at The Point – a friendly and accessible arts centre, opposite the Regent Hotel.
Sessions are totally free and refreshments are provided. All adults are welcome, whatever age, gender or ability.
One participant said: "I arrived at the first session feeling a bit of trepidation about what I was going to find, but immediately felt at ease by the warm welcome and friendly atmosphere which continued throughout the session."
Another said: "I am now joining in fully with the warm up…and have got to a reasonable level of energy within my limits and range of arm movements.
"This is followed by my enjoying watching the rest of the class, getting further joy from feeling the music, and beginning to believe that, whilst I may not be able to now, I will be able to join in the class more fully as time goes on.
"I feel that I am not judged by others in the group. They celebrate my small wins with me and now that they understand my situation, I feel that I am very much part of the group.
"This session has become the highlight of my week."