SICHUAN, Southwest China — Despite the surge in coronavirus cases, the outside of a county hospital in the southwestern province of Sichuan appeared calm and quiet. Only a handful of people trickled in and out of the emergency room on a chilly January evening, while a sole ambulance rested just a few meters away from the main entrance.
Then, the doors opened to the inpatient unit.
Every ward at the Zitong County People's Hospital was crammed with severely ill older patients hooked to intravenous drips, oxygen cylinders, and ventilators. All of the hospital's 700 beds — 200 of which had been added in the past month — were occupied, and wheelchairs and foldable beds had been spread across the rooms to accommodate even more patients. The heavy breathing of the sick and sustained coughs of those nursing them filled the wards.
Data from a few local governments and researchers suggest that hundreds of millions of people might have contracted the coronavirus in just weeks after China abruptly dismantled most of its "zero-COVID" measures in early December. The onslaught of cases has shocked hospitals in well-equipped metropolises like Beijing and Shanghai, while under-resourced health care facilities in rural areas are facing unprecedented pressure as the virus reaches those pockets.
In the first week of January, Sixth Tone reporters visited two county hospitals and multiple rural health centers in Sichuan, which was among the first provinces where COVID cases are said to have peaked in December. Doctors in Zitong County, a four-hour drive from the provincial capital Chengdu, said they were now seeing an uptick in patients with severe symptoms — most of them old, some with COVID, others with co-morbidities.
With millions of people traveling home for Lunar New Year — it falls on Jan. 22 this year — doctors here fear the holiday could trigger another wave of infections and hospitalizations. Experts have also warned of an incoming surge, with a top Chinese epidemiologist saying "it was time to focus on rural areas."
"Though there are fewer fever patients now, the number of patients coming to the emergency ward is still on the rise," Liu Dan, the Party Secretary of Zitong County People's Hospital in Mianyang City, told Sixth Tone. "The next thing we have to deal with is people returning to their hometowns and those coming from township health centers because they don't have the ability to treat them. The county hospitals are probably under the most pressure."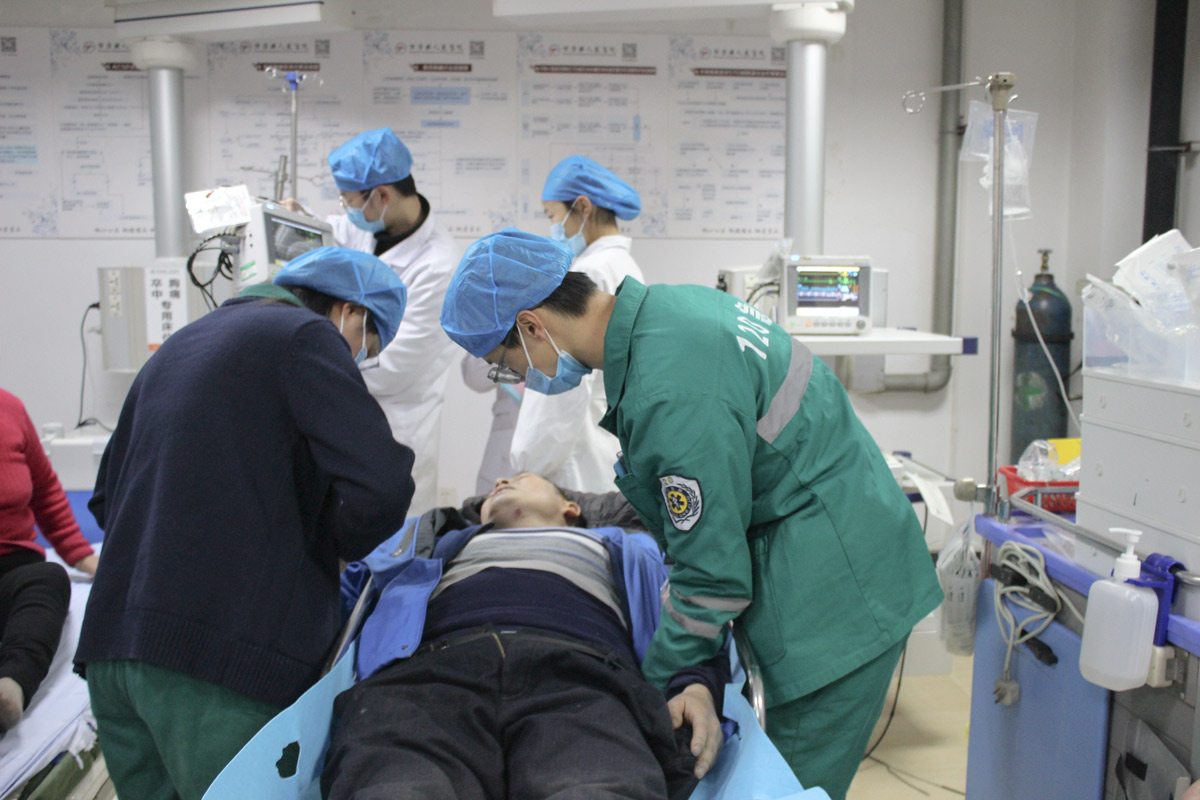 Medical workers at the Zitong County People's Hospital, Sichuan province, Jan. 3, 2023. Courtesy of Zitong County People's Hospital
In China's medical system, county hospitals are either second or third-tier facilities — the latter being top-level facilities with advanced equipment — and have more beds and medical infrastructure than rural hospitals, including intensive care units and ventilators. However, they still lack the number of specialists and supplies to handle complex and serious cases compared with similar-level urban hospitals — and that makes doctors there nervous as severe COVID infections climb.
In Qingchuan, a more impoverished county around 250 kilometers north of Zitong, the main hospital has been unable to accept more patients since the first week of January, doctors said. Except for the ground floor, all six stories of Qingchuan County People's Hospital had been converted into inpatient wards.
On the hospital's fourth floor, a man who was tending to his sick wife said she had developed pneumonia from a "cold" — they couldn't tell if it was COVID-related, as testing is rare these days after the country mostly abandoned it last month. The couple had driven two hours to reach the county hospital after the woman's symptoms became severe. The man had asked the doctors to put her on a non-invasive ventilator to ease her breathing — but the hospital had none available at that time.
With severe infections on the rise, insufficient ICU beds have emerged as another issue that could hinder treatment for those requiring critical care in the coming weeks. On Dec. 11, authorities ordered all third-tier county hospitals to rapidly expand their critical care wards, ensuring that ICUs accounted for 4% of their total beds by the end of the month. This was just a few days after China's National Health Commission said that the country had nearly 140,000 ICU beds compared with just over 67,000 in 2021.
It was unclear how many ICU beds were available at Qingchuan County hospital, a second-tier facility. Liu also didn't disclose the number of ICU beds at the hospital in Zitong, which is a third-tier facility. Family members of the patients, however, told Sixth Tone that the Zitong hospital only had nine ICU beds — that's only 1.3% of its 700 beds, a woefully low number for a county with 277,000 people, even at normal times.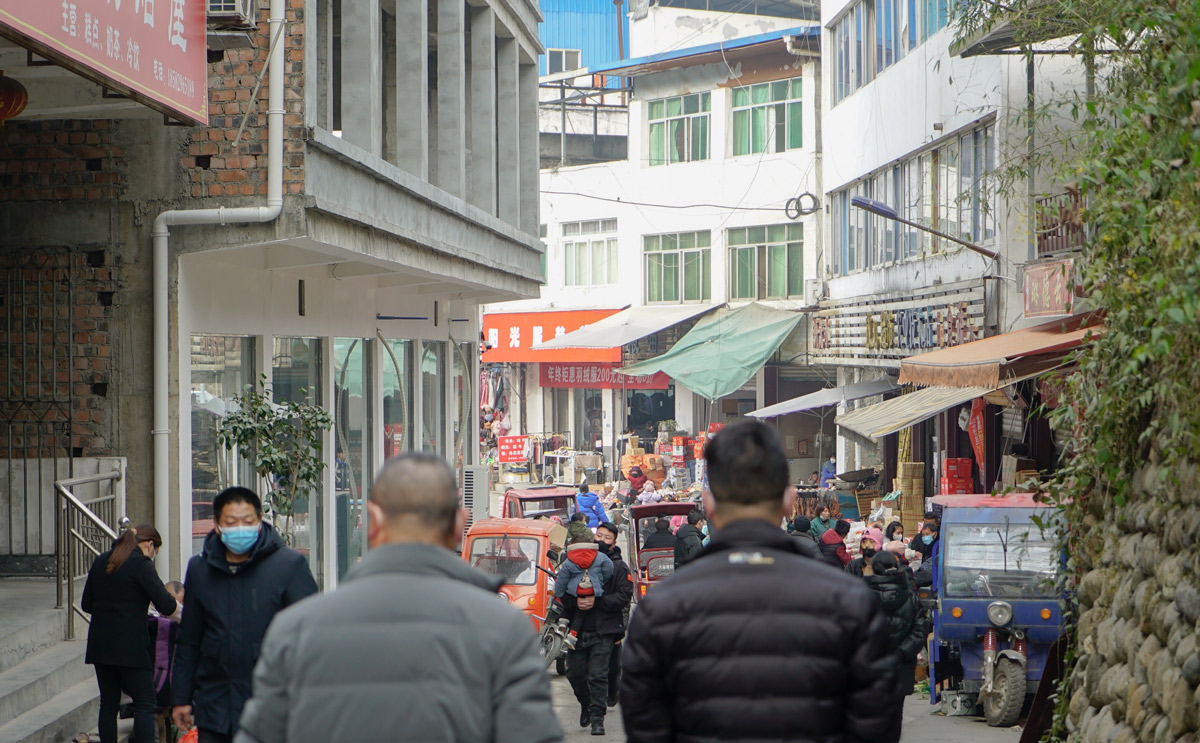 A street in Qingchuan County, Sichuan province, Jan. 8, 2023. Fu Beimeng/Sixth Tone
Liu said the hospital had 29 ventilators, nine of which were being put into use despite being partially broken. The new machines they had ordered had yet to arrive. They were also facing a severe shortage of medical supplies: The hospital had run out of basic antivirals and other drugs.
Stocks of fever and cold medicines started to deplete across China in early December as millions got sick. Many have been forced to turn to the black market to access antivirals, with Paxlovid selling for over 20 times its original price of 2,300 yuan ($340). Locals in some villages said they had been using traditional home remedies — hot water with ginger and garlic — in the absence of medicine.
A patient's family member, who declined to be named, at Zitong County People's Hospital said he had bought intravenous immunoglobulin — an injectable drug that helps increase immune cells — from the black market for 4,000 yuan. But despite securing it, his elderly father's health kept worsening.
"The change was so dramatic," a doctor surnamed Liu at a local clinic in Zitong County, told Sixth Tone, referring to the government's sudden U-turn on its COVID policy. "Antipyretic and cough medicines have an expiration date. We didn't stock more than what we needed."
Doctors at Zitong County People's Hospital said older patients at the hospital have a low recovery and discharge rate. Yang Lin, a pulmonologist and director of respiratory department at the Zitong hospital, said about 10 to 20 of their older patients become critical every day. She added that the hospital has had "few deaths" related to COVID — the patients, mostly in their 80s and 90s, had "white lungs" showing respiratory issues.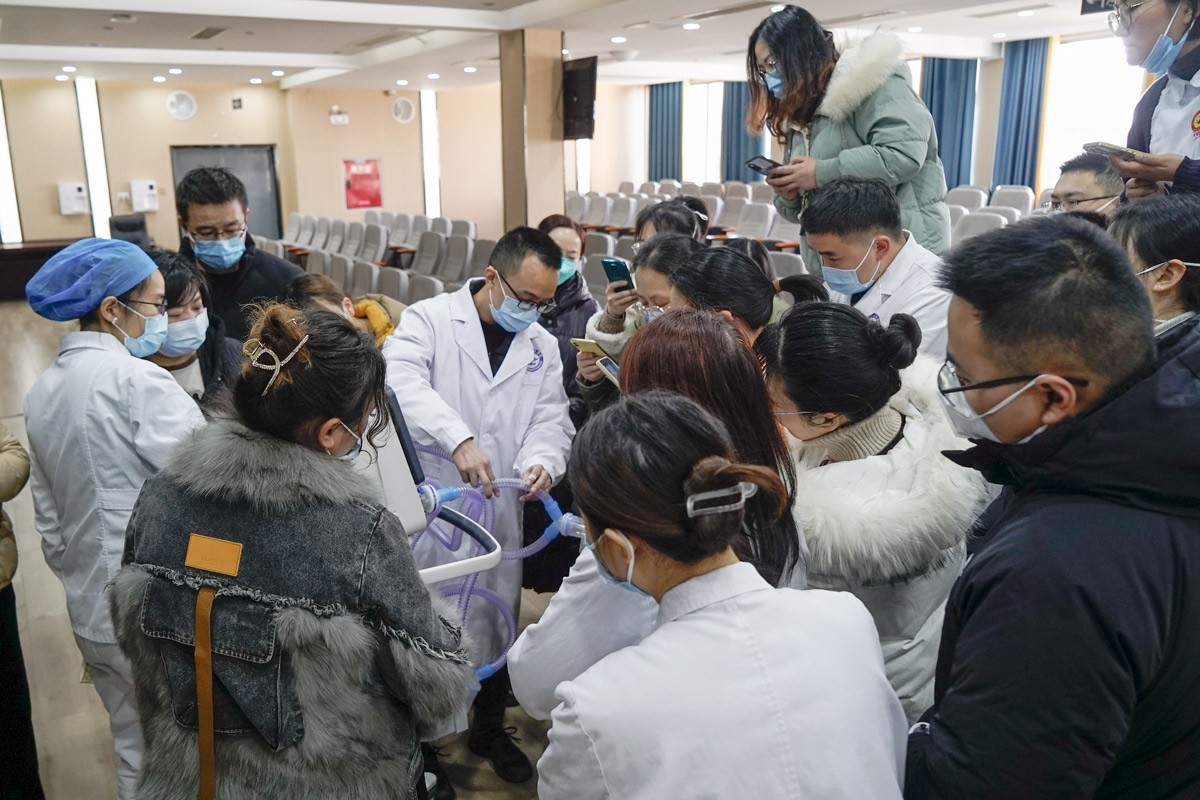 Yang Lin, a pulmonologist at the Zitong County People's Hospital, demonstrates how to use the ventilator, Sichuan province, Jan. 5, 2023. Fu Beimeng/Sixth Tone
Since the country let go of its virus control measures, Chinese health authorities on Saturday said that nearly 60,000 people died of COVID-related complications at hospitals from Dec. 8 to Jan. 12. Previously, the country had only reported a few dozen deaths during that period, defining COVID deaths as only those from pneumonia or respiratory failure caused by the coronavirus.
"This year is too sad for the elderly," Yang said. "They have suffered too much."
Away from the hospital beds, there is hardly any sight of the elderly outside in villages like Qingzhu, some 20 minutes drive from Zitong. Many young locals told Sixth Tone they had recovered from COVID, even though there were no tests to determine that. They gathered around campfires, played cards, drank tea, and chatted. But most of the older residents were either self-isolating fearing infection or bedridden at home due to a "cold."
Doctors like Yang know the sufferings of the elderly too well. She has treated hundreds of elderly patients in the past month while she was sick herself — some recovered and went home, while others weren't that lucky. She also lost her own father to COVID in late December, but hasn't had time to grieve properly. She has been too busy treating patients, many of them her father's age or older, and helping her colleagues weather a crisis unlike anything they've experienced.
"They cry every day," she said, referring to the exhausted doctors and nurses. "I tell them that the work needs to be done. What else can we do?"
Additional reporting: Fu Beimeng; editor: Bibek Bhandari.
(Header image: An older woman is hooked to an IV drip at a hospital in Zitong County, Sichuan province, Jan. 6, 2023. Fu Beimeng/Sixth Tone)