As hospitals in Kolkata, Mumbai and Pune see a rise in child admissions with respiratory ailments, experts said a new strain of adenovirus that is more transmissible and has immune escape properties was behind the surge in cases. The situation is concerning especially in West Bengal, where 12 children have died and hospitals are seeing an influx of patients aged six months to two years.
Infectious diseases physician and researcher Dr Trupti Gilada said as viruses multiply, they have a propensity to undergo mutation and a heavily mutated adenovirus was behind the surge this year.
"Most of the mutations don't change the property of the virus. But sometimes, the mutations can make the virus more contagious and make it evade previously acquired immunity. This is what happened with adenovirus this time. The symptoms are prolonged and not just limited to a day or two and we are seeing mostly severe cases in children," Dr Gilada told ABP Live.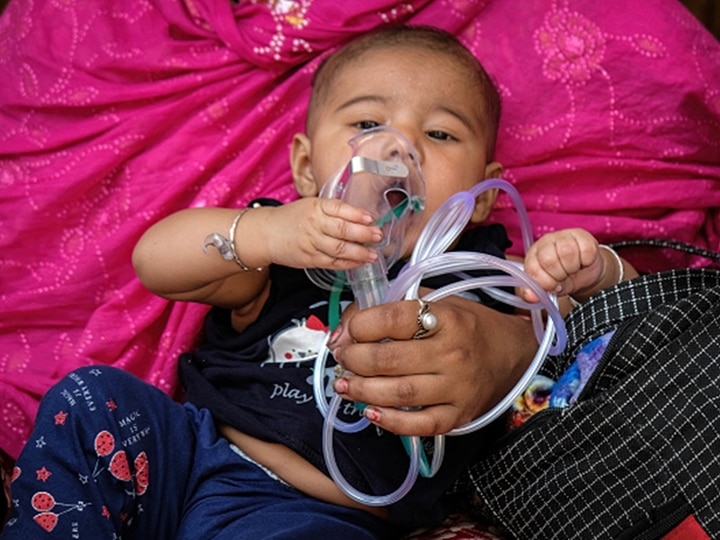 'Most Dangerous' Adenovirus 7 Strain Behind Severe Cases
Dr Prabhas Prasun Giri, associate professor and PICU (paediatric ICU) in-charge at Institute of Child Health in Kolkata, said genomic sequencing has revealed that the adenovirus serotype 3, 7 as well as a new 7/3 recombinant strain were found in most cases in Bengal.
"We faced an adenovirus epidemic in 2018-19 but this year we are seeing it in a larger magnitude and more severe cases. There are a total of 77 serotypes of adenovirus. Out of them, type 3, 4 and type 7 are notorious and have been linked to cause severe epidemics and acute respiratory illness," Dr Giri, who has been dealing with adenovirus cases in the past 3-4 months, told ABP Live.
"Adenovirus 7 is the most dangerous of all strains of this virus, known to cause severe disease. Thus, if a combination of two strains (7/3 strain) attacks a child, the outcome will be severe. That is why we are seeing so many ICU admissions and fatalities," he explained.
Dr Gilada said a majority of children were not exposed to the outer world and confined to their homes in the last two years due to Covid and lockdowns, leading to an immunity gap. "They did not get any sort of infection as they were not exposed to the outer world. The host became susceptible. At the same time, the virus mutated by themselves," she said.
In Kolkata, the Institute of Child Health (ICH) and BC Roy Post Graduate Institute of Paediatric Sciences have been at the forefront in dealing with adenovirus patients. At ICH, patients are having to wait for 15-20 days to get a ventilator. In Mumbai, the SRCC Hospital is also seeing an overwhelming number of cases. Infections have also been reported from Jaipur and Jodhpur in Rajasthan.
READ | Adenovirus In West Bengal: How Does The Virus Spread? Know Its Symptoms, Treatment, Prevention
Post-Adenovirus Complications Burdening Hospitals
What has exacerbated the situation is post-adenovirus complications in children who have been discharged after being treated for the infection. Dr Prasun Giri said several children who had required prolonged ICU admission or oxygenation were returning to hospitals with persistent cough and shortness of breath — similar to long Covid.
"Those who suffered a severe infection that necessitated critical care at hospitals, for them adenoviral disease is not a one-time disease. In Covid, we have seen patients suffering from long Covid and post-Covid syndrome. Similarly, adenovirus is notorious for causing a very rare disease called PIBO or post-infectious bronchiolitis obliterans," Dr Giri said.
"There are small airways inside our lungs. The adenovirus causes inflammatory changes in these small airways. So, the airways become blocked, causing difficulty in breathing for kids. This happens usually after a kid recovers from acute adenoviral infection. Our study shows that more than 90 per cent of the kids who have suffered from severe adenoviral infection, develop PIBO," he said.
The Institute of Child Health has reported 250 adenovirus cases so far, with 60 per cent of the patients requiring ICU admission. Among those who were admitted to ICU, almost 90 per cent were coming back within weeks with post-adenovirus ailments or PIBO.  
Besides, patients with compromised immune systems or those who have pre-existing respiratory disorders are also seeing severe pneumonia, Dr Gilada said. Secondary bacterial infections are also a matter of concern.
"In Covid, we saw diabetic patients getting mucormycosis. In adenovirus, we are seeing that after being discharged, children are developing fever and respiratory problems and they have to be readmitted and given higher doses of antibiotics," Dr Giri said.
Are There Any Vaccines To Treat Adenovirus?
While there are no vaccines to treat adenovirus, Dr Gilada said children having lower respiratory tract infection require hospital stay and nebulisation. "In Mumbai, most patients are being given symptomatic treatment and are being admitted after undergoing PCR test," she said.
In Bengal, Dr Giri said off-label drugs like cidofovir were being used in rare cases after taking permission from parents.
"Bharat Biotech had started working on an adenoviral vaccine in 2018 but it was shelved to make Covaxin. A few off-label drugs like cidofovir have been recommended only in disseminated adenoviral infection in immunocompromised children. However, it is very costly and is not widely available and we have to import from outside. This year, we got very good results in two patients with this medicine. We need bigger studies if this drug can be used for widespread treatment," he said.
Dr Giri said the government should immediately frame an isolation policy like it did for Covid-19 as testing kits were not widely available.
"Presently, testing costs anywhere between Rs 10,000-Rs 15,000. Detection is a problem. There is no rapid antigen test for adenovirus. As we are not able to test, we are not able to isolate patients. As we are not able to isolate, a lot of patients are getting infected in the hospital itself," Dr Giri said.
Meanwhile, Dr Trupti Gilada said even though adenovirus cases were presently limited to just a few pockets in the country, other states should not take it lightly.
"Some regions may see an outbreak earlier and much more severe than the others. We have seen from Covid that no outbreak remains localised and definitely not with respiratory diseases since it gets transmitted easily," she said.
Check out below Health Tools-
Calculate Your Body Mass Index ( BMI )