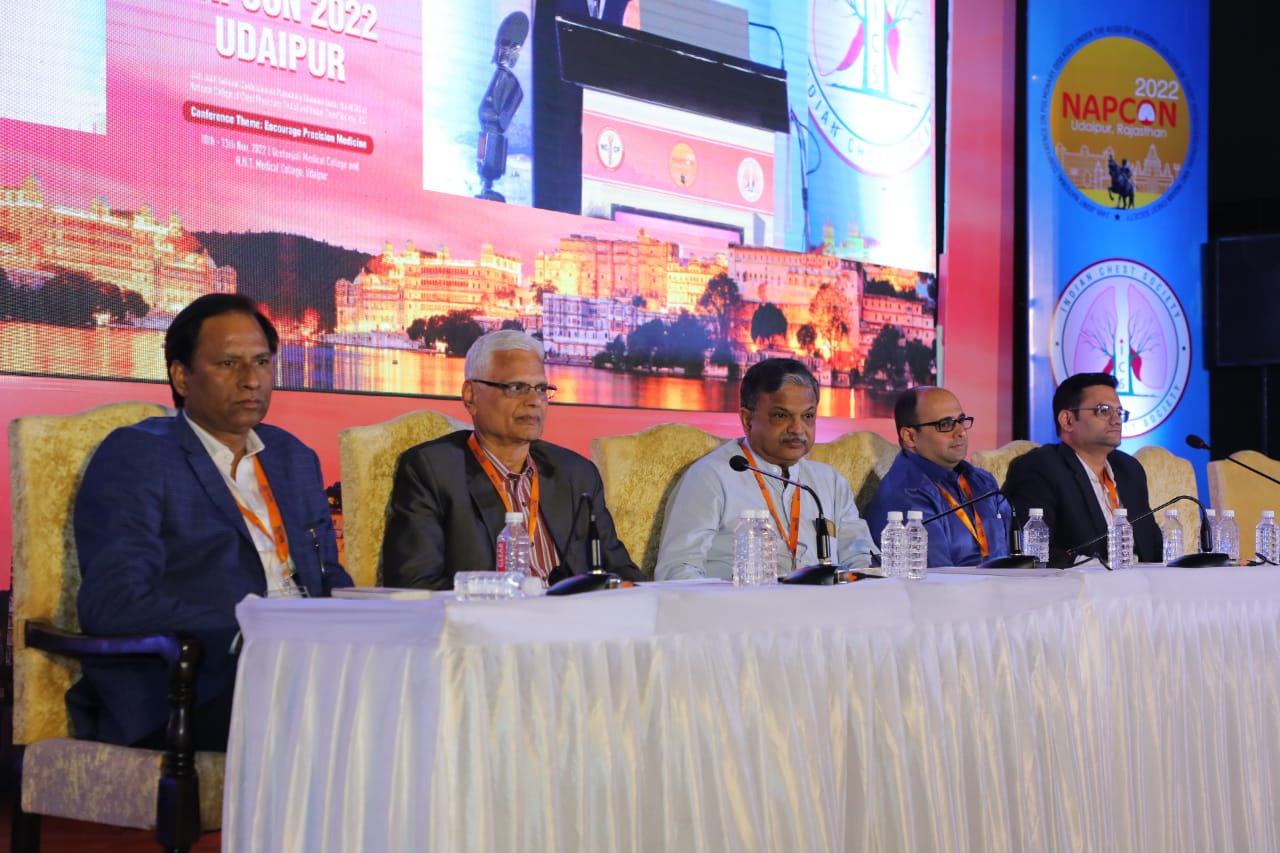 The four-day 24th National Conference of Chest Specialists NAPCON-2022 was organized under the joint aegis of Geetanjali Medical College and Hospital and R.NT medical college Udaipur. Created history by organizing the biggest-ever conference of medical experts related to chest and breathing from November 11 to 13
This time the theme of NAPCON was kept as "Encourage Precision Medicine," which means to provide the right medicine with the proper test. Such conference is held annually under the aegis of the National College of Chest Physicians (NCCP) and Indian Chest Society (I.C.S.). Eminent chest specialist doctors and professors from all over the country and abroad participated in the conference and answered the questions of other doctors participating in its unique feature.
At the same time, more than 2500 doctors from the country and abroad created history by participating in the NAPCON Conference-2022. At the conference, 950 research papers were read at Geetanjali Medical College and Hospital to promote research along with knowledge enhancement of postgraduate doctors by doctors from abroad.
Eminent doctors and professors of the country's eminence and abroad participated.
Usually, such large conferences are organized in big cities. More than 2500 doctors from India and abroad and more than 400 faculty members have discussed various lung and respiratory diseases (Allergy, T.B., I.L.D., sleep disorder), advanced techniques, procedures, and guidelines-related lectures.
More than 60 medical faculties from abroad participated in this conference, in which 25 faculty members participated in person and 35 experts through the online medium for diagnosis and treatment of lung and respiratory diseases with the latest available diagnostic techniques. There was a detailed discussion on procedures like medicines and surgery.
T.B. Brainstorming on the latest treatment, investigation, and diagnosis of the disease
Dr. N. K.Jain was honored with the Life Time Achievement Award.
This panel was headed by Dr. N. K.Jain., who came from Jaipur. Dr.Ajay Verma, Dr. Rishi Sharma, Dr. Santosh Kumar, Dr. Savita Jindal, Dr. Shailendra Bhatnagar, and Dr. Shashi Bhushan participated. Along with this, Dr. N. K.Jain was honored with the Life Time Achievement Award by the Indian Chest Society (I.C.S.) for his remarkable work in the field of T.B. and Chest.
Due to lack of testing, 43 percent of the world's asthma patients are the victims of death in India - Dr. Virender Singh.
Dr. Virendra Singh (President Rajasthan Hospital and Director Asthma Bhawan, Jaipur) said about the organization of the conference that tremendous enthusiasm had been seen among the participants regarding this conference to be held after the Corona period. Two of our projects are the Global Asthma Network Study, which is based on Europe's renowned E.R.J. It has been published in the journal, in which it has been told that while there are four asthma patients in the society, only one person can find out through investigation that he has asthma. The remaining three patients do not even know they have asthma due to a lack of inquiry.
Along with this, it is a big truth that even today, only 10 percent of people are taking asthma medicines due to a lack of testing. For this reason, 43 percent of the world's asthma patients are dying in India. Therefore, it can be controlled only by increasing the number of tests for asthma in India.
After Covid-19, the telemedicine system has opened the doors to treatment possibilities for patients sitting at home.
Presiding over this, Dr. Shubhakaran Sharma of Geetanjali Medical College, while discussing various issues related to telemedicine, attended by renowned Dr. Zareer Udvadia, Dr. Dhanasekhar T, Dr. Soumya Das and Dr. Viral Nanda from Mumbai. . Along with this, the scope, future, legal challenge of telemedicine, its performance in the Kovid-19 era, asthma and COPD. After the corona epidemic, telemedicine service has opened the doors to possibilities for treating patients. On the importance of telemedicine in diseases, Dr. P. R. Gupta, Dr. Prashant Prakash, Dr. Ritisha Bhatt, Dr. Preeti Sharma, and Dr. Jai Kishan gave their essential views.
Do not ignore children's respiratory diseases.
In a special symposium on Pediatric Pulmonology, Dr. Nisha Bhatt (Nepal),), Dr. Sangeeta Sharma, and Dr. Deepak Muthreja said that most parents do not take the respiratory diseases of young children seriously, which increases the complexity of the disease as they grow up. If treated in time, children can be saved from severe respiratory and lung diseases.
In an in-depth discussion on the latest treatment and testing techniques for the growing silicosis disease in many mining areas across the country, including Udaipur, Dr. U.C. Ojha, Dr. Bharat Bhushan Sharma, Dr. K.C. Agarwal, Dr. P.D. Motiani and Dr. Ramakant Dixit benefited the conference by giving their valuable views.
An important contribution of vaccination with medicines in complex respiratory diseases - Dr. Atul Luhadia
Vaccination, along with medicines, has an essential role in complex diseases of the respiratory and lungs. Giving detailed information on this, Dr. Atul Luhadia, Organizing Secretary of Nepcon-2022, said that vaccination and the role of medicines are crucial in chronic lung disease and benefit patients with respiratory conditions. In the conference, Dr. Gaurav Chhabra discussed the importance of pulmonary rehabilitation in addition to drugs in I.L.D. diseases (shrinking lung disease).
In organizing the closing ceremony after various sessions, the organizing committee of NAPCON-2022 thanked all the dignitaries who participated in the conference and made the event successful, Organizing Chairman Dr. S. Of. Luhadia, Organizing Secretary Dr. Mahendra Kumar and Dr. Atul Luhadia gave the credit for the success of this grand event to the entire team of Geetanjali Medical College and Hospital.
Source :