Certified yoga instructor and school counselor Lade Akande is giving students the resources they need to get through the school day.
As the Director of Wellness at University High School in Carmel, Akande primarily focuses on school counseling, meeting one-on-one with students, surveying community members, faculty and students, and using that data to build a framework for the school year. Akande said she takes a holistic approach to the curriculum, incorporating practices that can be implemented into a daily, weekly, monthly and yearly structure. 
"There's a term that's been coined called the inner pandemic," Akande said. "So what we're seeing with today's teens, especially in adolescence, is like, these are the lowest rates in 30 years when it comes to drug use, alcohol use, pregnancy, you know, risky behaviors, but it's off the charts when it comes to poor mental health."
Akande got her start in college admissions at Butler University, but she returned to college to get her master's degree in counseling and began working as a college admissions counselor at University High School in 2015. Eventually, she earned her yoga certification and helped introduce an advanced physical education class: Yoga and Mindfulness, which meets daily at University HS.
"We learn about the history and philosophy of yoga," Akande said. "We learn about anatomy of stress and trauma and how they impact the biology. We actually implement the practices — so we do the breathing, we do the movement and we do mindfulness activities that kind of reinforce that."
Yoga and Mindfulness meets in the gym second period each day, with about 25 students — plus a few study hall students that "just come and do the yoga because they want to."
Celeste Hastings, a 12th grader at University High School, said she took Akande's yoga class last semester, and it ended up being one of her favorite classes because it helped her manage anxiety and improve her mood throughout the day.
"I felt a lot more mindful in general," Hastings said. "Those little things — like each breath you take or complimenting a peer — all kind of add up and make your day what it is."
Hastings said both the breathing techniques and the yoga practices help her relieve stress, and it means a lot to her to have found something to help her cope a little bit better.
"That kind of stuff really resonated with me," she said. "Maybe just like, I think, a kinder human and more excited to just go throughout the day and interact with people."
As one of the only schools in Indiana with a daily wellness program for its students, Akande said she knew what they have at University HS is unique and wanted to measure the results. 
And she did — by teaming up with Nick Abel, Associate Professor & Graduate Chair of School Counseling at Butler University, to study the impact of yoga and mindfulness in high school students.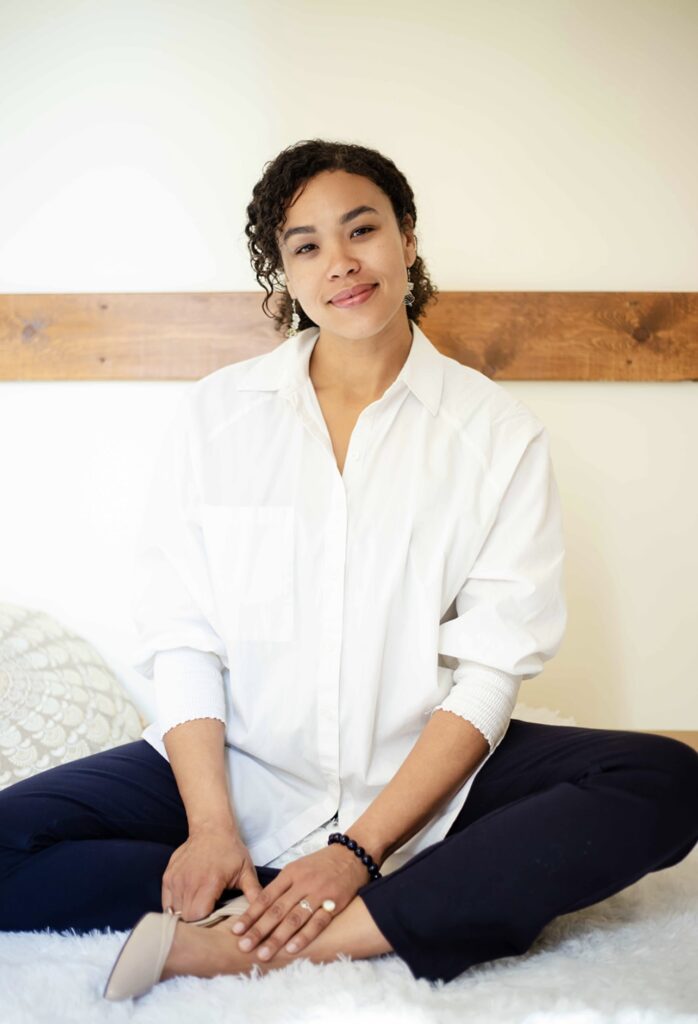 According to Akande and Abel's study, yoga means "union" and "oneness" and is considered an art and a science. It includes movement, breathwork, mediation and "a study of the self, through the self, to the self."
Mindfulness is described as "paying attention on purpose to the present moment intentionality and cultivating deeper awareness of self and others."
Akande and Abel's study cites the U.S. Surgeon General and the American Psychological Association, which have proclaimed a youth mental health crisis and the ongoing pandemic as "negatively affecting student well-being for many reasons," as a few of the reasons for conducting the study.
"What we know about these practices is that they help reduce stress, they help increase focus, they help establish connectedness and sense of belonging," Akande said. "And their empowerment tools give students the opportunity to regulate themselves."
Akande said she conducted a daily survey of the students taking the class, which consisted of 4-7 questions before and after yoga as well as a pre- and post-semester survey with treatment and control groups.
"And that showed us that immediately after yoga, students felt more relaxed, less stressed, more focused and ready for the challenges of the day," Akande said.
By the end of the class students have improved their balance and flexibility, Akande said. A lot of their physical symptoms of stress, such as headaches, soreness and stomach pain, also diminish, she said.
"I've just also seen a shift in mindset with a lot of students," Akande added. "It helps them practice contemplation and self-reflection, which is another thing that doesn't necessarily happen on a day when they're going to algebra and history and science."
Julia Poertner, a 12th grader at University High School, is currently in Akande's yoga class and said she's already noticed the positive effects the class has on her.
"I think mostly I've noticed that I've started trying to do movement techniques either if I'm frustrated or kind of feeling anxious," Poertner said.
Poertner said breathing techniques, such as the box breath and the lion's breath — or simhasana in Sanskrit — help her when she's feeling frustrated.
Poertner can't help but laugh while doing the lion's breath, holding her hands up like paws and breathing out as if she were roaring.
"It's part of why I like doing it so much," she added.
Both Poertner and Hastings said they're glad to have tools and techniques to help them manage their stress and anxiety early on, and both said they plan to continue using them after high school.
Contact staff writer Chloe McGowan at 317-762-7848 or [email protected]. Follow her on Twitter @chloe_mcgowanxx.