Masaba Gupta is known to be extremely committed to her fitness routine and as a result, leaves no stone unturned to ensure she is on track with her fitness routine. So, keeping up with her fitness trails, the ace fashion designer was recently seen practicing Mukha Dhauti Kriya, a yogic technique, known to improve breathing and increase oxygen levels in the body.
According to Gupta, the kriya is her go-to breathing exercise for "recovery" which not only releases stress and anger but also helps with digestive balance, and provides migraine relief. It is best done on an empty stomach in the morning, she added in a post on Instagram Stories.
The Masaba Masaba actor also demonstrated the steps for her fans and followers.
*Stand tall and breathe in through the nose
*Bend over as you breathe out through the mouth
*Clench the groin, suck the tummy in, and wrap your ribs with the chin tucked in and hold your breath.
*Release all locks or bandha's before discomfort and finally release your breath.
How does the practice help?
Calling the kriya, a cleansing technique, Pragya Bhatt, a yoga expert said that it involves exhaling deeply through the mouth and then holding all three bandhas or locks (Jalandhar, Udyana, and Moola Bandha). "The benefits are that this stimulates the major glands of the body and massages the internal organs. Along with this, it helps to tone the digestive organs. This is a safe practice for everyone except a few," said Bhatt.
Contraindications
According to Bhatt, pregnant or menstruating women should avoid it. "Also, anyone with ulcers or recent abdominal surgery should avoid this practice," said Bhatt.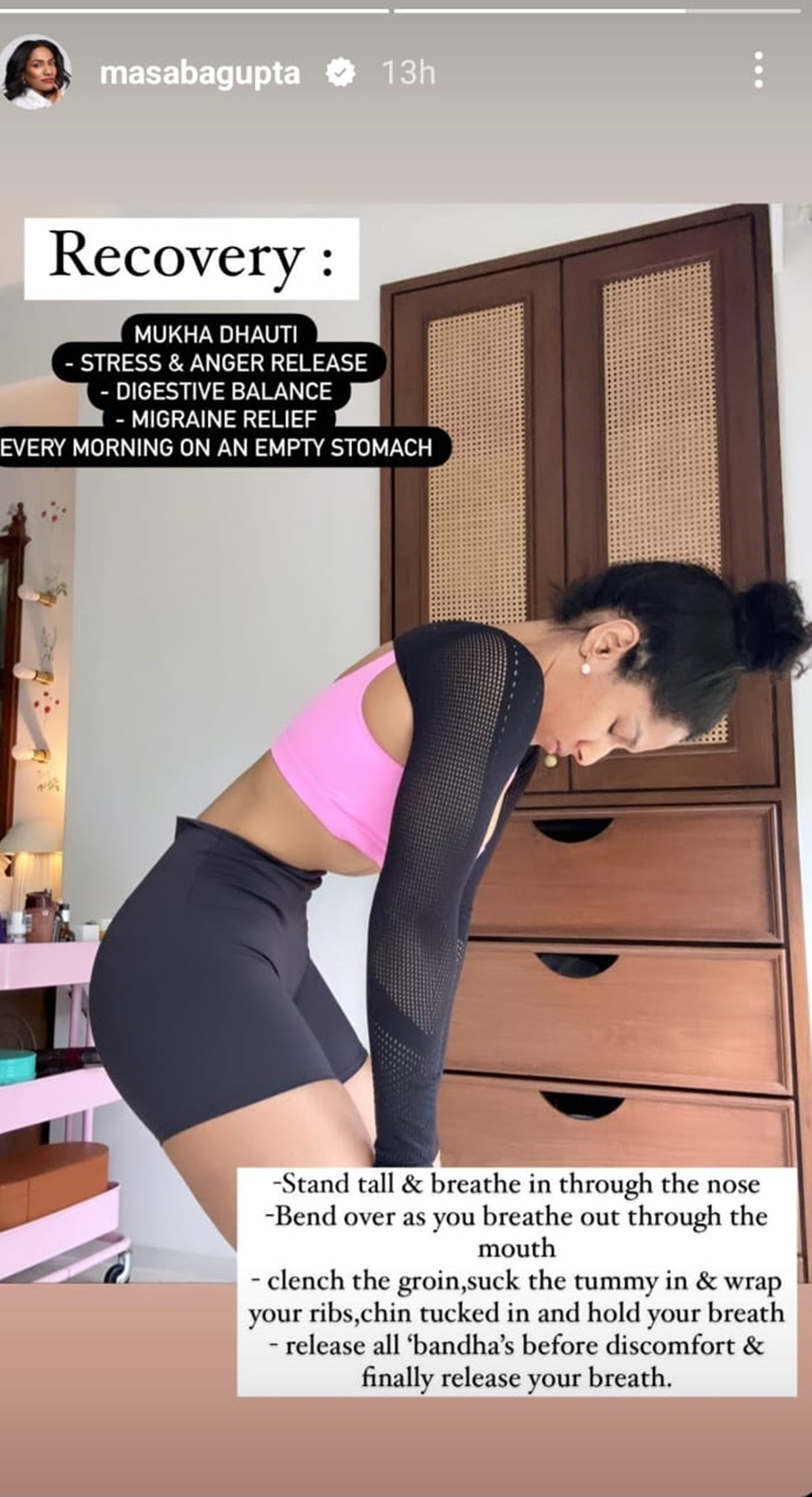 This is Masaba's kriya for recovery (Source: Masaba Gupta/Instagram Stories)
Bhatt also apprised us that this kriya is great for those suffering from asthma, bronchitis, frequent colds, sinus issues, and headaches. "Athletes should incorporate this into their routine as it helps in improving lung capacity and enables better breathing. It helps in toning the waist and strengthening the neck and facial muscles," Bhatt added.
???? For more lifestyle news, follow us on Instagram | Twitter | Facebook and don't miss out on the latest updates!