---
Get instant alerts when news breaks on your stocks. Claim your 1-week free trial to StreetInsider Premium here.
---
Yoga New Vision: Bridging the Gap between ancient yogic wisdom and modern lifestyle
Boston, MA-Manchester, NH, United States - May 4, 2023 —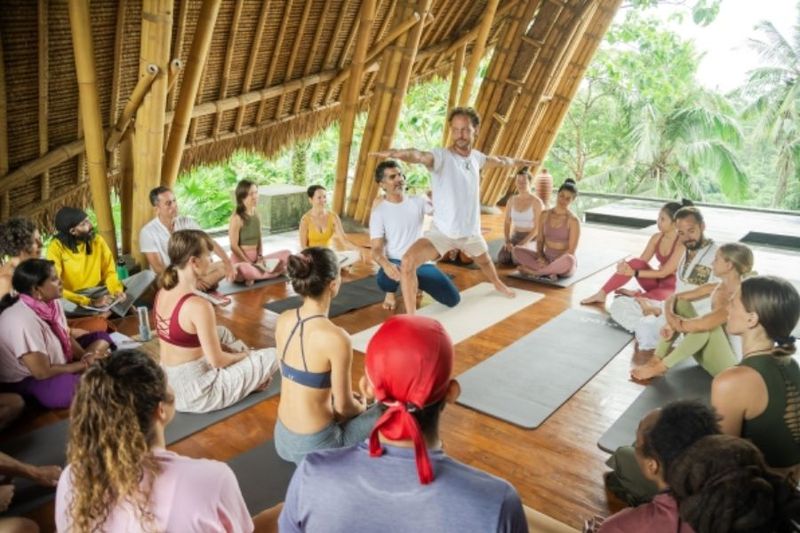 Enhance your body, mind, and spirit with Yoga New Vision
In today's bustling world, individuals are encountering numerous challenges to maintaining their physical and mental well-being. Prolonged sedentary lifestyles, inadequate posture, and increased stress levels have become common issues faced by today's generation. To tackle these challenges, Deep Yoga Academy after 14 years of dedicated service in Yoga and Yoga Teacher Training, has rebranded itself to Yoga New Vision, with an aim to bridge the gap between ancient Indian yogic wisdom and 21st-century lifestyle. Founded by Deep Kumar and Sadhana Om, Yoga New Vision helps individuals tap into their innermost potential and achieve a state of profound physical and mental well-being.
On the scientific front, Yoga has been proven to be one of the best forms of physical culture for managing stress, anxiety, and depression over the last 50-70 years. Yoga New Vision's innovative approach to yoga endeavors to offer effective solutions by prioritizing the physical and mental aspects of the practice, thereby elevating one's overall state of well-being. 
Speaking about the benefits of Yoga, Deep Kumar, the Founder of YNY said "Yoga is a timeless and proven art that has been passed down through generations, and it has the potential to transform lives. Through a modern lens, we can see its richness and use it as a powerful tool for self-discovery and growth. In order to make yoga accessible to the modern generation, it is essential to employ an approach that is tailored to the needs of the 21st century. By doing so, we can ensure that individuals from all walks of life can practice yoga". 
At the physical level, a sedentary lifestyle and poor posture can lead to numerous health issues. Yoga Asanas enhance body posture, organ functionality, and energy levels. Heart-opening postures and chest-lifting poses can positively influence our mood and overall state. Proper alignment of our joints sustains energy, prolongs longevity, and guards against premature degenerative joint diseases.
Likewise, at the mental level, knowing how to breathe properly is the first step toward stress management. When we feel anxious, breathing through the belly or lying down on the back with hands on the belly helps to alleviate anxiety and promote relaxation of the nervous system.
Additionally, at the spiritual level, meditation assists in maintaining inner peace and remaining grounded. Negative emotions like fear, guilt, shame, and anger can alienate us from our bodies. Simple meditation methods such as guided meditations, mindful meditation, mantra meditation, Qi-gong, Tai Chi, active and passive meditation, Yoga Nidra, and ancient alive meditations are effective ways to achieve inner peace.
Speaking about the mission of the brand, Sadhana Om, Co-Founder of YNY, said, "Yoga New Vision offers simple solutions to enhance physical and mental well-being. By taking care of our bodies, we also take care of ourselves and give the right direction to our minds. We aim to empower individuals on their journey towards harmony, health, and growth by integrating traditional Indian yogic ancient wisdom with Western modern scientific knowledge."
Yoga New Vision is devoted to merging the chasm between age-old Indian Yogic wisdom and modern scientific knowledge. With this innovative outlook, Yoga New Vision aspires to inspire and encourage individuals toward a more holistic approach to health and happiness. 
In the forthcoming years, Yoga New Vision will organize more than 5 training programs in Bali and 3 training programs in other countries such as Canada, Europe, and Malaysia. The brand aims at bringing all the ancient Yogic methodology and the approach of doctors and physiotherapists under one roof. With this new vision, Yoga New Vision hopes to touch the hearts of people and empower them to lead happier and healthier lives.
For more information please visit: yoganewvision.com/ 
Contact Info:
Name: Deep Kumar
Email: Send Email
Organization: Yoga New Vision
Website: yoganewvision.com/
Release ID: 89096780
If you detect any issues, problems, or errors in this press release content, kindly contact [email protected] to notify us. We will respond and rectify the situation in the next 8 hours.