As we age, it becomes increasingly important to prioritize our health and well-being. Engaging in regular physical and mental activities is vital for maintaining a healthy lifestyle, especially for older individuals. By starting their day with a routine that incorporates various healthy activities, seniors can optimize their physical, mental, and emotional well-being. In this article which is in accordance to medicalnewstoday, we will explore some specific and valuable activities that old people should perform every morning to improve their health.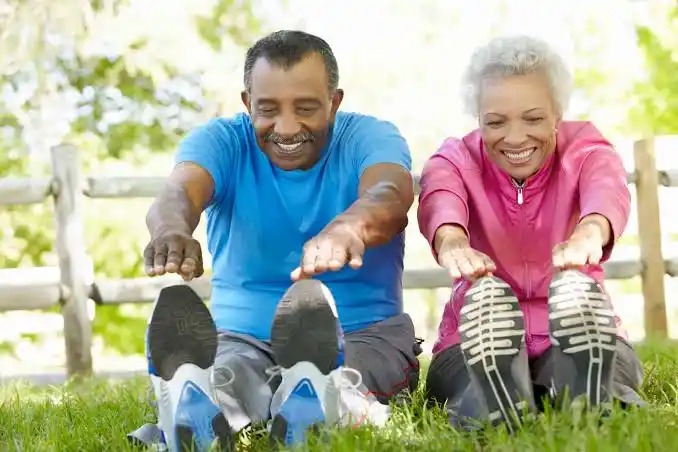 1. Morning Stretches and Exercises
Starting the day with gentle stretches and exercises is crucial for older individuals to improve their mobility, flexibility, and overall physical health. Engaging in activities that focus on increasing joint range of motion and muscle strength can significantly improve posture and reduce the risk of injuries. Seniors can try activities such as yoga, tai chi, or simple stretches targeting major muscle groups like the neck, shoulders, back, hips, and legs.
2. Deep Breathing and Meditation
Practicing deep breathing exercises and meditation in the morning can have numerous positive effects on the overall well-being of older adults. Deep breathing helps reduce stress, anxiety, and blood pressure, while meditation enhances focus and mental clarity. By setting aside a few minutes each morning to sit quietly, close their eyes, and practice mindfulness, seniors can start their day on a calm and positive note.
3. Walking or Light Aerobic Exercise
Walking is an excellent low-impact aerobic exercise that can be easily incorporated into an older individual's morning routine. Brisk walking for 30 minutes each morning can improve cardiovascular health, strengthen bones, and enhance stamina. Moreover, it provides an opportunity for seniors to enjoy nature, boost their mood, and socialize by walking with a friend or joining a walking group.
4. Hydration and Nutritious Breakfast
Older adults should prioritize hydration and ensure they have a nutritious breakfast each morning. Staying well-hydrated throughout the day is essential for maintaining optimal bodily functions, such as digestion, temperature regulation, and joint health. A balanced breakfast that includes whole grains, fruits, vegetables, and protein can provide the necessary energy and nutrients to jumpstart the day and support healthy aging.
5. Brain Training Activities
Keeping the brain active and stimulated is crucial for cognitive health and preventing age-related conditions such as dementia and memory loss. Engaging in brain-training activities in the morning can help improve cognitive abilities, memory retention, and focus. Activities like puzzles, crosswords, sudoku, and reading can be incorporated into a senior's morning routine to promote mental agility and overall brain functioning.
6. Social Engagement
Maintaining an active social life is an integral part of healthy aging. Seniors should make an effort to engage in social activities each morning, such as joining a club, attending classes, or meeting friends for a coffee. Social interaction reduces feelings of loneliness, boosts mental well-being, and improves overall quality of life. By starting the day with social engagement, older individuals can cultivate a strong support network and enhance their emotional health.
7. Skincare and Sun Protection
Taking care of their skin is another essential aspect of maintaining overall health for older individuals. Implementing a skincare routine that includes cleansing, moisturizing, and applying sunscreen can protect the skin from the harmful effects of the sun and prevent premature aging. Moreover, paying attention to one's skin health can boost confidence and self-esteem, contributing to overall emotional well-being.
8. Hobbies and Leisure Activities
Older adults should make time each morning to engage in hobbies or leisure activities that bring them joy and fulfillment. Whether it is painting, gardening, playing a musical instrument, or engaging in crafts, pursuing one's interests can provide a sense of purpose, enhance creativity, and reduce stress levels. Including these activities in the morning routine ensures that seniors prioritize their hobbies and pursue activities that bring them happiness and fulfillment.
Starting the day with healthy activities is vital for older individuals to improve their physical, mental, and emotional well-being. Engaging in morning stretches and exercises, deep breathing and meditation, walking or light aerobic exercises, hydrating and having a nutritious breakfast, brain training activities, social engagement, skincare and sun protection, and pursuing hobbies and leisure activities can significantly improve the quality of life for seniors. By incorporating these activities into their daily routine, older individuals can prioritize their health, maintain independence, and enjoy an active and fulfilling lifestyle as they age.
Content created and supplied by: Wildest_Imagination (via Opera
News )
Opera News is a free to use platform and the views and opinions expressed herein are solely those of the author and do not represent, reflect or express the views of Opera News. Any/all written content and images displayed are provided by the blogger/author, appear herein as submitted by the blogger/author and are unedited by Opera News. Opera News does not consent to nor does it condone the posting of any content that violates the rights (including the copyrights) of any third party, nor content that may malign, inter alia, any religion, ethnic group, organization, gender, company, or individual. Opera News furthermore does not condone the use of our platform for the purposes encouraging/endorsing hate speech, violation of human rights and/or utterances of a defamatory nature. If the content contained herein violates any of your rights, including those of copyright, and/or violates any the above mentioned factors, you are requested to immediately notify us using via the following email address operanews-external(at)opera.com and/or report the article using the available reporting functionality built into our Platform
See More