Today is International Clean Air Day aka: The United Nation's International Day of Clean Air for blue skies.
This year, it is shining a spotlight on the health risks of fossil fuel related air pollution. Air pollution caused by fossil fuel combustion is responsible for 1 in 5 deaths worldwide, and evidence links it to asthma occurrence and exacerbation, multiple forms of cancer, stroke, heart disease, diabetes, neurological disorders, elevated risks for expecting mothers, and concerning birth outcomes. The theme of this year's Clean Air Day is 'Together for Clean Air' .
The images below have been designed  by Corrina Keeling (@lovelettersforeverybody) and are being shared around the world on social media.
World Health Organisation
Dr Maria Neira, Director, WHO Department of Environment, Climate Change and Health:
'We invest in our children's future, sending them to school to expand their minds and yet the air they breathe while waiting for the school bus is negatively influencing their brain development.' 
Africa
Lihle Sabisa, Citizen scientist
'Profit gained over polluting air is not worth our health'
Last year, Lihle, a cohort of citizen scientist Run Leaders, and over 200 co-runners they'd recruited, took to the streets of Cape Town, Accra and Lagos to run specially designed routes wearing sensors to collect data on air quality along the routes. 
Europe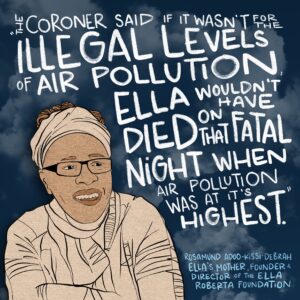 Rosamund Adoo-Kissi-Debrah, Founder and director of @theellarobertafamilyfoundation:
'The coroner said if it wasn't for the illegal levels of air pollution on the South Circular – not only would Ella not have developed asthma at all, she wouldn't have died on that fatal night when the spike in air pollution in Lewisham was at its highest.'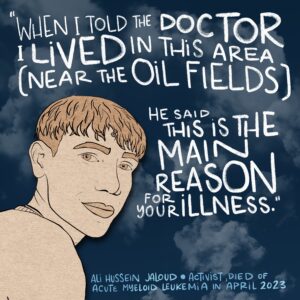 Middle East
Ali Hussein Jaloud, air pollution and human rights advocate, speaking in the @bbcarabic documentary 'Under Poisoned Skies:
'When I told the doctor I lived in this area [near the oil fields] he said 'This is the main reason for your illness'
North America
Melina Laboucan-Massimo, Indigenous Activist, Founder of Sacred Earth Solar:
'What does a just transition look like when we're implementing renewable energy so that my family doesn't have to experience so many oil spills, and isn't breathing in these toxic gases?'
Facing firsthand impacts of the Alberta tar sands in her community's territory, which include significant air pollution, Melina has been a longtime powerful advocate for Indigenous rights and environmental justice.
Latin America
Alejandro Daly, clean air activist and Co-founder Latin American Coalition for Clean Air:
'Air pollution, like forced displacement, reminds me of how things that are out of your control can still dramatically shape your future'
South Asia
Dr. Arvind Kumar, Lung Surgeon, Chairman, Institute of Chest Surgery & Founder, Lung Care Foundation:
'As a lung surgeon, I witness firsthand the intricate dance between breath and life. As the cases of lung diseases surge, especially in the younger population due to the air pollution, it's clear that my duty extends beyond the operating room. Doctors stand not only as healers of lungs but as advocates for clean air—a precious lifeline for humanity. Let us be the voices that carry the urgency of a just transition away from fossil fuels, for in every breath, we hold the promise of a healthier future.'
South East Asia
Dr. Raynaldy Budhy Prabowo:
'As a health practitioner, I bear witness the impact and suffering of our most vulnerable communities, whose lungs bear the burden of our planet's choices. The surge of air pollution and its related diseases is a painful reality. To heal and protect, we must stand as advocates for clean air.'