Violent thunderstorms are set to spark chaos across the UK today with some of the worst torrential rainfall seen in years.
Forecasters said up to 80mm - more than impacts many areas in November - is expected in just a few hours as 'intense' weather rocks the country with communities at risk of being cut off entirely by flash flooding.
---
Health officials have even issued a rare 'Thunderasthma' warning. The UK's Health Security Agency is on high alert for a potential episode of thunderstorm asthma - an increase in people reporting severe asthma symptoms linked to violent electrical storm activity.
The stifling heat and humidity that has enveloped Britain will finally break on Sunday afternoon and evening when a slew of thunderstorms head into the country from northern France and make their way steadily north.
A yellow thunderstorm warning has been issued for nearly the whole of England and Wales with the Met Office saying it could be upgraded further if the storm system rapidly deteriorates.
Chaos is expected on roads and railways across the country, with widespread closures expected. The Met Office also warned that power cuts were likely and other utility services to some homes and businesses could be lost.
The rare conditions have been triggered by warmer, moist air from the Atlantic moving across the country, making an already baking Britain even more humid.
It is feared the UK may see a repeat of July 2019, when the country was hit by 45,000 lightning strikes in one night.
Met Office spokesman Graham Midge said: "Heat and humidity are the key ingredients for thunderstorms.
"These storms can unleash very intense rainfall and even hail.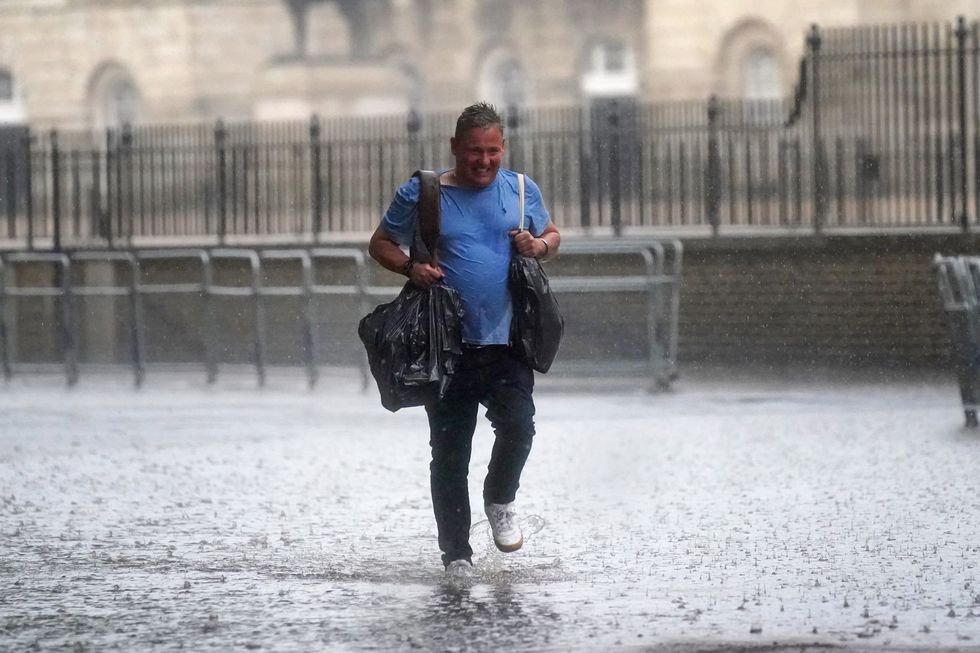 Up to 80mm of rain - more than in Britain's wettest month November - is expected to fall within hours
PA
"Some of the storms have the potential to be quite intense, with high rainfall rates."
He added: "Some locations may well miss them altogether but all we can do now is indicate that there is a risk across both England and Wales.
"We will keep the yellow warning closely monitored and if we need to escalate that for local areas then we will.
"We advise the public to follow the forecast and warnings so they can be prepared should thunderstorms develop at short notice."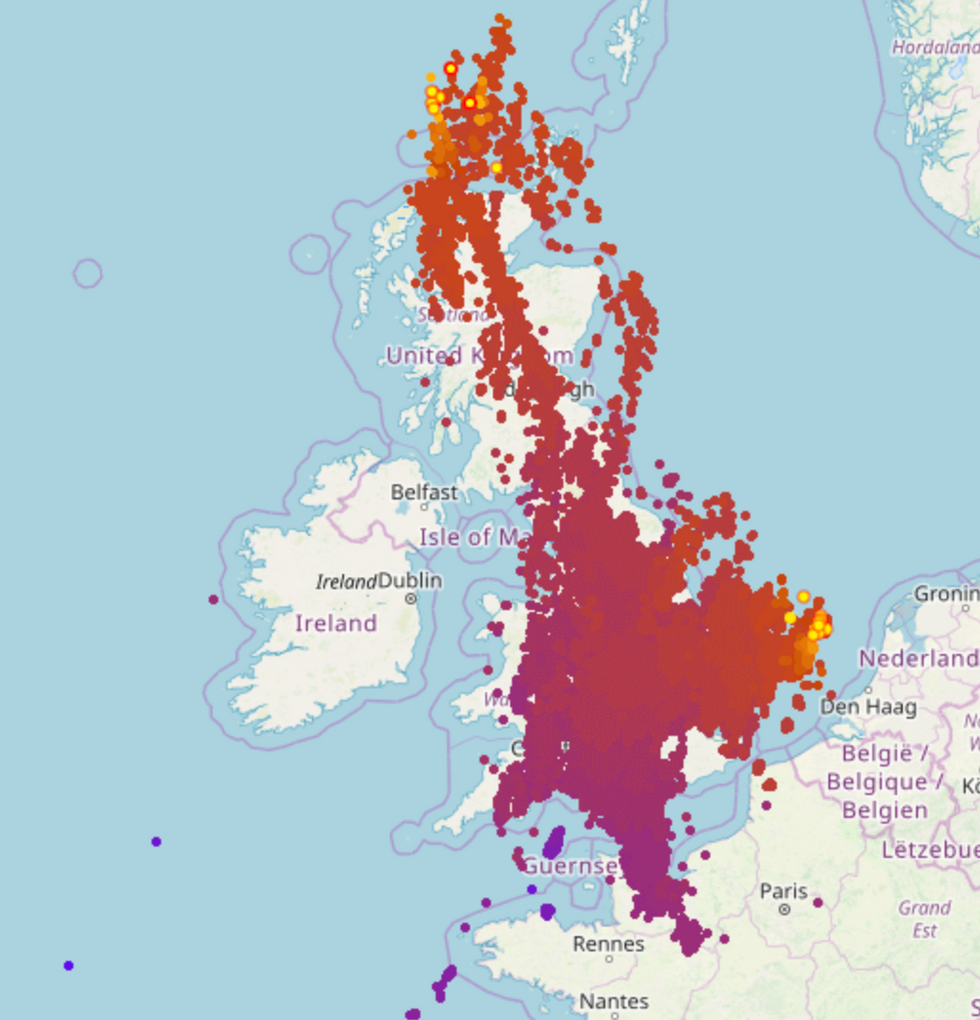 In July 2019 the UK was hit by 45,000 lightning strikes in just one night
Met Office
Emma Rubach, head of health advice at Asthma + Lung UK, said people with asthma who have hay fever can experience much more severe symptoms during thunderstorms.
She added: "This is because thunder breaks pollen into smaller particles, which can then be inhaled deep into the lungs, causing wheezing, coughing, a tight chest and shortness of breath.
"If there is also higher pollution in the atmosphere – which tends to be the case when the weather is warm - this is an added threat."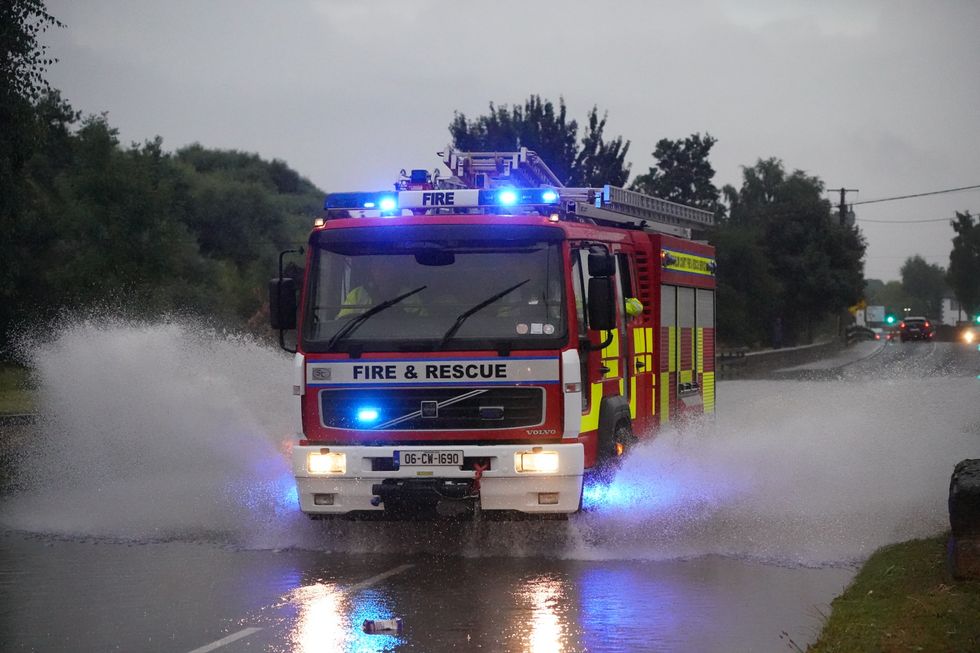 Flash flooding is expected across the UK with thunder and lightning set to last for six hours
PA
The largest recorded 'thunderstorm asthma' event was recorded in Melbourne, Australia, in November 2016.
Hospitals reported a surge in patients being admitted with shortness of breath and respiratory symptoms.
Asthma-related hospital admissions rose by a staggering 992 per cent, with 30 people requiring intensive care and 10 people killed.
The UKHSA said: "We don't fully understand why these events trigger breathing problems and this makes it very difficult to predict when they are likely to happen.
"While everybody may be at risk from thunderstorm asthma, previous events indicate young adults (below 30) can be particularly affected.
"Although data is somewhat limited, there is some evidence that certain people are at greater risk of experiencing thunderstorm asthma.
"These include those who have previously been diagnosed with asthma - particularly those whose asthma is poorly controlled or who do not regularly take preventer medication - and people with seasonal allergic rhinitis (hayfever)."