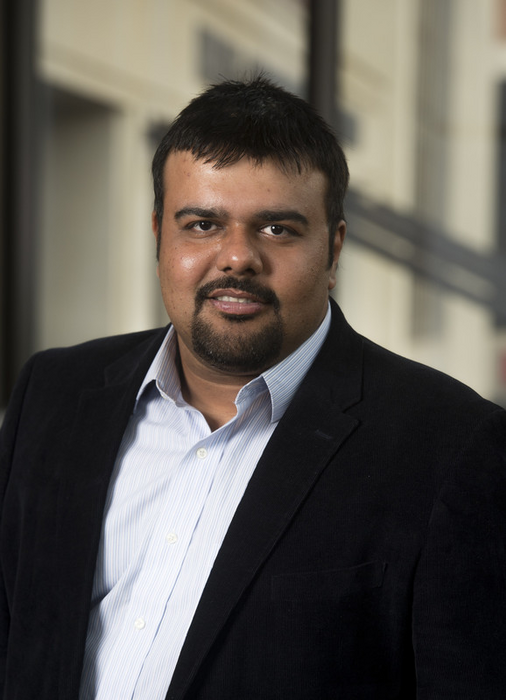 BIRMINGHAM, Ala. – A new University of Alabama at Birmingham startup has become one of the few Alabama-based therapeutics companies ever to have received a FastTrack award from the National Institutes of Health.
Alveolus Bio, founded by C. Vivek Lal, M.D., associate professor in the UAB Department of Pediatrics and director of Clinical Innovation at the Marnix E Heersink Institute for Biomedical Innovation, has received a $2.5 million Small Business Innovation Research FastTrack grant from the National Heart, Lung and Blood Institute of the NIH. The SBIR program funds research and development work at small businesses to support early-stage growth, and SBIR FastTrack grants fund work over the course of three years.
The Alveolus Bio grant is titled "An inhaled microbiome-targeted biotherapeutic for treatment of COPD." The funds will support work on the company's lead program for chronic obstructive pulmonary disease, commonly known as COPD. In the United States, 15.7 million people have been diagnosed with COPD, and it is the third most common cause of death worldwide. COPD is a group of diseases that cause airflow blockage and breathing-related problems.
"We are thrilled to have received this competitive funding award to support the development of our lead asset for COPD," Lal said. "This is key validation of our science, both current and planned, from the NIH. These funds will support first-of-its-kind inhaled biotherapeutics development at our company laboratories, in collaboration with labs at UAB."
Lal says the company is also currently raising a Series A equity financing round to advance its programs into clinical trials. Series A funding is usually the first round of venture money after a privately held startup has shown potential to grow and generate revenue.
The technology of Alveolus Bio was created at Lal's UAB lab and is licensed through the UAB Bill L. Harbert Institute for Innovation and Entrepreneurship. HIIE fosters an entrepreneurial community and innovative ecosystem at UAB and provides the infrastructure required for faculty, staff and students to commercialize innovation within the region and beyond.
The Alveolus Bio drug development company was launched in 2022 to create United States Food and Drug Administration-approved inhaled therapeutics for chronic lung diseases. Alveolus has locations in Birmingham, Alabama, and Cambridge, Massachusetts.
At UAB, Pediatrics is a department in the Marnix E. Heersink School of Medicine.
About UAB
Known for its innovative and interdisciplinary approach to education at both the graduate and undergraduate levels, the University of Alabama at Birmingham, a part of the University of Alabama System, is an internationally renowned research university and academic medical center with over $700 million in research awards annually, as well as Alabama's largest single employer, with some 28,000 employees, and has an annual economic impact exceeding $12.1 billion on the state. The pillars of UAB's mission include education, research, innovation and economic development, community engagement, and patient care. Learn more at www.uab.edu
---
Subject of Research
Not applicable
Disclaimer: AAAS and EurekAlert! are not responsible for the accuracy of news releases posted to EurekAlert! by contributing institutions or for the use of any information through the EurekAlert system.