SGGP
Tuberculosis (TB) epidemic is most prevalent in the elderly, and there is a progressive increase in the notification rate among younger people.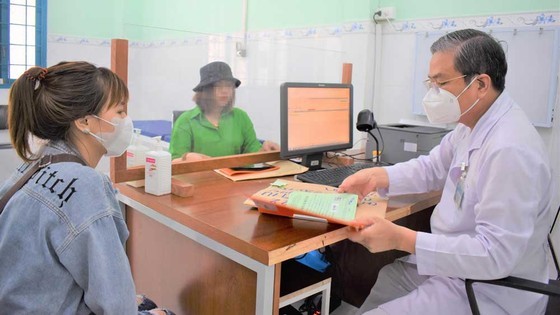 Progressive increase in young people with tuberculosis
The most worrying is that TB goes unnoticed, so it is detected late.
A 28-year-old girl in Ho Chi Minh City's Hoc Mon outlying district had a sore throat, so she self-medicated by buying medicine from nearby drug stores. But after nearly a month of taking antibiotics, she still suffered a cough. Drugstore assistants advised her to go to hospitals for further treatment but she is still reluctant.
When the cough took place more and more, especially late at night, accompanied by chest pain, shortness of breath, and poor eating, she went to a hospital for a checkup. Through examination, a doctor did not notice that the girl had any signs of pharyngitis, so the doctor advised her to go to Pham Ngoc Thach Hospital, which specializes in treating tuberculosis, for a re-examination.
A 17-year-old girl in the Mekong Delta Province of Tien Giang was taken to Pham Ngoc Thach Hospital by his family for an emergency in a state of coughing up blood. Although the patient has not been able to do a sputum test to confirm the disease, according to the doctor, the patient's chest X-ray results show that the patient's lungs are heavily damaged, she is highly likely to have pulmonary tuberculosis.
Her mother disclosed that before the Tet holiday ( the Lunar New Year), the girl had a fever and a continuous cough. Through examination at the local hospital, doctors diagnosed H. with pulmonary tuberculosis. Her mother moaned that because she is too young to have this disease, the family delayed rushing her to Pham Ngoc Thach Hospital for treatment. Only when she had a fever and coughed up blood, the family rushed the child to Pham Ngoc Thach Hospital for examination, the result was pulmonary tuberculosis.
Dr. Tran Nhat Quang, Deputy Director of the Pham Ngoc Thach Hospital's General Planning Department, it's no longer rare that young people infected with tuberculosis; worse, the number of them even tends to increase. The number of TB cases being treated at the hospital in 2022 is 315,032 people, in which, patients aged 15-44 recorded from localities outside Ho Chi Minh City increased significantly compared to previous years. The hospital has also admitted 94 TB patients from 0-4 years old in 2021 and 120 cases in 2022. Generally, there were over 7,000 young people infected with TB in 2022.
Dr. Nguyen Huu Lan, Director of Pham Ngoc Thach Hospital, warned that tuberculosis is a dangerous infectious disease but has not yet received adequate attention. There are 3 stages of TB—exposure, latent, and active disease.
Persons with latent TB infection do not feel sick and do not have any symptoms. They are infected with tuberculosis, but do not have TB disease; as a result, their infection is discovered late. Worse, TB is spread through the air from one person to another. TB germs are passed through the air when someone who is sick with TB disease of the lungs or throat coughs, speaks, laughs, sings, or sneezes. Anyone near a sick person with TB disease can breathe TB germs into their lungs. Therefore, many people get tuberculosis from infected patients.
Anyone can get TB, so when people dry cough, cough with sputum, and hemoptysis for more than 2 weeks, they should think about tuberculosis. In addition, they can experience other symptoms including rapid weight loss, poor appetite, fatigue, mild fever in the afternoon, night sweats, chest pain, and sometimes difficulty breathing.
At that time, people need to immediately go to a specialized medical facility for examination and treatment according to the formula of the national anti-tuberculosis program. As per the national anti-tuberculosis program, the principle of DOTS, a standardized system that in the field of tuberculosis relates to case finding, providing treatment, defining treatment outcomes and rigorously monitoring the effects of the interventions in cohorts of patients, has served the management of tuberculosis programs well, said Dr. Nguyen Huu Lan.
According to the World Health Organization(WHO)'s report published in October 2022, there was an increase in pulmonary TB cases of 4.5 percent over the same period in 2021. WHO warns the number of people with pulmonary tuberculosis worldwide has risen after nearly two decades. The report pointed out that of a total of 10.6 million people diagnosed with pulmonary tuberculosis (2021), 1.6 million died, the report states. Vietnam is one of the 30 countries with the highest TB incidence in the world, with an average of over 170,000 people infected each year and about 10,000 deaths from TB.