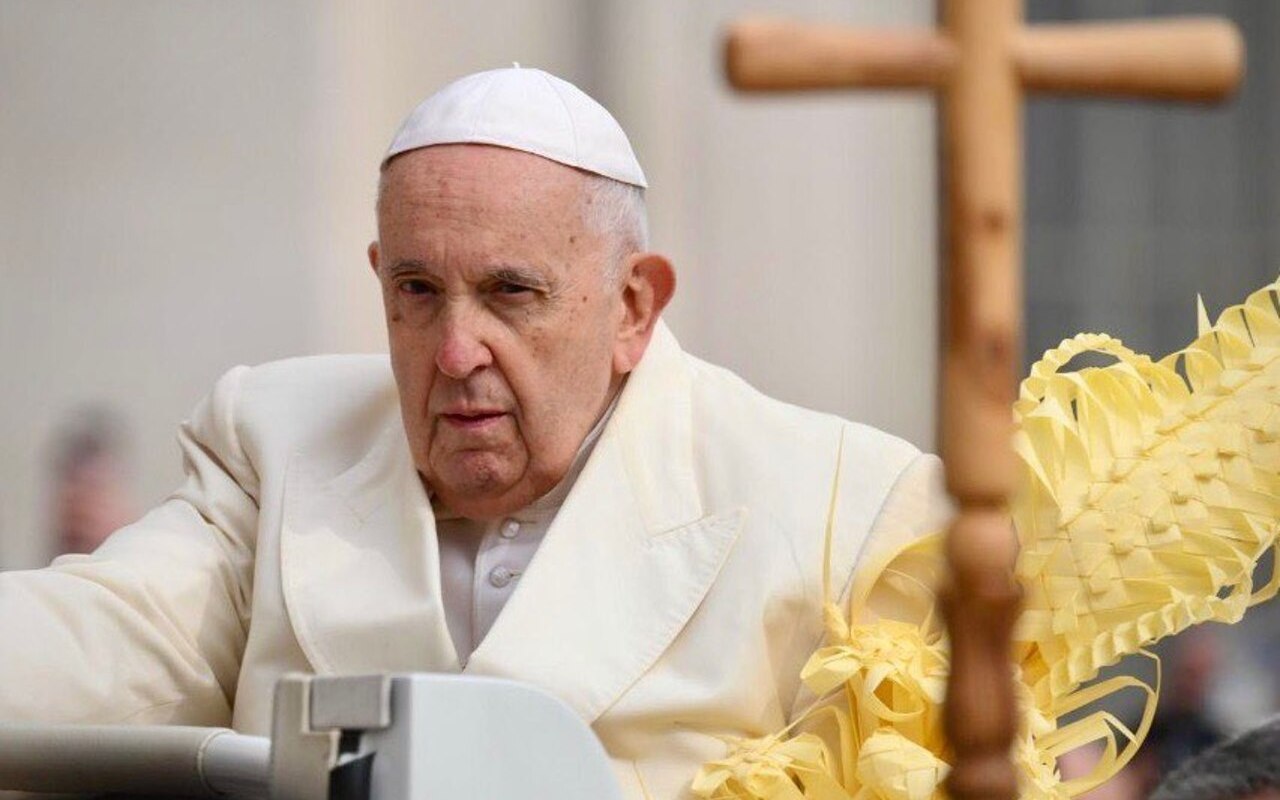 After being released from hospital, the head of the Catholic Church will not be attending the procession on Friday night ahead of Easter Sunday because of 'extremely cold weather in Rome.'
AceShowbiz -
Pope Francis is skipping the Good Friday procession due to "extremely cold weather in Rome." The 86-year-old pontiff - who landed in hospital with bronchitis last week - will not preside at the Way of the Cross service at the Colosseum on Friday, April 7 night, where temperatures are expected to be around 10C, for the first time since he was elected in 2013.
Vatican spokesperson Matteo Brun, however, confirms the pope will still attend the Passion of the Lord celebration, which is held indoors in St Peter's Basilica.
After being discharged from hospital last weekend, the Vatican had said the pope would carry out the complete Holy Week schedule, including the Easter Sunday Mass in St. Peter's Square. Traditionally, a blessing is also usually held from the basilica's balcony at midday on Sunday, April 9.
On Thursday, Francis presided over mass and washed and dried the feet of 12 residents at the Casal del Marmo juvenile facility on the outskirts of Rome in a ritual designed to symbolise the foot washing carried out by Jesus on his disciples the night before his death.
After the pope left Rome's Gemelli Hospital last Saturday, April 1, he joked he was "still alive." He told reporters outside the medical facility, "I wasn't frightened, I'm still alive."
The pontiff - who had part of one lung removed as a younger man - had complained of breathing difficulties before he was admitted to hospital for tests on Wednesday, March 29.
A statement about his health said, "The tests showed a respiratory infection (COVID-19 infection excluded) that will require some days of medical therapy. Pope Francis is touched by the many messages received and expresses his gratitude for the closeness and prayers."
The pope has had other health issues and had part of his colon removed in 2021 due to diverculitis. He said earlier this year that the condition had returned and blamed it for his weight gain, although he was not overly alarmed.
Pope Francis has also been using a wheelchair for over a year due to strained knee ligaments and a small fracture but has been seen walking with a cane more frequently in recent times. The pope declined to have surgery on his knee because he didn't respond well to general anaesthetic when having his colon operation.