A cat with asthma, called Dash, has melted hearts online after a video of him breathing into his inhaler went viral on social media earlier this week.
In the video, shared on TikTok on Wednesday by the cat's owner, under the username _dashandluna_, the black and white "tuxedo" cat be seen laying on top of his owner, breathing into his inhaler as she holds it up for him.
The heartwarming clip comes with a caption that explains: "Dash needs this inhaler twice a day for the rest of his life to help control his feline asthma. He doesn't love it but he knows he doesn't have a choice. This flap moves every time he takes a breath, and he needs to take 10 breaths." Followed by: "This is part of what we do to keep Dash's asthma in check."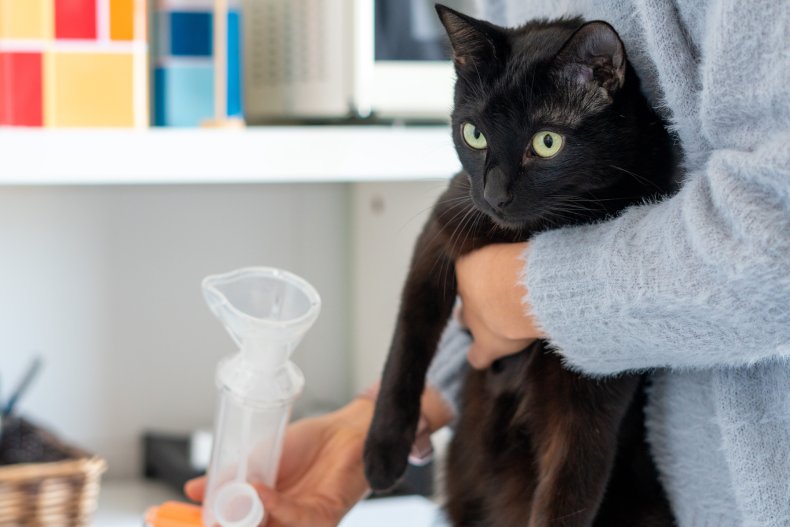 According to the Cornell Feline Health Center, feline asthma is a disease of the lower airways of the lungs that affects between 1 percent and 5 percent of cats.
"Although there is some debate about the definition, most clinicians and researchers agree that feline asthma is caused by an allergic reaction to inhaled allergens, particles that stimulate a cat's immune system," its website states.
National emergency specialty director at AmeriVet Veterinary Partners Dr. Louis DelGiudice told Newsweek that in the simplest terms feline asthma (lower airway disease) is an inflammatory response that results in thickening of the lower airways, reducing airflow.
He said: "This inflammation can occur due to a hypersensitivity reaction (allergies) or in response to noxious stimuli (ex: cigarette smoke, dust, house mold, chemical irritants, dust mites, etc).
"Treatment is generally multi-modal in approach using a potential combination of inhaled steroids and/or bronchodilators such as albuterol, as well as oral medication including steroids, bronchodilators, and other potential immuno-suppressives."
The video quickly went viral on social media, attracting animal lovers from all over the platform, and it has so far received over 1.3 million views and 240,600 likes.
One user, Brandy Schnur, commented: "I didn't realize feline asthma was so common. Poor little angels." And Melanie said: "What a good boy," while lauriepurney wrote: "As being a Respiratory Therapist for 16yrs this is the most cooperative patient I've ever seen!"
Champs said: "You're an amazing parent. your baby looks so loved." And Michelle Roesch148 wrote: "my little kitty has asthma too, and he loves getting his inhaler because he knows it makes him better."
Another user, Nina Vossenkemper, commented: "you're amazing bless you! most folks won't make the time." And charismatickay said: "He looks exactly like my tuxedo kitty. What a sweetheart."
Nikkerdoodle added: "Oh, that flap is amazing! I work in rescue and have had asthmatic cats before, the chamber left me guessing sometimes. What a sweetheart he is!"
Newsweek reached out to _dashandluna_ for comment. We couldn't verify the details of the case.
Do you have funny and adorable videos or pictures of your pet you want to share? Send them to [email protected] with some details about your best friend and they could appear in our Pet of the Week lineup.