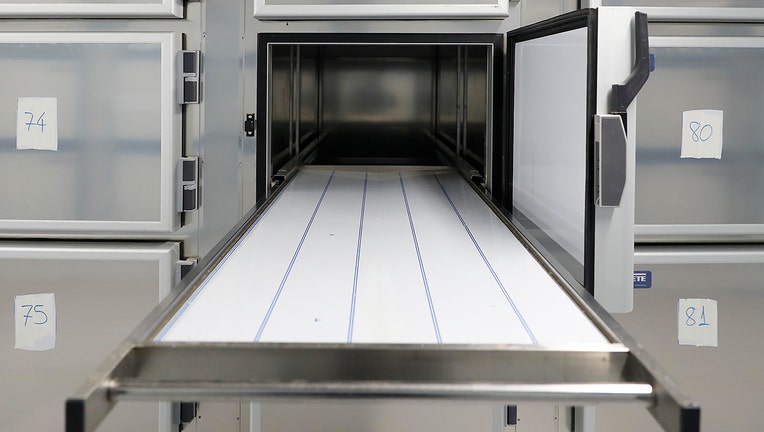 NEW YORK - An 82-year-old woman pronounced dead at a Long Island nursing home was discovered to be breathing after she was taken to a funeral home, officials said.
The incident happened Saturday at Waters Edge Rehab and Nursing Center in Port Jefferson.
The woman was pronounced dead at 11:15 a.m., according to the Suffolk County Police Department.
She was then transported to O.B. Davis Funeral Home in Miller Place at 1:30 p.m. It was determined she was breathing at 2:09 p.m, officials said.
The woman, who was not identified, was then transported to a hospital.  Her current condition is unknown.
The incident was referred to the New York State Attorney General's Office.
RELATED: 'Dead' 3-year-old wakes up at her own funeral
Earlier this week in Iowa, a woman was also mistakenly declared dead at a care facility and taken to a funeral home, only to wake up when she "gasped for air" when the staff unzipped the body bag, authorities said. 
The 66-year-old woman was at Glen Oaks Alzheimer's Special Care Center since Dec. 2021 before she moved into a hospice care facility Dec. 28, according to a report released by the Iowa Department of Inspections and Appeals. She was admitted to hospice care because of "senile degeneration of the brain."
RELATED: Woman found alive at funeral home after she was declared dead
The report said over time, staff members at the facility noticed her health diminishing. She had early-onset dementia, anxiety, and depression.
The report also said the woman previously had suffered minor seizures. It also notes among the staffers attending the woman was one who had worked a 12-hour overnight shift.
Pronounced dead
On Jan. 3 around 6 a.m., she was pronounced dead when staff members noticed her "mouth was open, her eyes were fixed, and there were no breath sounds," the report said. 
The staff member reported she could no longer feel the woman's pulse, and she was not breathing at the time. The staff member alerted a nurse practitioner, who made the death declaration.
The funeral home was called and the woman's family was alerted. 
At 7:38 p.m., a funeral home director arrived, and a licensed practical nurse placed the woman's body inside a body bag and zipped it shut. They both said "there were no signs of life at that time", according to the report. 
"Gasped for air"
At 8:26 p.m. at the funeral home, a staff member unzipped the bag and saw the woman's chest moving. She then "gasped for air." 
The funeral home called 911 and the hospice facility. When responders arrived, they were able to record a pulse and breathing. 
Woman dies in hospice
The woman was returned to the care facility and died on Jan. 5 around 1:40 a.m. with "her family by her side."
Regarding her death, the agency found the care center had "failed to provide adequate direction to ensure appropriate cares and services were provided" before she was declared dead.
The woman has not been publicly identified. The facility has been fined $10,000.