---
When you ignore your body's initial warning signs, they can escalate and eventually lead to burnout. Rebecca Muller* asks members of the Thrive Global community how they react when these signs appear.
---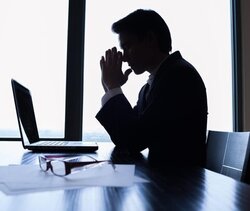 When we're busy at work, whether we're stuck in back-to-back meetings or tasks, or heads down on an upcoming project, it can be difficult to see the beginning signs of stress.
However, if we ignore those initial warning signs and continue to power through, they can escalate over time and lead to exhaustion and burnout.
So during those busier times, it's important that we take a moment to pause and address our stress head-on before we feel even worse.
We asked our Thrive community to share with us the small ways stress shows up in their lives, and what they do when they notice it.
Which of these signs have you experienced?
"When I'm feeling stressed, it typically shows up in the form of a general heaviness that saps me of energy, like being covered by a heavy, wet rag.
"When I notice that feeling, my first instinct is always to lean into my meditation practice as a way of grounding and centring myself.
"It's within those few minutes of quietude that I can pause and give myself the space to reconcile with whatever is on my mind.
"Then, in the stillness, I'm able to fortify myself with breath and renewed clarity"
 —Lisa Sugarman, parenting author and columnist, Boston, United States.
"I notice stress accumulating in my body and mind when I fall into long periods of single-focused work.
"This sneaky beast of intense focus on one aspect of a project worms its way into an obsessive and perfectionistic pattern.
"It makes the task at hand less joyful and becomes the thing I stew over for days.
"When I notice this behaviour, I set my timer for 21 minutes and start seven-minute joy-making intervals.
"Taking time for creativity and joy-making intervals allows me to step away from whatever is pulling my attention in unhealthy ways.
"I can hit the reset button, and more mindfully discern what next step to take"
— Jenn Baljko, mindful writing, creativity and reinvention mentor, Barcelona, Spain.
"After the unexpected loss of my 73-year-old father last year, I started to notice many physical, mental and emotional signs of stress.
"My thoughts were unorganised, my mood was unstable, my appetite diminished, and my usual motivation to exercise was hidden.
"I decided to try meditation and self-reflection using a popular app.
"Mindfulness has become my positive psychology for engagement, optimism, resiliency, vitality, self-determination and positive relationships.
"Nothing will ever take away the hole in my heart, but reflecting on his impact has moved me slowly through the grieving stages"
— Michelle Schrouder, wellness director, New York, United States.
"I always get blocked creatively when stress is building up.
"It starts with small things such as brain freeze when writing or when I'm podcasting.
"As soon as I notice the little things that add up, I stop and do some visualisation exercises that I still use today"
— Mark-John Clifford, former investment banker, California, United States.
"When I'm under stress, I tend to breathe shallower and sometimes even find myself holding my breath.
"My typical stress response is one I feel immediately in my body and is my cue to reset by taking some slow deep breaths in and out"
 — Emily Madill, Certified Professional Coach and author, British Columbia, Canada.
"When I get stressed, I notice that my mind usually races at night and I have a hard time falling asleep (which of course, causes even more stress the next day.)
"My go-to solutions are making a solid to-do list before bed, writing in my gratitude journal, and finally listening to sleep meditations"
— Henna Garrison, mindset coach, Sicily, Italy.
"When I am stressed, my body starts to shake or tremble.
"It is a very noticeable physiological warning signal that my nervous system is under strain.
"It makes sense given that our bodies and brains interpret stress as a signal to escape from danger, priming our muscles to act.
"When my body reacts to this stress my 'go-to' is breathing.
"I breathe in through my nostrils for a count of four and exhale through my mouth for a count of eight.
"Deepening and prolonging the exhalation helps to relax the body and slow the tremors"
— Candice Tomlinson, coach and hypnotherapist, Sydney, Australia.
*Rebecca Muller is a senior editor and Community Manager at Thrive Global. Her previous work experience includes roles in editorial and digital journalism. She is on Instagram @rebeccabmuller.
This article first appeared at thriveglobal.com