The Huawei Watch GT 3 Pro is an upgraded version of both the Huawei Watch GT 3 and the Huawei Watch GT Runner, offering largely the same features, though in a more stylish case using titanium and ceramic materials. 
The design upgrade increases the price, but at $375 in the US and £299.99 in the UK it is still cheap given the quality of the materials used and the range of sporty and smart features on the GT 3 Pro. There's a strong argument for it being one of the best fitness smartwatches – though the cheaper Huawei watches do offer better value.
Huawei Watch GT 3 Pro Review: Price And Availability
The Huawei Watch GT 3 Pro is available in two designs. The larger 46.6mm watch is made from titanium and costs from $375/£299.99, while the 42.9mm white ceramic watch costs from $535/£429.99. The standard Huawei Watch GT 3 costs from $260/£209.99 for a 42mm watch and from $285/£229.99 for a 46mm one, while the 46mm Huawei Watch GT Runner costs $325/£259.99.
Design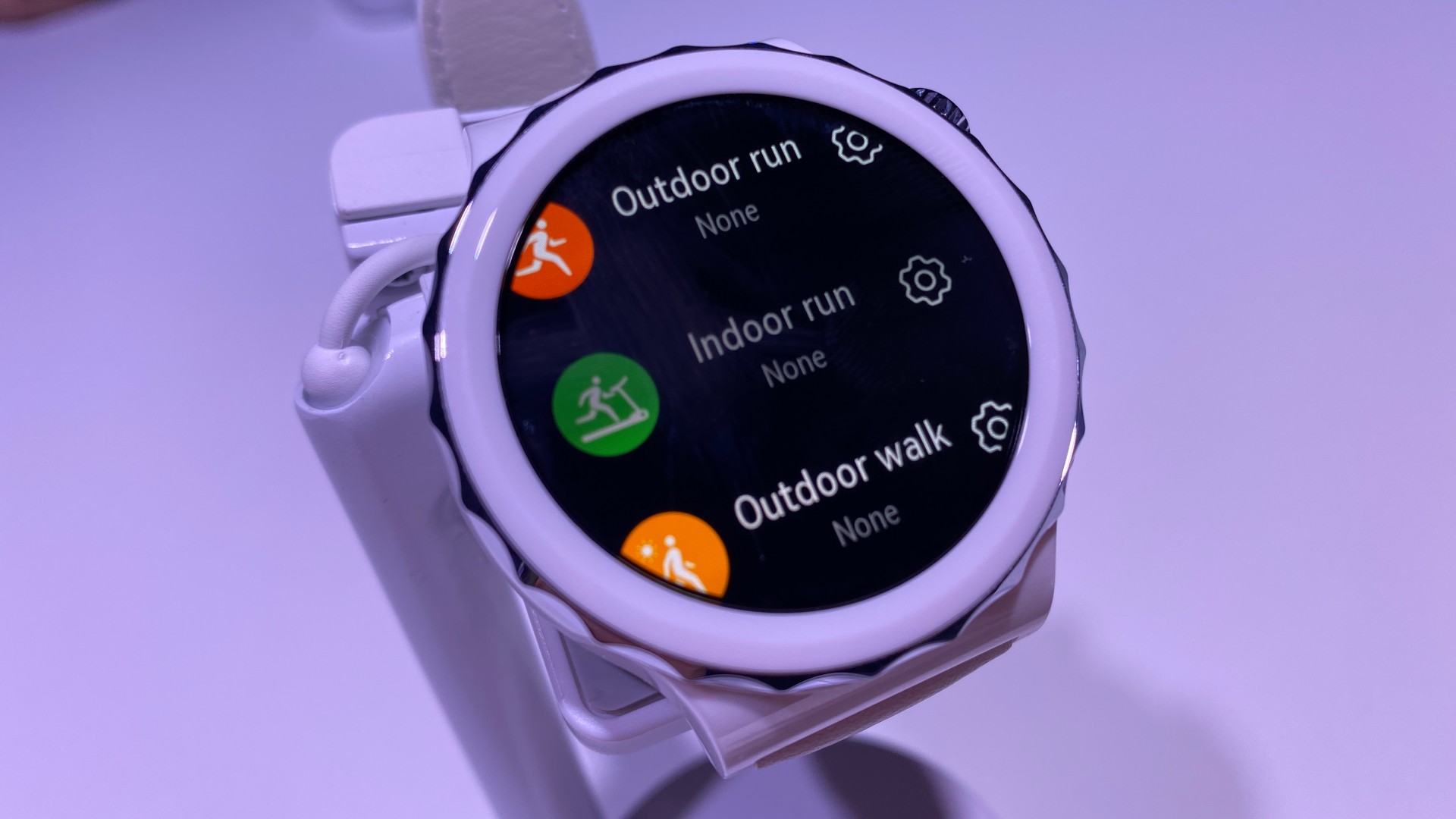 Both versions of the Huawei Watch GT 3 Pro look fantastic, and the white ceramic watch is particularly striking. The titanium version comes with a choice of titanium, leather and fluoroelastomer straps. The ceramic watch, which has gold accents on the bezel and crown, comes with either a ceramic link or white leather strap.
There is a sapphire glass screen on both watches: the 46mm titanium watch has a 1.43in (36mm) display, while the 43mm's is 1.32in (33.5mm). I tested the titanium watch and the 466 x 466 AMOLED display is excellent – as bright and vibrant as the screen on any smartwatch I've looked at.
The watch has a rotating crown and a button to navigate through its menus. The touchscreen can also be used for this and is highly responsive. The larger crown doubles as a button that takes you back to the watch face. I regularly pressed this by mistake when trying to select something, which became frustrating.
Another upgrade to the GT 3 Pro is its water resistance. It has an IP68 5ATM rating, and can handle diving to depths of up to 30m, which you can track with a new free-diving mode. 
The GT 3 Pro has Huawei's TruSeen 5.0+ optical heart rate monitor and can take an ECG and measure arterial stiffness, though these features were not available in Europe at launch. It can also measure blood oxygen saturation, track stress levels, and it has a barometer to track elevation changes during activities.
As with the GT 3 and GT Runner, the GT 3 Pro has dual-band GPS tracking, which means it can utilise five satellites systems (GPS, GLONASS, Galileo, Beidou and QZSS) at once using two bands, which should increase the accuracy of outdoor activity tracking. I say "should" because I didn't find that to be the case as I have done with other multi-band watches, like the Garmin Epix 2 or Fenix 7.
Sports Tracking
There are more than 100 workout modes on the GT 3 Pro, including the new free-diving mode and an improved golf mode. The latter provides stats to help you understand and improve your game, including swing speed, and backswing and downswing time. 
I wasn't able to hit the links with the watch, but I have logged around 100km of running with it, plus several cycles, strength workouts and yoga sessions. You can set the display to be always-on during workouts and it's clear to read in all conditions, though I wish you could add more stats per page to take advantage of the bright, large screen.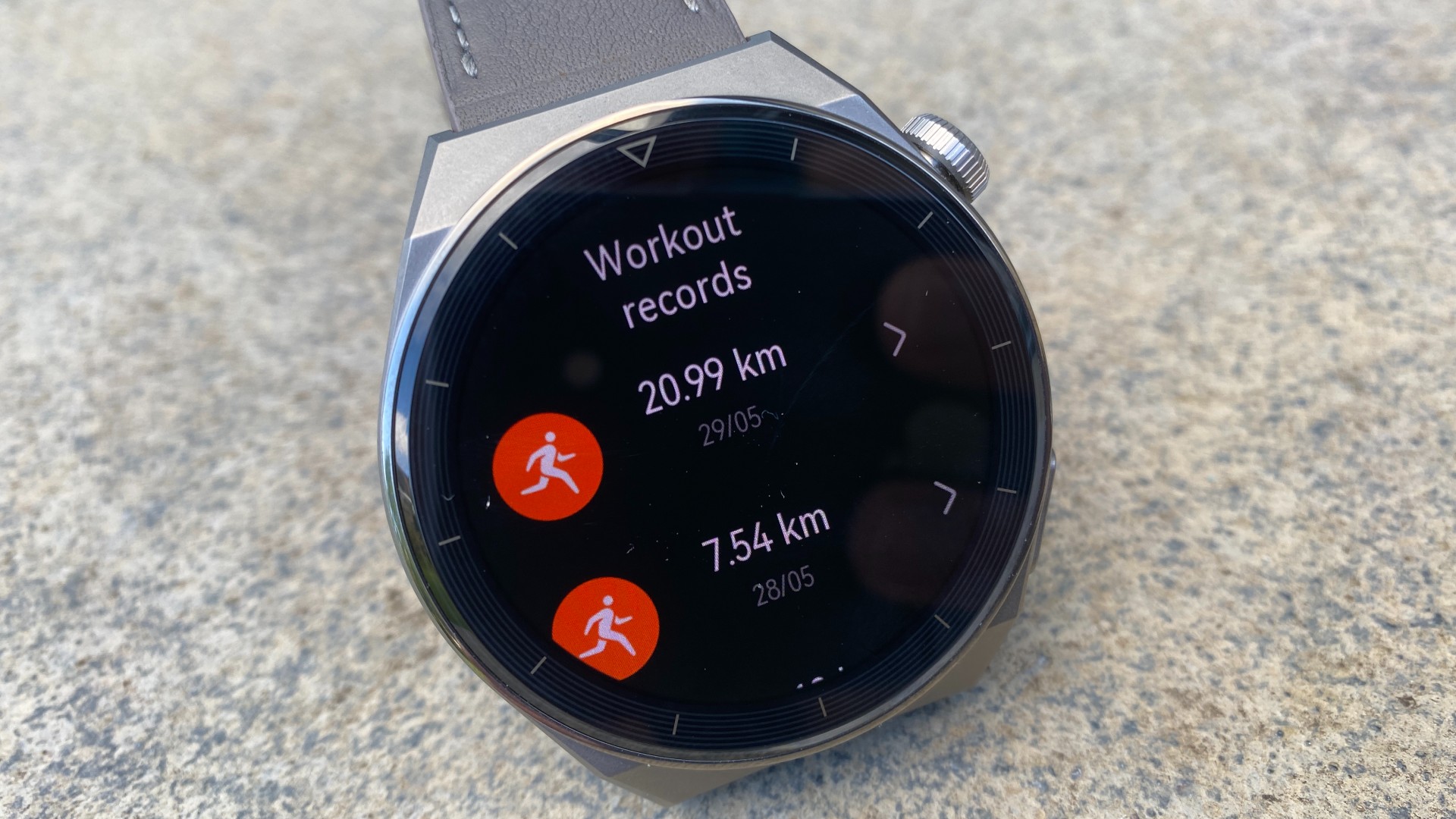 It's possible to customise the stats you show, and while the range of stats to choose from is not as comprehensive as on a dedicated sports watch, it will satisfy most people. You can also pair external sensors like a chest strap, speed/cadence sensor or power meter via Bluetooth to get more data.
Runners will get more than anyone else from the GT 3 Pro, which offers them extensive training analysis and customisable training plans for 5K, 10K, half marathon and marathon events, plus preset workouts you can use on the watch. The training analysis is detailed, giving info like your recovery time, a rating of your running ability ranked against your peers, predicted race times and your VO2 max. It's a lot of useful info that's presented well using colour-coded graphs.
While the GPS and HR accuracy wasn't always perfect, the native sports tracking on the GT 3 Pro is as good as anything I've come across on a true smartwatch. That said, you can more than make up the difference by using the more extensive app stores on the Apple Watch and Wear OS devices.
GPS And HR Accuracy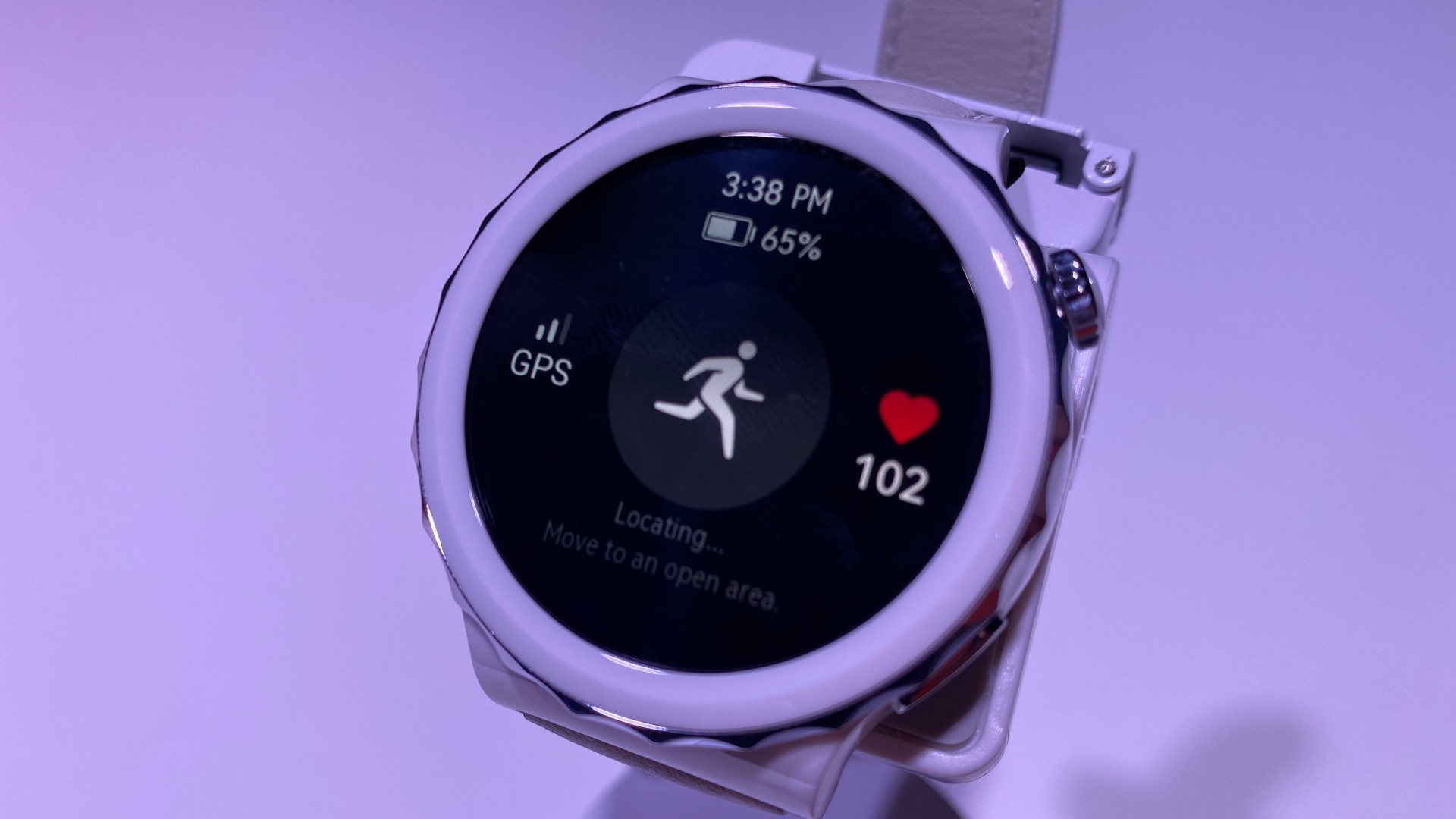 As a keen runner who spends far too much time obsessing over GPS accuracy, I've found the new wave of devices with multi-band GPS exciting. I've seen noticeable improvements in distance and pace accuracy from Garmin's multi-band devices – including the new Forerunner 955 and 255 – and the Coros Vertix 2 also impressed on this front, if not as much as the Garmins.
However, when testing Huawei's dual-band devices I've been disappointed by the GPS accuracy. Neither the GT Runner nor the GT 3 Pro has shown an improvement over standard GPS tracking, despite their dual-band capabilities. I found they often cut corners on my runs so the distance tracked ended up short. The GT 3 Pro is not disastrously bad – usually within a few hundred metres of the actual distance I ran, even on longer runs – but I regularly saw quirks in my current or lap pace that meant it was hard to use the watch to judge my pace, particularly on hard runs. Keen runners hoping for top-level accuracy in a smartwatch won't find it here.
The heart rate accuracy was also disappointing, often reading too high during my runs. I suspect the watch was locking on to my cadence during these, which is annoying because it started firing "high heart rate" alerts at me at regular intervals. It is worth linking a chest strap heart rate monitor if you want to get the most from the watch's training analysis.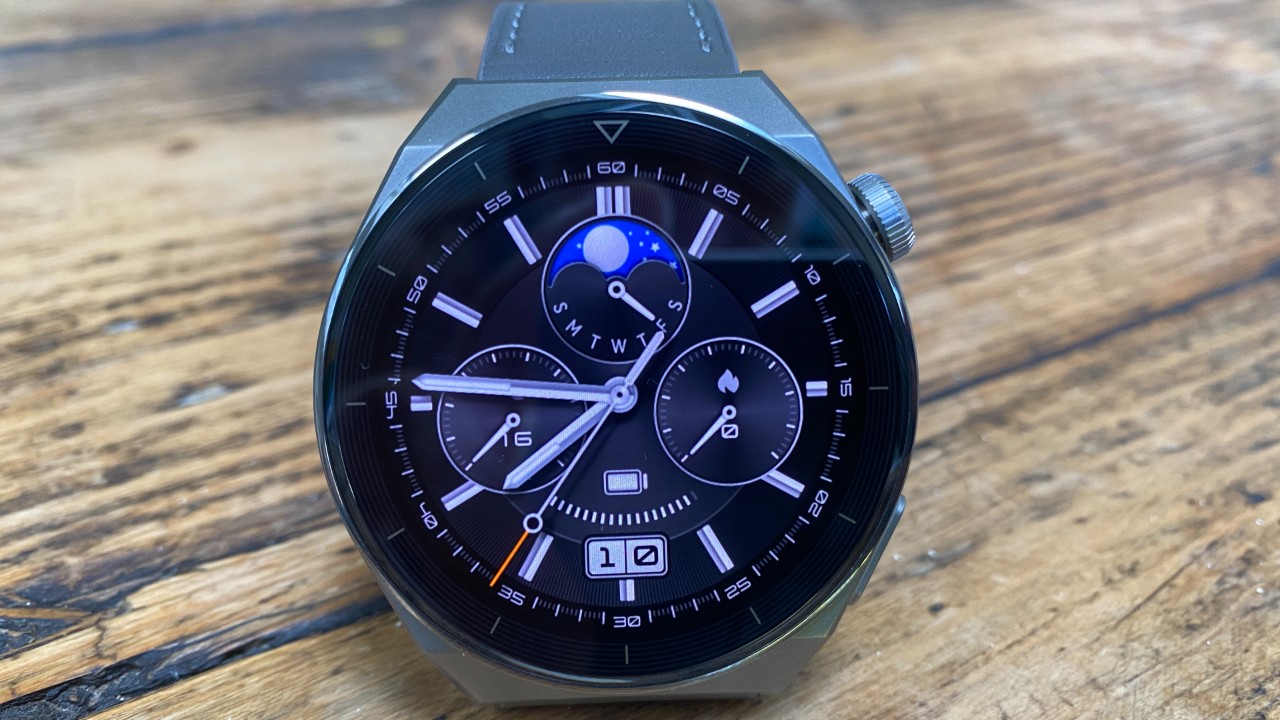 Activity And Sleep Tracking
The Huawei Watch GT 3 Pro does a great job of tracking your daily activity, logging all the usual stats, like steps and active minutes, and your progress towards daily targets is shown in colour-coded rings you have to fill in. 
You also get inactivity alerts if stationary for too long, and the Healthy Living feature in the app can be set up to alert you to drink water, or do regular breathing exercises each day. It can even remind you to smile, which is an annoying alert in my opinion.
The GT 3 Pro is a great sleep tracker: Huawei's TruSleep 2.0 sleep monitoring provides a wealth of data about your sleep, backed up with clear explanations of each measurement. The watch was accurate, in that it recorded similar sleep times and scores to that of an Oura Ring, which I have found to be the best sleep tracker I've tested.
Battery Life
Huawei lists the battery life on the GT 3 Pro as up to 14 days of general use, or eight days of heavy use. As a heavy user, recording outdoor runs most days, it lasted me eight days exactly. One of the reasons the watch gets such great battery life is that it doesn't run Wear OS, instead using Huawei's HarmonyOS. That has its downside in terms of smart features, but having a watch with a screen this good last for more than a week, when running daily, is impressive.
Smart Features
I tested the Huawei Watch GT 3 Pro with an iPhone, which means I missed out on several smart features, including being able to load music on to the watch and sync my activities with third-party apps, such as Strava.
Android users have more smart features to use on the watch, but it's still less impressive than true smartwatches. Syncing activities externally is fiddly and requires another app called HealthSync, and Huawei's AppGallery has fewer apps than the App Store or Google Play.
You can sync GPX routes to the watch to follow during activities, and there is a back-to-start pointer that ensures you won't get too lost on any run or cycle. If you have a Huawei phone you can get the Petal Maps app for turn-by-turn navigation.
The watch also supports notifications from your phone and has weather forecasts, but despite the stellar screen the GT 3 Pro does fall short of the smart feature standards of a true smartwatch – mostly because of the lack of apps.
Is The Huawei Watch GT 3 Pro Worth It?
The extra features on the Huawei Watch GT 3 Pro are unlikely to convince many to upgrade, so it's a question of how much you value the design of the watch to make that decision. It's certainly a good-looking watch and it does pack in an impressive amount of sports and activity tracking features, even if the accuracy isn't always on point.
The Apple Watch Series 7 remains the best sporty smartwatch for iPhone users, especially given the impending upgrades to the native Workouts app, but I have found that Huawei's watches offer more to Android users focused on fitness than rivals like Samsung's Galaxy Watch range. 
However, you do lose out on smart features with Huawei, and the app store is limited. Another option is the Garmin Venu 2, which offers Garmin's excellent sports tracking and a bright AMOLED display; the Huawei Watch GT 3 Pro is cheaper, though, and I'd say it's better-looking too.