GDC Ramgarh organises Screening of Documentary on Yoga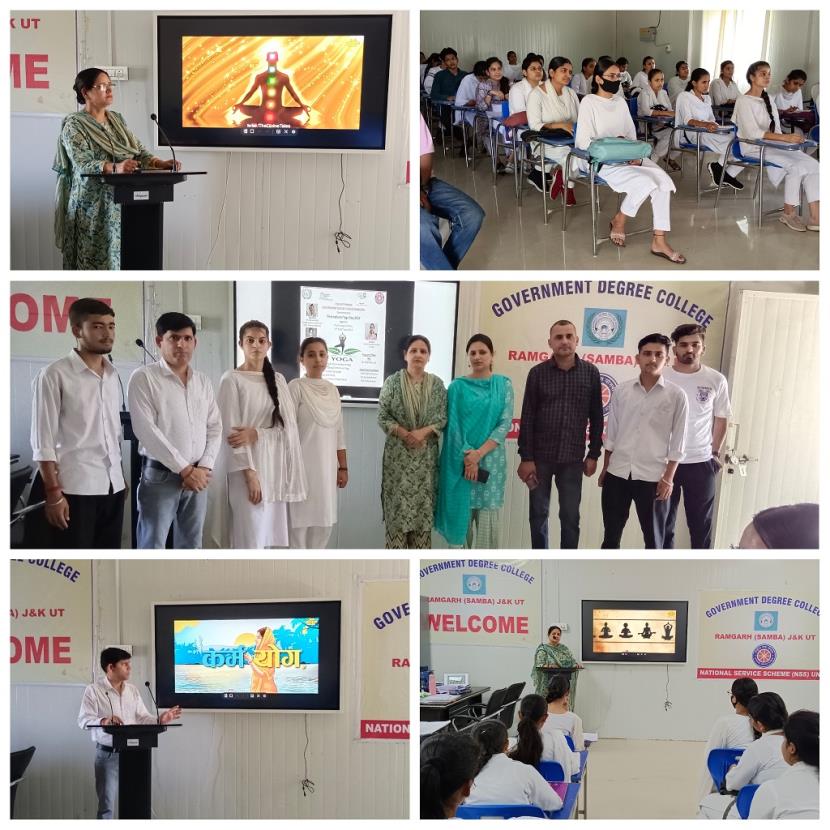 Jun 15, 2023
SAMBA: The National Service Scheme (NSS) Unit-Prabha of Government Degree College Ramgarh celebrated 'International Yoga Day 2023' under the aegis of Azadi Ka Amrut Mahotsav by organizing week long activities on Yoga.
The first activity in the series was "Screening of Documentary on Yoga" which was held today under the guidance of Prof. (Dr.) Geetanjali Andotra, Principal of the College.
Prof. Seema Sharma, Head, Department of Education said that yoga helps to improve the general wellness by relieving stress, supporting good health habits, and improving mental/emotional health and sleep.
The Documentary was screened in the smart classroom of the college to enlighten students about the benefits of Yoga. At the outset of the event, Programme Officer Dr. Shamsher Lal also shared his views on Yoga. He said that Yoga is essentially a spiritual discipline based on an extremely subtle science, which focuses on bringing harmony between mind and body. Yoga is a popular exercise that focuses on breathing, strength and flexibility. Practicing Yoga may provide many physical and mental health benefits.
Dr. Sandeep Kumar and Prof. Risha Kumari graced the occasion with their presence. Last but not the least, all the student participants enthusiastically and patiently watched the documentary and made this event successful.