An indoor cat in East Palestine, Ohio, has been put to sleep after suspected chemical poisoning, sparking further concern about the potential health impact of toxic fumes released from a derailed train.
The cat, called Leo, was suffering from coughing fits and severely low blood pressure. Vinyl chloride poisoning is thought to have triggered his underlying genetic heart disease, Leo's owner told Newsweek. Veterinary documents seen by Newsweek support this diagnosis.
On February 3, a train operated by Norfolk Southern containing hazardous chemicals including butyl acrylate and vinyl chloride went off track and caused a fire that lasted for days. Newsweek has reached out to Norfolk Southern for comment.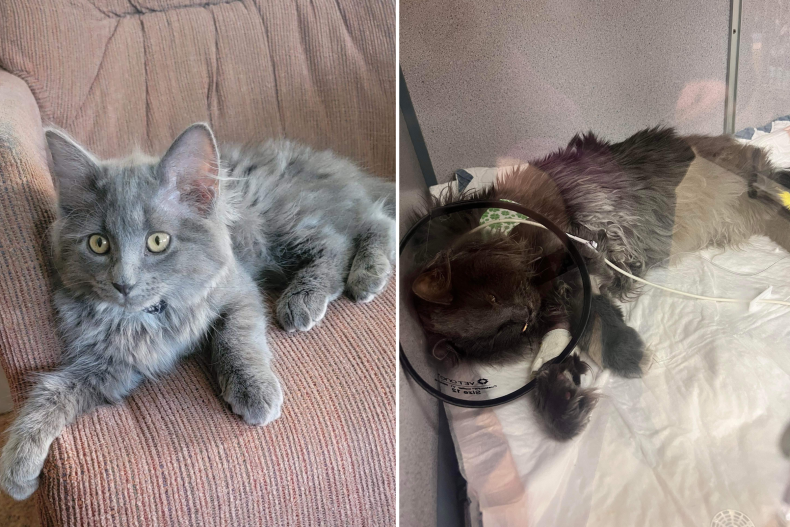 Residents were evacuated and on February 6 a "controlled release" of the hazardous chemicals took place. Two days later the evacuation order was lifted, but since the incident there have been reports of people experiencing concerning symptoms and animals falling ill and even dying.
Andrea Belden and her boyfriend Zack Cramer are currently staying with family in East Palestine within the initial 1-mile evacuation zone, and were out to dinner when the train derailed.
They rushed home and evacuated with their relatives and pets, but later that evening noticed that Leo, who lived indoors, was unwell.
"He had just gone to the vet on January 18 and was perfectly fine," Belden told Newsweek. "I had noticed once we got to where we were evacuated that Leo was having issues. I thought he was having a panic attack, so I laid him down on a pet bed next to food and water and turned down the lights."
The Environmental Protection Agency (EPA) has published a full list of the toxic chemicals that were released across the town and Transportation Secretary Pete Buttigieg said that experts are still monitoring indoor and outdoor air quality in the area.
Leo had symptoms including labored breathing and high heart rate. By the morning Belden noticed that Leo had not moved and they rushed him to the Pittsburgh Veterinary Specialty and Emergency Clinic.
"They did some tests and told me he had congestive heart failure. He was admitted to the hospital, and the next day they called and told me his heart was enlarged," said the owner.
Leo had fluid around his heart and lungs and a severely low blood pressure. His liver enzymes were recorded at 6.9 percent—much higher than the normal 1 percent for a cat.
"At this point we knew there was vinyl chloride on the train. The vet told me that in humans vinyl chloride can effect the heart, lungs, liver and skin," said Belden.
The vet placed Leo on a diuretic medicine and the next day he was responding better but still had labored breathing and a very low blood pressure.
"He still wasn't moving, not going to the bathroom, not eating or drinking. His liver enzyme levels hadn't changed," said Belden. "I was told that he most likely had an underlying genetic heart disease that was triggered by the vinyl chloride poisoning."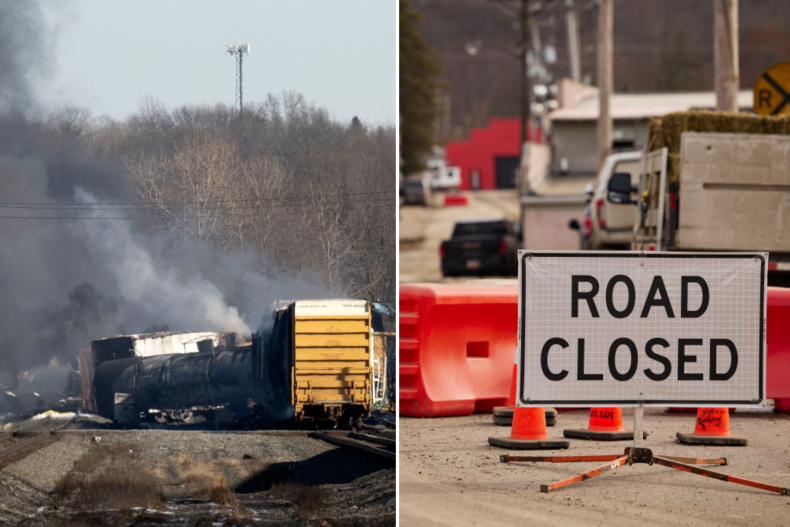 At this point, the estimated bill for Leo's treatment was reaching $8,000. Nothing really changed in his condition, although he had started to meow a little.
"They estimated $15,000 to $18,000, with $11,000 due that day to continue treatment," said Belden, who claimed she went to try and ask for financial assistance from Norfolk Southern.
Documents seen by Newsweek from Pittsburgh Veterinary Specialty and Emergency Clinic that state that: "It is thought that... Leo's signs could be due to vinyl chloride gasses as it can cause respiratory, heart and liver issues in humans."
"I was told by a representative that this was not something they would pay for now because it isn't an emergency," Belden claimed. "At this point we couldn't afford to keep going with Leo's treatment and he wasn't improving."
Leo's owners were forced to make a heartbreaking decision and put the sick cat to sleep.
"We didn't want him to suffer anymore so we made the impossible decision to put him to sleep," said Belden. "Nothing will make this right or bring him back, but hopefully this can shed some light on the situation and forced Norfolk Southern to take responsibility for the animal lives they have impacted."
Leo's owners have set up a GoFundMe to help cover the thousands of dollars in vet bills.
During a press conference on Tuesday, Ohio Department of Health Director Bruce T. Vanderhoff suggested that some residents in East Palestine, Ohio have their water tested following the leak of toxic chemicals.
"There are quite a number of people who are on private water systems. Mostly private wells. We have strongly encouraged all of those people on private wells to get their wells tested, and that will be done at no cost to them," Vanderhoff said.
Gabriel da Silva, an atmospheric chemist at the University of Melbourne in Australia, told Newsweek on Tuesday that the incident represents a "truly enormous environmental disaster." Experts say that the true ecological impact of the derailment is yet to be fully exposed as the clean-up continues.